Budget 2021: Five things to look out for from Rishi Sunak
By Daniel Thomas
Business reporter, BBC News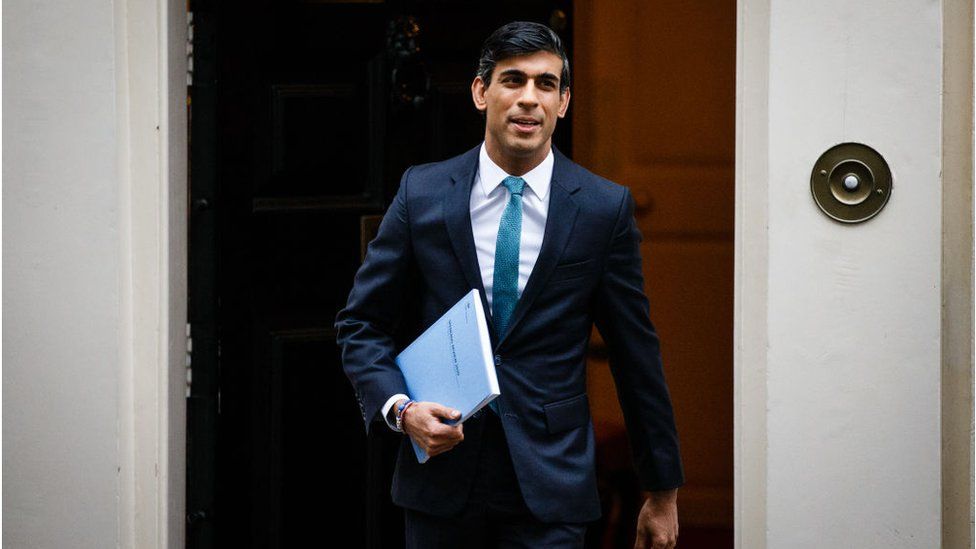 Chancellors typically view Budgets as political theatre - a moment to set the tone as they show off their wisdom, generosity and vision for the future.
But when Rishi Sunak lays out the government's tax and spending plans on Wednesday it will not be him taking centre stage, but the ongoing crisis engulfing the nation's health and finances.
The government has borrowed a record £270bn so far fighting the pandemic and has to come up with a way of paying it back. But it also needs to continue supporting the millions still out of work or on furlough due to lockdown.
But he's warned of tough economic times ahead and there are reports that he plans to raise some taxes.
Here are five things to look out for in Wednesday's speech:
1. More support for jobs and workers
The chancellor has already said he "is preparing a Budget that provides support for people" as unemployment hovers at a five-year high and four million workers are on furlough.
On Wednesday, he is set to announce the furlough support scheme will be extended until the end of September, with employers asked to contribute to workers' salaries from July.
From then, employers will be expected to contribute 10%, increasing to 20% in August and September, as the economy reopens.
Employees will continue to receive 80% of their salary for hours not worked until the scheme ends.
He is also tipped to extend a £20-per-week uplift to Universal Credit for six months, after intense pressure from MPs and charities to do more to help the poor get through the pandemic.
Some want him to go further and make the uplift permanent - but the chancellor may resist as he struggles to get government borrowing under control.
2. Will he cut business rates?
Mr Sunak may have promised grants of up to £18,000 to get businesses going again, but the bigger question is what he will do about business rates.
The chancellor is likely to leave the thorny question of what to do about rates - including levying a so called "Amazon tax" on online retailers - until the autumn.
However, reports suggest he will extend the business rates holiday - brought in last year to support shops - beyond its current end date of 31 March and into the summer.
Despite the anticipated generosity, the chancellor has said he will use the Budget to "level" with the public about the challenges facing the economy and the need to repay the vast sums of public money spent during the crisis.
According to reports, Mr Sunak is likely to announce some tax increases - although whatever he does will have to fit around with the Conservative party manifesto pledge not to raise income tax, national insurance or VAT.
Some think he will instead raise corporation tax from its current level of 19% to 23%, which is still below the G7 average. The rise would be staggered over the course of the parliament, reportedly bringing in £12bn.
There are also rumours he will freeze the personal income tax allowance, which usually rises in line with inflation, pushing many taxpayers into higher bands and netting HMRC about £6bn.
Tory backbenchers are strongly opposed to tax rises, while the Labour leader Keir Starmer has warned they risk "choking off" a rapid economic recovery.
But ex-Conservative leader Lord Hague has said "personal and business" taxes must rise to help government finances.
4. Help for levelling up?
The chancellor is likely to set out his vision for a post-Covid (and post-Brexit) economy, which could mean more money for "levelling up" different parts of the UK.
According to the Financial Times, he is preparing to announce the locations of freeports - special economic zones with low taxes that would help stimulate regional growth.
He's also expected to announce more funding to help the UK meet its decarbonisation goals.
There are likely to be measures to promote more environmentally friendly homes and renewable energy - but he is not expected to raise fuel duty.
5. Stamp duty holiday extension
The stamp duty holiday introduced last year not only propped up the housing market at the start of the crisis, but also drove up the average value of a home by 8.5% in 2020.
That tax break is up at the end of March, and many buyers have found themselves facing big bills if they don't complete their transactions on time. However, Mr Sunak will extend stamp duty holiday to prevent this cliff edge, reports suggest.
The government mortgage guarantee scheme will offer 95% mortgages for houses worth up to £600,000.
It is based on the Help to Buy mortgage guarantee scheme, which closed to new loans at the end of 2016.
This is a policy that the Treasury says "reinvigorated the market for high loan-to-value lending after the 2008 financial crisis".
But housing charity Shelter said that scheme increased house prices by 1.4%, making housing less affordable for many.