Chinese users flock to Clubhouse amid soaring popularity
By Mary-Ann Russon
Business reporter, BBC News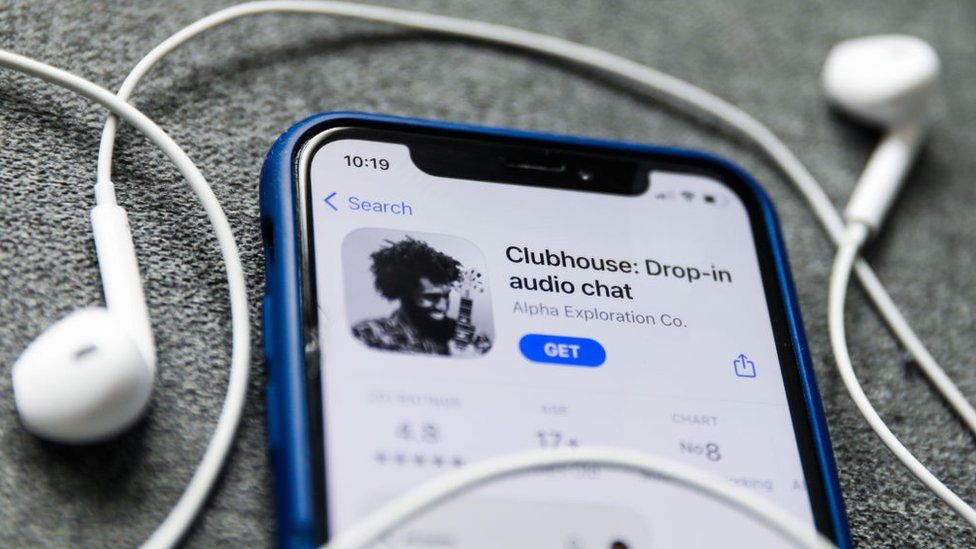 Audio-only social network iPhone app Clubhouse has seen an explosion of new users in the last week, including Chinese people discussing politics.
According to mobile analytics firm Sensor Tower, the app was downloaded 2.3 million times by 31 January.
The free app is currently invite-only and restricted to owners of iPhones.
Chinese users are paying up to $77 (£56) for invitations from e-commerce sites and bypassing China's censors, according to the FT.
Clubhouse was launched in May and valued at almost $100m. The app allows users to join and participate in pop-up public or private audio chatrooms.
Conversations are not recorded, which theoretically ensures privacy, although some interviews of celebrities and influencers have been secretly recorded and uploaded to YouTube.
Early adopters were mostly Silicon Valley technophiles and investors, but the app's invite-only nature has created an exclusivity appeal that has seen a raft of US celebrities join, including Oprah Winfrey, Ashton Kutcher, Drake, Azealia Banks, Jared Leto and Tiffany Haddish.
But the app's downloads more than doubled in the last two weeks due to popular tech moguls like Elon Musk and Mark Zuckerberg joining Clubhouse to participate in interviews and talk shows.
After Mr Musk tweeted that he would be speaking live on the app, shares in an unrelated company called Clubhouse Media shares soared. The actual app is privately owned, meaning its shares can't be bought by the public.
Freedom to discuss controversial topics
At the moment, Clubhouse is only available on the iPhone and can be accessed in mainland China without the use of a virtual private network (VPN) to bypass China's Great Firewall.
While many of the chatrooms are either private or have been deleted, over the weekend thousands of Chinese users joined chatrooms on Clubhouse in order to freely discuss topics that are considered to be taboo in China, from the Hong Kong protests and the treatment of Uighurs in Xinjiang, to heightening tensions between China and Taiwan.
Multiple Chinese users who witnessed the audio conversations in the app's chatrooms took to Twitter to discuss what they were seeing.
It is unlikely that the Chinese government will continue to permit access to Clubhouse for long, however.
Although Clubhouse is currently invite-only, it is already offering a wide range of audio-based activities, including live DJ sets, celebrity talk shows and even speed dating.
While none of this is yet monetised, Clubhouse has plans to turn popular users into influencers, according to the New York Times.
More than 40 Clubhouse influencers have been invited to a "Creator Pilot Program" where they will attend regular meetings with the app's founders and be given special access to new tools.
But the app has also been criticised for a lack of moderation.
A December article by Vulture declared that Clubhouse was "dangerously close" to becoming a "new Internet wasteland", because conversations can easily veer off-topic from their intended subject matter and debates can turn into attacks - even against celebrities - if the moderators of the chatrooms are not careful.
"It remains to be seen whether opening to the public will upend the precarious balance between chaos and chill that the young app currently enjoys; [or] whether the many celebrity regulars will stick when the exclusivity wears off and anyone can log in and call them out for takes that aren't necessarily very deeply considered," wrote Craig Jenkins.
"Most important, [it remains to be seen] whether or not we're only interested in an audio app that is, on a certain level, replicating the experience of meeting strangers on '90s chat lines primarily because we're all stranded at home and lonely."