Wealthy home workers retreat to their sheds
By Dan Ascher
Business Reporter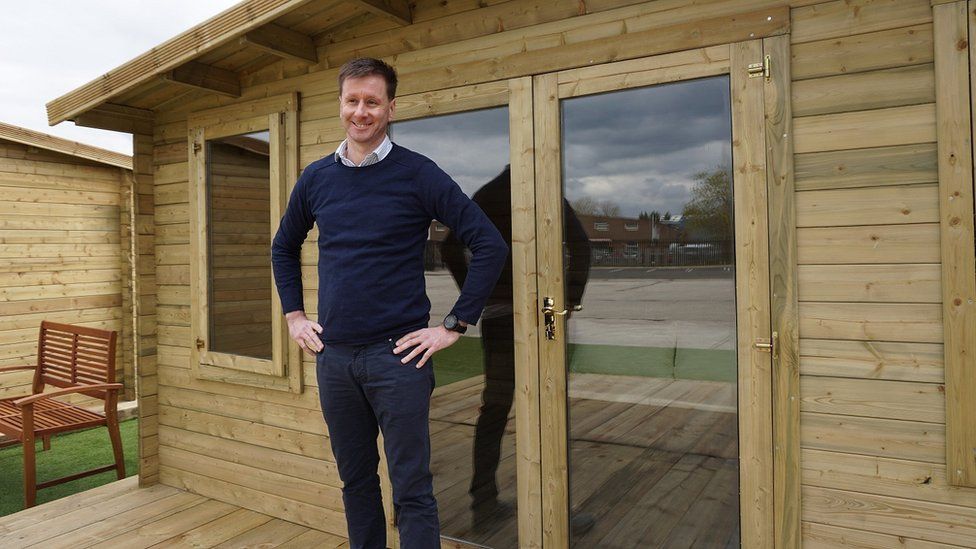 In the midst of yet another national lockdown, Brits appear to be taking refuge in the most British of places: the garden shed.
For wealthy home workers looking to put a bit of space between themselves and the office, the garden path has become the new commute.
Since the beginning of the pandemic, shed sellers have seen a surge in demand for insulated, luxury outhouses that can be used as home offices.
Terry Waldron, the managing director of online shed seller Waltons says his firm has seen a 300% jump in demand for garden structures that can double for a home office. And that is good news for UK manufacturing because the vast majority of sheds sold in the UK are made here.
Since March, when millions of workers were told to work from home if they can, Richard Frost, the founder of the Posh Shed Company in Herefordshire, says he has had to take on three extra staff to meet a surge in demand.
His sheds can cost up to £20,000. The "unbelievably posh shed", as he calls it, is fully insulated, double glazed and can be fitted with heating.
And he says the average shed buyer is getting younger. Once the domain of gardening glove-wearing, trowel-wielding pensioners, the garden shed has now become the scene of smart-casual Zoom calls.
"A young professional person who is working from home, relying on a laptop, what they need is space," Mr Frost says. "Psychologically, you've got your own place to go and do your work," he says.
And occupational psychologists agree. Dr Chiara Amati says it is healthy to have a degree of separation between home and work. That explains why some people, even those who hated their commute, now miss those hours spent in traffic or on the train, which psychologists call a "boundary activity" because it puts space between work and leisure time.
"It signals to your brain that you are shifting activity, you're now engaged with something different - and it can also be particularly important for people for whom work is quite stressful," she said.
"What people are finding when they're working from home, is that there's a real blurred boundary between work and home."
Colin Ellard, who studies the impact of surroundings on people's psychology, says the biggest difficulty of working from home is the ability to stop working.
"Establishing even a little bit of physical distance between workplace and the rest of your home changes everything," he says. But he warns against spending too much time alone in your shed.
That separation of home and work helped Sara Nisha Adams. In 2019, the writer and editor moved to her current flat because of its shed, where she completed her debut novel due to be released later this year.
"This is my dream," she says. "And since the pandemic hit, I'm so glad to have this extra space, because it's a really small flat with an abnormally large garden."
"It's having a space away from the fridge, away from the TV and other distractions," she says.
"It's obviously not a long way from the house, but it feels like an effort to trek out there and set up and then go back - so it was just a way to make me be more productive."
She says that she can find her time in the shed lonely but it means she appreciates the company of her partner when she returns to the flat.
Charles Walton, who runs BillyOh, one of the UK's largest shed makers, says solitude is part of the joy of a shed.
"It's that ability to take some time with yourself," he says. "Typically, the people who buy our products have a family, and they wouldn't necessarily have that space."
They can also prove a good investment for those that have the space and the money. Saylan Lucas, of Winkworth estate agents in Hackney, said there is a "shed premium", driven by interest from buyers looking for an extra room to use as a home office.
"If you have a properly fitted home office in the garden with power, insulation and a decent amount of space, this will increase the appeal of your property," he said. "You may have spent around £25,000 to £30,000 installing this but you would probably see a return on that investment of up to double your original expenditure."
That's because sheds that double as a home office are still something of a rarity. According to Savills, another estate agent, just one in 600 homes has an annex, while 57% of home buyers said they were looking for a separate space to work from home.
But for those who aren't lucky enough to have a posh shed, Dr Amati has a few tips to create a boundary between work and home.
Top of the list is to "deworkify" your workspace once you finish for the day.
"Whether you're working in a study or in a bedroom, make sure that at the end of the working day, you tidy everything away, so that there is nothing that can trigger a work thought," she says.
For those working at a table, she suggests clearing it at the end of the day and covering it with a tablecloth.
"That's a signal that this table is no longer a desk, it's actually a table that we will eat at," she says.