Coronavirus: Arrivals in UK could soon need negative test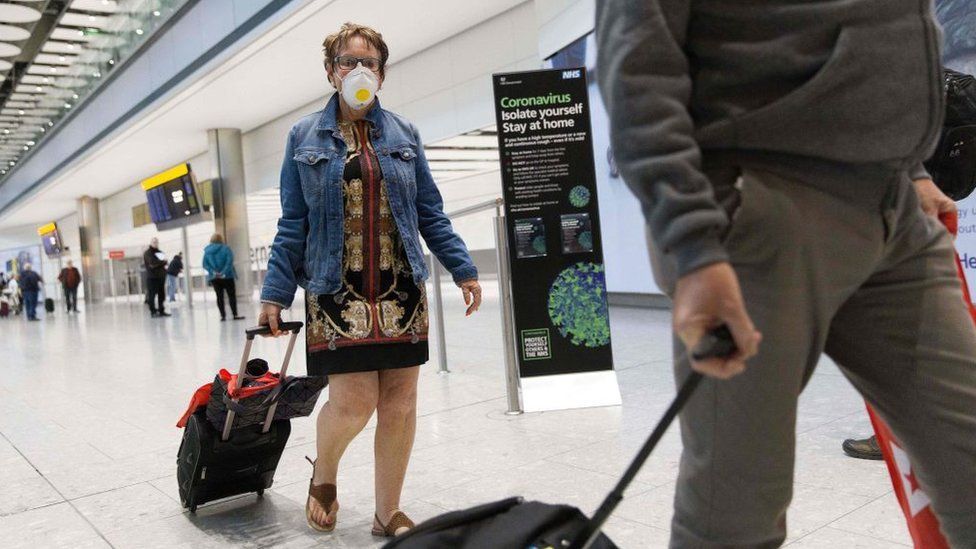 Travellers to the UK from abroad could soon be required to prove they have had a negative coronavirus test.
The Department for Transport (DfT) said the measure is one of several being considered to "prevent the spread of Covid-19 across the UK border".
"Additional measures, including testing before departure, will help keep the importation of new cases to an absolute minimum," the department added.
It is thought that haulage drivers coming through ports would be exempt.
However, the DfT said full details are still to be agreed and will be set out in "due course".
Any such measure would be a devolved issue, so the the DfT would need to agree a path forward with Scotland, Wales and Northern Ireland to make it UK-wide.
A spokesperson said: "With a new strain of the virus on the loose in South Africa and a more infectious variant already widespread in the UK we need to do more."
The measures were being discussed as Boris Johnson imposed the third national lockdown in England to prevent the NHS being overwhelmed.
The prime minister has faced some calls to strengthen border protections to prevent the arrival of new cases, particularly of new and concerning strains.
However, there was no mention of tougher border controls during his address to the nation on Monday, or press conference on Tuesday.
Earlier on Tuesday, Cabinet Office Secretary Michael Gove said announcements will come in the days ahead on "how we will make sure that our ports and airports are safe".
"It is already the case that there are significant restrictions on people coming into this country and of course we're stressing that nobody should be travelling abroad," he told ITV.
Currently, international arrivals from countries that are not exempt under the travel corridor programme have to isolate for 10 days.
But under the test and release scheme introduced in December, this can be shortened if they have a private test five days after their departure and it comes back negative.
During the first lockdown, the government argued against introducing border restrictions while the prevalence was so high in the UK, with experts arguing it would do little to bring down infection rates.
A quarantine period, however, was introduced in June after the first peak, when cases were more under control.
Earlier, Home Secretary Priti Patel was accused of leaving the "nation's doors unlocked" to new coronavirus variants coming to Britain from overseas.
Labour shadow home secretary Nick Thomas-Symonds wrote to Ms Patel calling for an "urgent review and improvement plan" as he raised concerns over checks on the arrival of people who are meant to go into quarantine.
He wrote: "It is especially worrying given the concerns regarding mutation of the virus that emerged in South Africa, which the health secretary rightly said is 'incredibly worrying'.
"However, the lack of a robust quarantine system as a result of shortcomings from the government mean that it is virtually impossible to keep a grip on this spread or other variants that may come from overseas, leaving the UK defenceless, and completely exposed, with the nation's doors unlocked to further Covid mutations."
The Home Office defended its "stringent measures", and pointed to its move to stop direct flights from South Africa to the UK amid concerns over a new coronavirus variant in high prevalence there.