Air charter firms see demand surge as companies bid to beat blockages
By Lora Jones
Business reporter, BBC News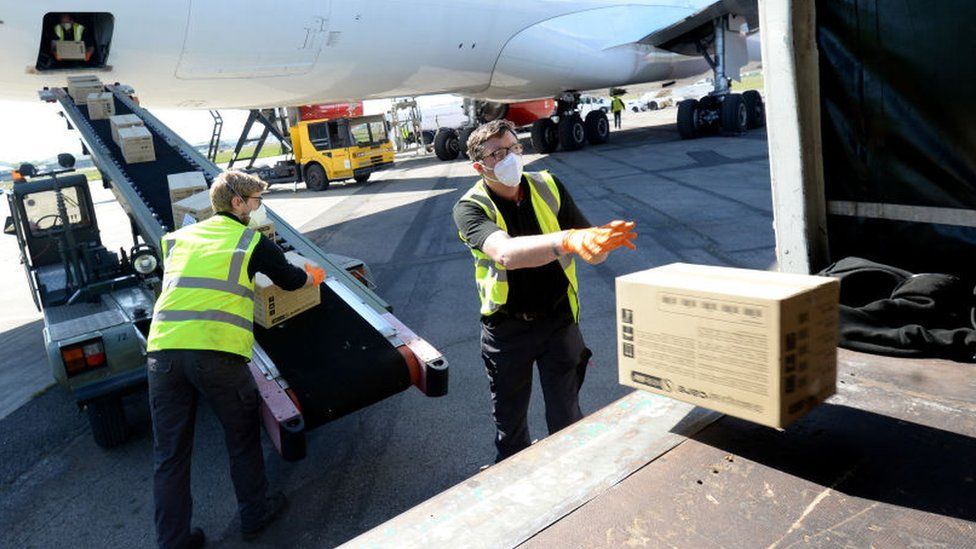 Firms have been chartering private jets to move goods as politicians hammer out a plan to reopen France's border.
Charter company Air Charter Service told the BBC it had received more than 800 enquiries from firms looking to avoid disruption around ports.
The firm said it was "quite out of the blue", and it had taken 15 bookings.
Travel bans due to the coronavirus pandemic have typically included exemptions for freight, but currently no lorries are leaving the Port of Dover or Eurotunnel to France.
Justin Lancaster, group commercial director at Air Charter Service, said that the firm was seeing requests from a range of customers as a result.
"Most of those we've seen are from customers who are used to chartering flights, such as automotive firms who need parts.
"But some requests have come in from firms who would never normally consider paying for these services - such as food, textiles, livestock."
Mr Lancaster adds that the majority of enquiries are for flights importing goods to the UK.
Haulage firms he has spoken to suggested that drivers were already reluctant to start on journeys to Europe amid mounting queues at ports.
"I imagine that situation only gotten worse," he says. "If you're not sure if a driver can come back, you're not going to want to take that risk."
Air Partner, one of the world's largest air charter providers, also told the BBC it had seen a growing number of requests.
"If the situation in Dover continues, it's not impossible that some businesses will consider air freight for lower-value perishable goods, such as fruit and vegetables, or risk losing their stock altogether," said chief executive Mark Briffa.
The boss of the UK-based firm added that the current closures were "forcing businesses" to carry out back-up plans they might have had in place for a potential no-deal Brexit after the transition period ends on 31 December.
In the meantime, smaller firms such as CharterSync have also seen an uplift in requests for help in transporting cargo.
The UK-based firm, which connects freight forwarders with cargo and private jet operators in Europe via an online platform, told the BBC that on Monday it saw nearly four times its usual number of enquiries.
Its co-founder, Ed Gillett, said that most bookings were coming from the automotive and pharmaceutical sectors.
It is also asking customers to think of alternative methods of transport.
"With the constantly evolving border restrictions... we are encouraging our clients to break down larger pallets into smaller carry-on-boxes so that we can squeeze any time-critical cargo onto private jets."
Any future solution to the border closure is likely to include testing for lorry drivers, BBC Paris correspondent Hugh Schofield has said.
But Mr Lancaster from Air Charter Service points out that testing facilities or regimes would take time to set up.
"We're thinking this issue will be go up to Christmas Day... and Brexit is around the corner, which could bring more disruption as well as additional paperwork for customers.
"So if this closure carries on with no resolution, I think it's going to get much, much busier."