UK business 'must wake up' to China's Uighur cotton slaves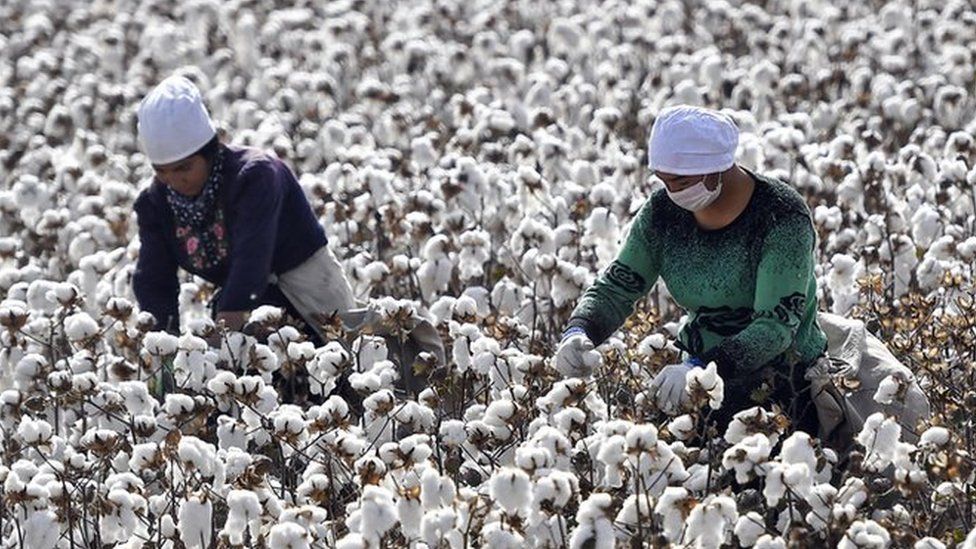 UK businesses must investigate where they get their cotton to avoid buying material grown by slave labour, according to a member of an influential parliamentary committee.
The call comes in the aftermath of a BBC investigation.
Documents show that China is forcing hundreds of thousands of Uighurs and other minorities into hard labour.
"UK businesses must now wake up to these disturbing realities," said MP Nusrat Ghani.
Businesses must "stop denying knowledge of what is taking place, examine their supply lines rigorously and make sure they are absolutely clear that they are not profiting from slave labour and abuse of the Uighurs", said Ms Ghani, who investigated the issue for the Business, Energy and Industrial Strategy (BEIS) Committee.
The BBC approached 30 major international brands. Marks and Spencer, Next, and Tesco said they have policies in place that ensure products sourced from China do not use raw cotton from Xinjiang, while Burberry said they do not use any cotton from China at all.
Others, including those who don't source direct from Xinjiang, were unable to guarantee its cotton didn't enter supply chains elsewhere.
Ms Ghani praised the companies, but said more firms should follow suit.
Peter Andrews, head of sustainability at the British Retail Consortium, said: "Protecting the welfare of people and communities is fundamental to our members' sourcing practices, and retailers are investigating their supply from China, particularly from the Xinjiang region, to ensure forced labour is not used and high standards are being upheld."
The UK passed anti-slavery legislation in 2015 under the Modern Slavery Act.