Bonmarché collapses into administration
By Robert Plummer
Business reporter, BBC News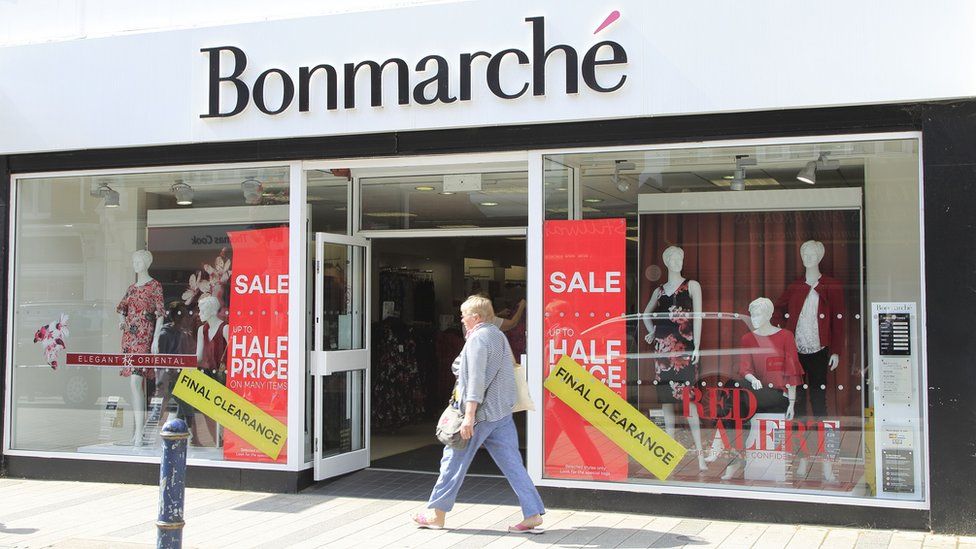 Women's fashion chain Bonmarché has fallen into administration, putting more than 1,500 jobs at risk.
Bonmarché, which has 225 stores around the country, was owned by retail tycoon Philip Day.
Administrators said the stores would continue to trade while options for the business were explored.
Damian Webb and Gordon Thomson of RSM Restructuring Advisory have been appointed as joint administrators of the firm, known as BM Retail Limited.
Mr Webb said: "Bonmarché remains an attractive brand with a loyal customer base. It is our intention to continue to trade whilst working closely with management to explore the options for the business.
"We will shortly be marketing the business for sale and based on the interest to date, we anticipate there will be a number of interested parties."
Yorkshire-based Bonmarché specialises in clothing for the over-50s.
This is the third time Bonmarché's been in administration. It had a 3,800-strong workforce back in 2012 before it collapsed and was then bought by a private equity firm. 160 stores closed and 1,400 job losses followed.
The chain was floated on the stock exchange in 2013. But in recent years it's continued to struggle. Philip Day built up a stake last year and then went on to buy the rest of it in a £5.7m deal, only for it to fall into administration a few months later.
He then went on to buy it back in what's known as a pre-pack deal. That allowed him to cut costs and reduce the number of stores. It also left suppliers out of pocket.
Don't expect Philip to ride to the rescue again this time, said one source. Today's news means his retail empire has now completely collapsed.
Those two firms employ 25,000 people between them.
In both cases, tough trading conditions and long-standing difficulties have been exacerbated by the coronavirus pandemic, which forced stores to close for lengthy periods during 2020.
And there is no end in sight for the uncertainty faced by retailers. Consumer confidence is expected to remain fragile into next year, amid fears that unemployment is set to rise as Covid continues to take its toll on the economy.
Retail analyst Kate Hardcastle told the BBC it was a mistake to think that Bonmarché and other troubled retailers were suffering purely because they had lagged behind on their online offer.
She said Bonmarché had shown "disrespect" towards its target market of older women by failing to engage with them and taking a traditional view of retail that no longer applied.
"It was led by a team that did not understand and reflect that their customers had changed and it did not move with them," she said.
"These are smart, sophisticated women. They're not your pearls-and-twinset customer.
"You can't just sell stuff to people any more. You have to embrace the way that 50-plus women live their life."
Related Internet Links
The BBC is not responsible for the content of external sites.