Christmas: Shops offer early festive discounts in battle for survival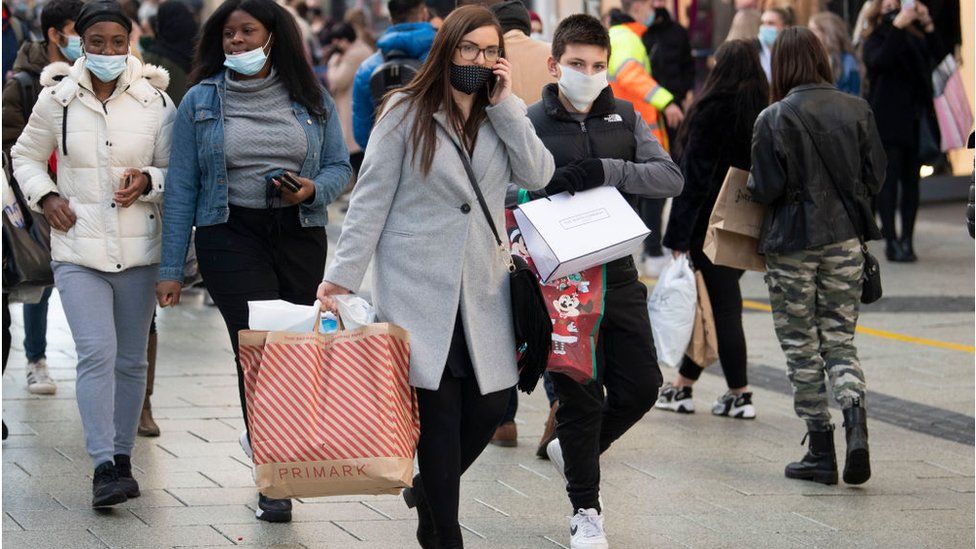 Shop prices are falling in the run-up to Christmas as retailers race to clear stock amid a "deepening" High Street crisis, a report has said.
Discounts are most common at retailers selling fashion and DIY goods, according to the British Retail Consortium's (BRC) Shop Price Index.
Overall, it found prices of goods excluding food fell 3.7% in November.
Market researchers Mintel and Springboard say they see similar trends and expect further falls in December.
The BRC said the discounting reflected "an extremely challenging year" for retailers after trade was put on hold because of lockdowns.
"As we approach Christmas, consumers will be glad to see another month of falling prices," said boss Helen Dickinson.
"Where demand was weak for some products, discounting has followed, with many retailers trying to encourage more consumer spending, particularly those selling fashion and DIY goods."
The BRC's Shop Price Index tracked the price of 500 of the most commonly bought High Street products from 2 to 6 November - a period that crossed into the start of England's second national lockdown.
Diane Wehrle, marketing and insights director at Springboard, said pre-Christmas discounts were not new, but that there would be more deals than usual this year as non-essential shops tried to make up for lost sales.
"Many retailers will have committed to orders, not had enough time to cancel and then ended up lumbered with stock," she told the BBC.
"They won't be able to sell things like seasonal gift sets and certain fashion lines in the new year, so we expect lots of discounts on those."
Retailers are also trying to get people to do their Christmas shopping earlier, fearing a spike in online orders that will be hard to fulfil, said Nick Carroll, associate director of retail at Mintel.
This partly explains why this year's Black Friday sale had lasted longer than usual, with deals available as early as 1 November, he said.
"We've seen huge pressure on logistics operations and people not able to get their goods on time, so the more demand is spread out out, the easier it will be."
The pandemic continues to batter retailers, putting thousands of jobs at risks.
The BRC's Ms Dickinson said businesses shuttered during lockdown had "lost billions in sales and many are now in a precarious financial position".
She called for more government support saying that "without such interventions, we will see countless more store closures and job losses".