Airbnb plans public share sale despite pandemic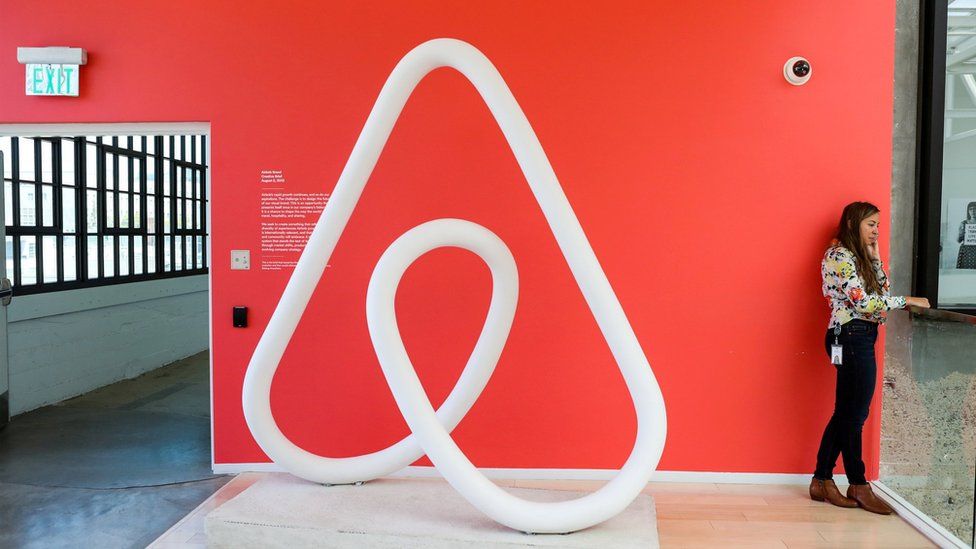 Lodging website Airbnb has filed papers in the US to become a publicly listed company in what is one of the most-anticipated launches of the year.
Since its founding as home-sharing site in 2008, the San Francisco tech firm has grown into a global juggernaut.
Its rise has challenged traditional hotel rivals and cities coping with an influx of tourists to new areas.
And while the pandemic hurt the firm's already loss-making business, Airbnb said its model remains resilient.
The company reportedly hopes to raise about $3bn (£2.27bn) by selling shares in the listing, which could value the firm at more than $30bn.
"We believe that the lines between travel and living are blurring, and the global pandemic has accelerated the ability to live anywhere," the company said in its Securities and Exchange Commission filing for its initial public offering (IPO). "Our platform has proven adaptable to serve these new ways of traveling."
More than 4 million hosts list properties on the platform, 86% of which are located outside of the US. Last year, roughly 54 million people reserved stays through the company, which takes a cut of each booking.
But travel was hit hard by the pandemic, prompting the company to slash staff numbers by 25% and raise $2bn in emergency loans from investors to make it through the crisis.
The firm said bookings have since recovered somewhat, as people looked to escape locked down cities with long-term rentals. But they remain down about 20% in recent months compared to last year.
In 2019, the firm booked losses of more than $674m - a figure it has already surpassed in the first nine months of this year.
The firm, which brought in revenue of $4.8bn last year, also warned potential investors that revenue growth had slowed, a trend likely to continue.
Between 2018 and 2019, the firm's revenue grew more than 30%. But it fell more than 30% year-on-year in the first nine months of 2020, to $2.5bn from $3.7bn a year earlier.
Separately, shares of electric car maker Tesla jumped 9% in extended trade on Monday after S&P Dow Jones Indices said that the company would join the S&P 500 index. It will join on 21 December.