'I was refused a home Covid test after credit check'
By Dan Whitworth
Money Box reporter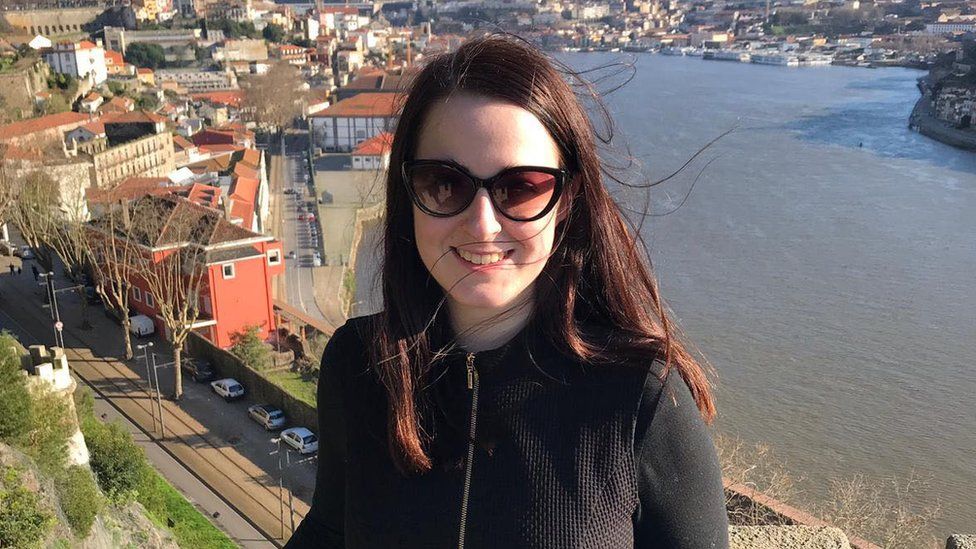 "We really couldn't understand why we weren't able to have our identities verified, " says Laura McCormack about the moment she and her partner, who both had the three main symptoms of coronavirus, were refused a home test kit.
They had logged on to the government website to request one, but were told that because their names and addresses could not be checked, they would have to go to a physical test site instead.
With no car and needing to avoid public transport because of their symptoms, it took them five days to get a test site close enough to walk to - one that was 90 minutes away.
"We started Googling and digging around," she says. "We thought it [failing to get their identities verified] might be the fact we are migrant workers."
Because Laura has been in the UK less than a year, she has not built up much of a credit history.
"In the end, it became clear that people with no credit history were having very similar problems. People who haven't taken out loans or don't have phone contracts or credit cards here in the UK," she says.
"That's what led us to believe that we actually were being excluded from the process because we don't have a credit history here in the UK."
Most adults in the UK have a significant credit file, so getting a home test kit would be no problem.
But research from 2018 suggests there may be up to 5.8 million people with little or no credit history who could have similar problems to Laura, should they need to get one.
The Department for Health and Social Care, which is running the test system across the UK, says it uses a credit reference agency, TransUnion, to verify people's identities to "reduce fraud and prevent multiple testing kits being ordered, diverting capacity from where it is needed most".
TransUnion told Money Box in "some cases we may not be able to verify the individual's identity - which can happen for a number of reasons". It refused to explain what those reasons are.
While Laura doesn't have much of a credit history, she is on the electoral roll and does have a bank account and utility bills in her name.
Anna Miller, from charity Doctors of the World, questioned whether identity verification for home test kits is creating the solution to a problem that doesn't exist - at the expense of people like Laura.
"The types of people affected are anybody who has little to no credit history or credit footprint," she says.
"People whose financial situations tend to be organised by other people in a family and women, like elderly people, are likely to be more disproportionally affected.
"Alongside these groups are young adults who've not had much time to build up credit histories, recently arrived migrants in the UK for the same reason and people on low incomes who might not have access to mainstream credit."
Both the government and TransUnion were very clear that people do not have to pass a credit check to get a home test kit.
The Department for Health and Social Care also told the BBC: "Tests can also be booked by calling 119 and people can access testing and in-person testing sites, where a member of staff will confirm their identity in person."
But if an indirect consequence of not being able to verify your identity online is that people with no or limited credit histories are being affected, Laura says the system needs to change.
"The situation seems a bit crazy to me, to be honest. We are guests in the UK, we're trying very hard to keep the population safe by self-isolating and getting tested," she says.
"But not being able to verify our identity was very strange. We're both on the electoral roll, we both have bank accounts here, we're on a lease, we both have bills.
"There are many ways the government could have accessed our identity information, so the reason the government has chosen the credit path is a mystery to me."
You can hear more on BBC Radio 4's Money Box programme by listening again here.