Christmas shopping done with weeks to spare
By Lucy Hooker
Business reporter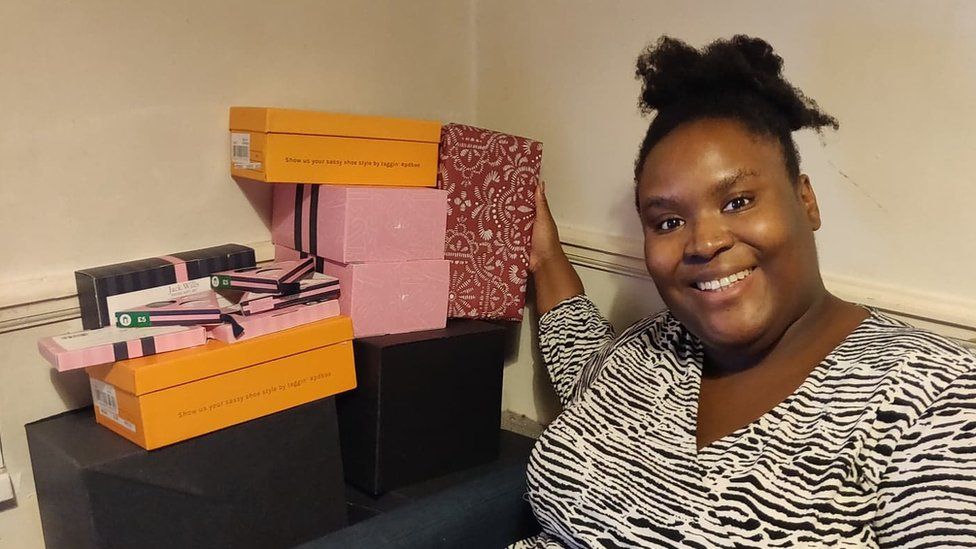 When the November lockdown was announced a "mini-rush" of shoppers headed for the High Street, determined to squeeze in a bit of the normal festive experience before the shutters came down and the closed signs went up.
But for Rochelle MacKenzie-McQueen there was no need to scramble into action.
She started weeks ago and now has her Christmas gifts in the bag, for around 10 friends and family members.
"Normally I would have waited until early December," she says. "But because of Covid I thought, I'll just get them now."
The 29-year-old has a medical condition that means she has to be particularly careful to avoid the virus, so she shopped online. But she could see another lockdown was looming and knew others would be doing the same.
"I thought better to get it done early, because as soon as Black Friday hits everyone is going to be trying to order," she says.
Now she's relieved the pressure is off.
Even in a normal year there is a divide between those of us feeling a bit smug that by Guy Fawkes Night we've done everything, down to the labels and ribbons, and those of us planning an adrenaline-fuelled dash around the stores on Christmas Eve.
But in 2020 it is harder to work out how to tackle it. The face masks, hand sanitiser and queues have made the shopping experience an uncomfortable balance of risk and reward. We don't even know exactly where we'll be able to shop and when, whether deliveries will come on time. It is even less clear whether there will be bargains to be found or if some things will be hard to get.
Recent surveys for American Express and John Lewis suggested that, as a result, more of us planned to get ready for Christmas early this year. The department store found that less than 2% of us were going to leave it until the last minute, while 60% of us hoped to have all the presents, prosecco, pyjamas and panettone sorted by the end of November.
Laura Pemblington has not only bought all of her Christmas presents - for her parents, her husband, her two young boys and a few other friends and family - but she has wrapped and carefully stashed them out of sight.
"I just sat here one night and said, 'I need to cheer myself up.' I made myself a hot chocolate, put on Elf - that's my favourite Christmas film - and wrapped."
That was about three weeks ago now. As for shopping, she started that during the first lockdown in the spring.
"There were some good deals," she says. "Because I was sat at home I thought, 'I'll buy that.' Before I knew it, I was done. I was shocked myself."
She thinks she saved money too as long as she can be disciplined about not adding to the pile.
Shopping early doesn't work for everyone though, says Kate Hardcastle, consumer expert at Insight with Passion. A lot of people look forward to the experience of Christmas shopping itself as a ritual, a marker at the end of the year when they can let go and treat themselves.
"There is something about the ambience - the lights, the smell of chestnuts in the street, we're wrapped up and glowing, maybe we're bumping into people we know, and we've got longer to stop and chat - that enhances the shopping experience," she says.
It might make us spend more, but it also makes us feel good, she says. You won't get that same experience shopping in August or online, but she points out, you may not get it this year at all, even if you wait until December.
"If the stores do reopen after this four-week period, there's going to be a different type of shopping. It's going to be very frustrated, pressurised shopping. It's going to be very anxious shopping," she says. "No time for frivolousness, no time for browsing.
"Nothing says Christmas less than wearing a bright blue medical face mask, does it?"
And in the end that may just mean we end up buying less than we might have. There are a lot of people, says Ms Hardcastle, who prefer to shop in person, looking for inspiration, using cash. In particular, grandparents are eager to treat grandchildren who they haven't been able to spend as much time with this year. There are things they would pick up in stores that they wouldn't necessarily come across online.
But if shopping is curtailed, you can always get started on other seasonal activities instead.
Laura has followed up Elf by watching Miracle on 34th Street, It's a Wonderful Life, The Grinch (cartoon version once, Jim Carrey version twice) and The Nightmare Before Christmas (too many times to count).
"I think it's because this year has been so rubbish," she says. "With everything that's gone off I'm trying to make it extra festive."
Others are taking the same approach. Members of Mumsnet admit their Christmas trees have been "twinkling away" since the half-term break, and plan to put on the Christmas songs playlist and decorate their homes by mid-November.
But we won't all be rushing to get on with it.
Rochelle is pretty sure her brother will be sticking to his usual timetable.
"He'll literally buy Amazon vouchers on Christmas Eve and have them emailed to us," she says.
"I tell him to put some thought into it. He just says, 'Everyone's happy with vouchers.'"