Pizza Express cuts 1,300 more jobs amid Covid crisis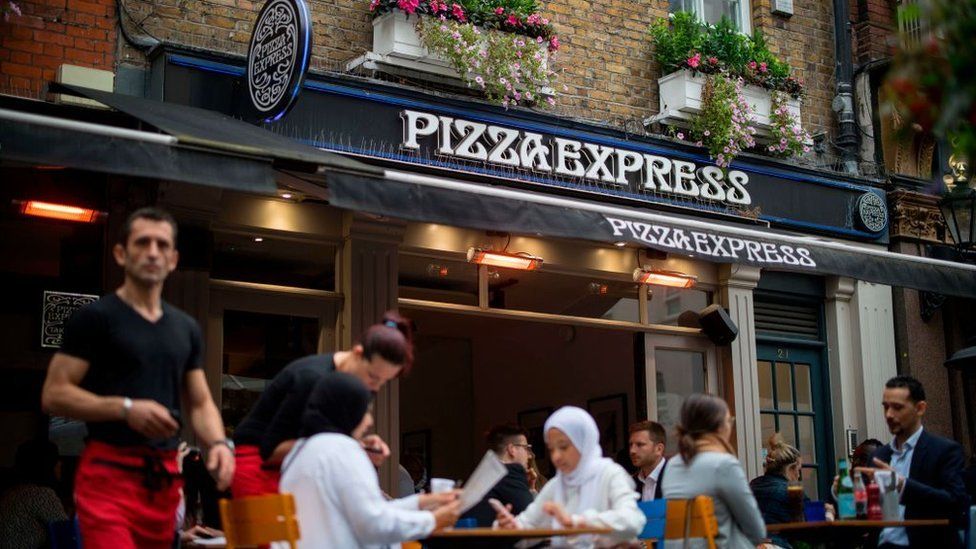 Pizza Express will cut 1,300 more jobs across its 370 UK restaurants after sales dipped amid more coronavirus cases and restrictions.
The losses come weeks after the firm said it would cut 1,100 jobs and close 73 restaurants.
No further restaurants will close, it says, with this volley of losses split across the remaining sites.
City centres are worst hit by the restrictions, it said, as diners stay at home or order food in.
"Our aim throughout these extremely challenging times has been to keep our team members and customers safe and to retain jobs for as long as possible," Zoe Bowley, Pizza Express managing director said.
"Unfortunately, the recent increase in Covid-19 cases is again causing footfall to decline across the UK."
The company didn't say which roles are likely to be cut, nor which locations will lose staff.
Pizza Express went through a restructuring in the summer to cut its rental costs, which led to the first volley of job cuts and closed venues.
The company, which began with one restaurant in London's SoHo district in 1965, is majority-owned by Chinese investor Hony Capital, which bought it for £900m in 2014.
Two weeks ago Mitchells & Butlers, the pubs and restaurants group, said it had begun redundancy consultations with a number of staff as it struggles with the impact of the coronavirus pandemic.
M&B, whose chains include Harvester and All Bar One, has about 1,700 pubs and restaurants and 44,000 employees.
It has not yet disclosed how many jobs are at risk.
The cuts came amid warnings over large job cuts in large cities like London, where city centre bars and restaurants are particularly hard hit as diners stay at home.
Tougher Tier 2 Covid restrictions will put up to 250,000 jobs at risk in London's hospitality sector, according to the industry's trade body UK Hospitality .
Chief executive Kate Nicholls said that without additional government support thousands of jobs in the capital will go.
British employers planned making redundancies at close to a record level last month, as the second wave of coronavirus took its toll on jobs.
Some 1,734 employers notified the government of plans to cut 20 or more posts, close to the peak levels seen in June and July, according to data released to the BBC after a Freedom of Information request.