Hornby: Model train maker steams ahead in lockdown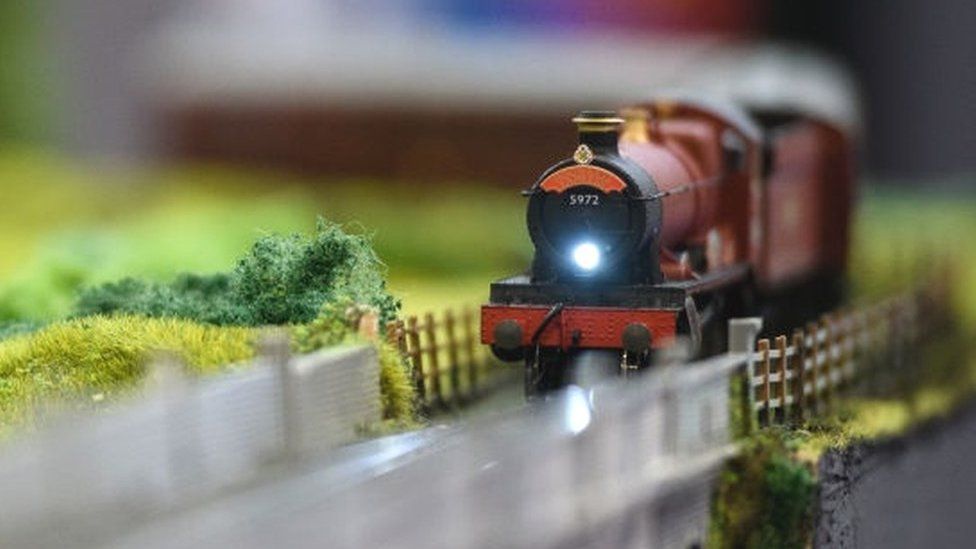 Model railway maker Hornby has seen its sales surge by 33% in the six months to the end of September, as more people took up hobbies in lockdown.
The firm, which also makes Corgi cars and Scalextric racing kits, said it had benefitted from families spending more time at home.
Not along ago, Hornby was "a company in chaos", losing up to £10m a year, according to boss Lyndon Davies.
He hailed the firm's return to profit in a "time of adversity".
"We have observed hitherto successful and profitable companies worldwide crumbling under the pressure [of the pandemic], with losses, closures and tumbling share values.
"Yet we have not only weathered this shattering storm, our sales have increased by 33% in the first half of 2020, moving Hornby back into profitability."
Parts of the Hornby business that performed strongly over the past six months included Airfix, its model aeroplane brand, and Humbrol, which makes specialist paints for modelling.
Mr Davies said the company had seen a big jump in online sales, as customers sought comfort from uncertainty in products "they know and love".
He said boredom was another driver: "People want to do things, they don't want to sit there watching the TV for the day."
He said the firm entered the year with "no idea" how the business would be impacted by the pandemic.
All of the firm's offices had to close at various points, and it lost several weeks of shipments due to supply chain issues.
Despite this, sales climbed to £21.1m in the period from £15.9m last year. That's given Hornby a net profit of £200,000, turning around a £2.5m loss in 2019.
Shares in the firm surged almost 30% on the back of the strong results.
Lockdown isn't the only reason behind Hornby's changing fortunes. After a complete restructuring of the management team in 2017, the company widened its range, introducing train sets tied to well-known brands such as Harry Potter and Paddington Bear.
Back to the Future-themed cars have been "the biggest selling Scalextric cars for 10 years", Mr Davies added.
The firm has also embraced new technologies. A century after its first clockwork locomotive was introduced in 1920, the company's model trains and racing cars can now be controlled by mobile phone apps using bluetooth.
"These brands have been misunderstood for the past 5-10 years, but in the last year we've brought them alive again," Mr Davies said.