Future of UK aerospace 'in doubt' without EU deal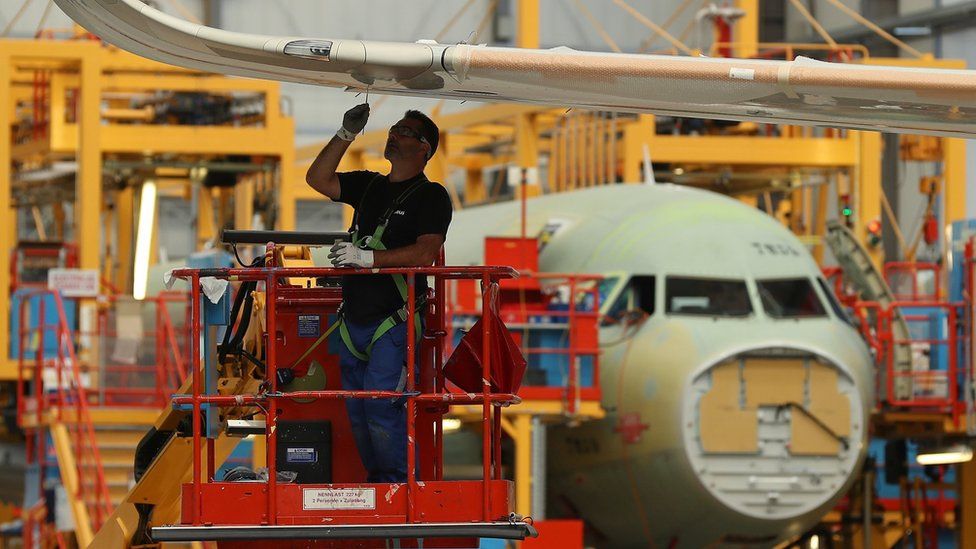 The future of the UK's £34bn aerospace sector is at risk if ministers do not reach a deal with the European Union over the mutual recognition of parts, the aviation trade body ADS says.
It said a deal would not form part of any post-Brexit trade deal, despite the sector employing 110,000 people.
Currently the UK is the world's second largest aerospace manufacturer.
But ADS said that without agreement, customers would "go elsewhere or UK-based businesses choose to relocate".
The warning comes as global aircraft orders slowed to nearly zero in September due to a slump in demand caused by the pandemic.
Just 13 aircraft were ordered in the three months from July to September, according to data from ADS.
ADS says ministers have not prioritised an agreement over the certification of aerospace components in their trade negotiations with the European Union (EU), preferring to focus on issues such as fishing rights.
However, it said that without mutual recognition, manufacturers could face added cost and complexity at a time when they are already reeling from coronavirus. 
"Even with a deal we are facing significant additional costs," ADS chief executive Paul Everitt told the BBC. "It gets worse if there's no deal."
At the moment, the European Union Aviation Safety Agency (EASA) certifies all aerospace parts made within the EU, and it has mutual recognition agreements with regulators around the world.
But from 1 January, all UK-designed parts for aircraft will automatically become invalid in the EU.
The UK's own Civil Aviation Authority (CAA) will take over the function of certification, but experts fear it does not yet have the competence to do the job.
"In a nutshell, we definitely need a deal. If there is no deal then we would need some temporary measures put in place by the EU to recognise UK-approved design changes," Mr Everitt said.
Big manufacturers such as Rolls-Royce have already moved design teams out of the UK to try to avoid extra costs.
Some UK companies are also arranging for EASA - responsible for certifying the airworthiness of planes across the EU - to oversee some activities to make sure they can supply companies such as Airbus with parts.
Mr Everitt said if no deal was struck, the UK's dominant position in global aerospace would be hit as innovation slowed down.
He said EASA and the CAA were themselves keen to find a solution "a suitable outcome" but that politics was getting in the way.
"Because there are bigger political issues between the UK and the EU, they are not free to do the sensible deal that is there to be done."
A government spokesperson said: "Intensified talks are continuing in London this week, and for the first time we are negotiating on legal texts and across all areas at the same time.
"Aviation and aerospace are critical industries to both the UK and the EU, and we have a common interest in ensuring that they continue to thrive."