CEO Secrets: The aviation workers starting new businesses
By Dougal Shaw
CEO Secrets Producer, BBC News
As part of our CEO Secrets series, which invites business leaders to share their advice, we are focusing on start-ups that have launched during lockdown. Each week we will look at a different type of entrepreneur. This week, we hear from people who used to work in the aviation industry.
Sophie Southwood, 37, was faced with a painful choice during lockdown, along with her Qantas cabin crew colleagues.
When furlough came to an end, did she want to take redundancy, or go on unpaid leave for up to two years?
She chose unpaid leave. She wanted to keep the door open to return to her old job - in case that became possible.
"You see, I love the lifestyle," she explains. "It's all I've known since college."
She felt pride wearing the uniform. She enjoyed "the razzmatazz, strutting through the airports", though much of the job was less glamorous.
After more than 15 years with the company, Sophie, who lives in Guildford in Surrey, has even made the gruelling workload of long-haul flights fit in with family life. Her parents live nearby, and between them and her husband, they can take care of the children, aged six and two, while she travels across the world and back.
"I'm not ready to give up on it and I hope my loyalty will pay off," she says. But in the meantime, she has bills to pay.
So she has turned what was a hobby - floristry - into a business.
Since August she has been making and selling front-door wreaths and running floristry workshops from her home.
And she now has a small area in a local shop in which she sells her creations. Her business Scentsations Floristry breaks even and she hopes to make a profit when the Christmas period kicks in.
Her ultimate goal is to return to the skies, though if that happens she would like to continue to nurture the business.
Her advice to other people left stranded as the aviation industry goes into freefall is this: "Now is the time - why not take the risk? You have nothing to lose."
She also thinks cabin crew like her have fine-tuned skills that can be ideal for running a customer-facing business.
"A cabin crew's real talent is anticipating people's needs - it's ingrained in us."
"I loved my job, it made me the person I am today," says Jasvinder Kalsi, "but I had to make a clean break to progress as a person."
The 42-year-old from Buckinghamshire worked for two decades at British Airways as a customer service agent, dealing with passengers at check-in and departure gates.
Like Sophie, she was offered redundancy in July while on furlough - but she decided to take it, though "hesitantly", because of the financial risk.
She had been thinking of setting up a business for a while and even had a failed one behind her, selling a skincare product, that she ran as a "side hustle". Furlough gave her the "head space" to plan a better one.
Another motivation is that she has a teenage daughter and she wants to inspire her by pursuing her business dream.
"This time I realised it had to feel personal to me," Jasvinder explains.
There was a ritual she used to enjoy growing up in a Punjabi household in Yorkshire. She used to mix turmeric powder with yoghurt and flour, then rub it on her skin to dry overnight.
"When you woke up your skin was basically glowing," remembers Jasvinder, who used the same ritual the night before her wedding.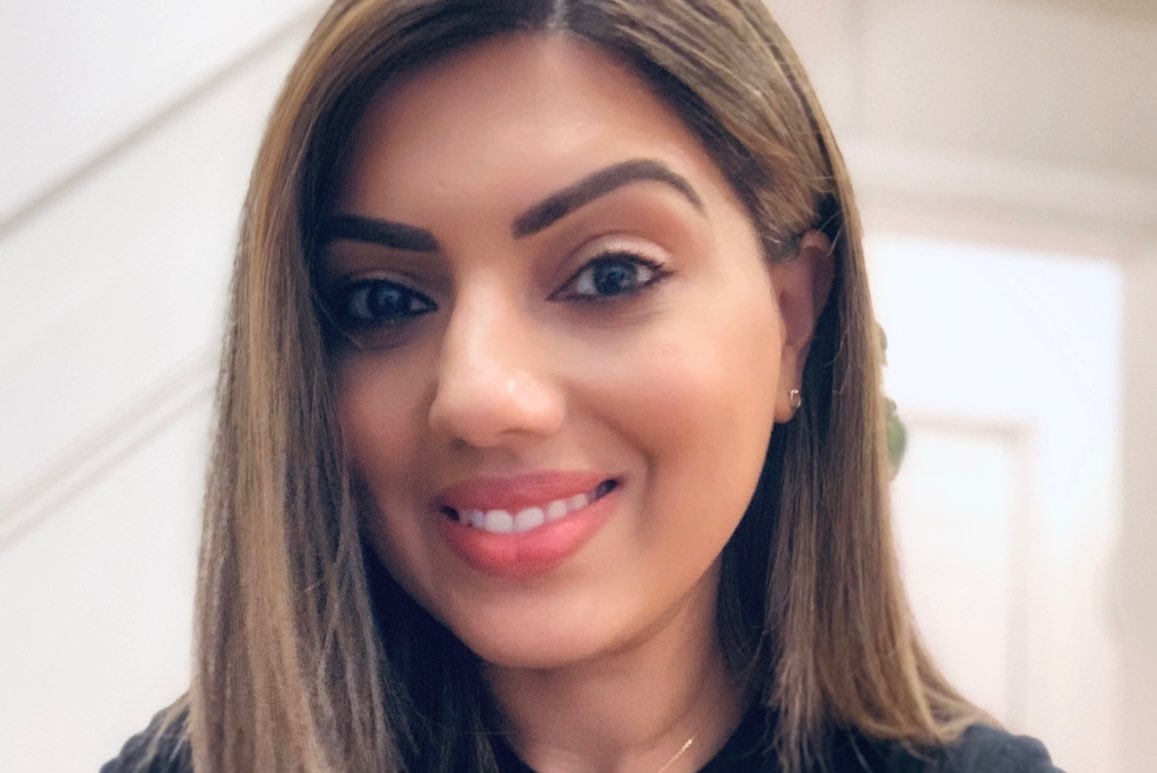 Jasvinder Kalsi
My time in the industry showed me what I can achieve. I wouldn't have my confidence without it
Her new brand is called MĀRĪCĪ. "It means 'beam of light' in Sanskrit, which I feel is fitting in these very dark times," she says.
Her balm is made by a factory in Peterborough, which mixes the turmeric with other substances like beeswax and sweet almond oil. The product will launch to the public in November.
"I have times when I'm scared but I've decided to let fate take its journey," says Jasvinder.
She is also very sad to have left British Airways. Her colleagues there were like family, she says. But she thinks her time with the company has given her lots of transferable skills.
"When you deal with airline passengers, it's everyone from the rich and famous to regular families going on holiday," she says.
"My time in the industry showed me what I can achieve. I wouldn't have my confidence without it."
The past few months have been truly dreadful for people working within the aviation industry. Carriers around the world have been laying off tens of thousands of employees.
Yet for many who work in the sector - particularly those who actually fly - it is a vocation. People often refer to the "aviation family", and there's certainly a sense of community in the industry.
So why would people who hope to return to the skies be setting up businesses? It's partly because they have little choice but to do something different. And it's partly because they have a lot to offer.
Pilots are trained to be focused and disciplined, even under the most intense pressure. Cabin crew are experienced in trying to keep hundreds of passengers happy on every flight. It isn't hard to see how these skills could be used elsewhere - or how businesses could benefit from them.
Paul Green, 33, had dreamed of being a pilot since childhood, ever since his grandfather took him on trips to Leeds Bradford Airport to see Concorde land.
He fulfilled his dream, but his aviation career has been a bumpy ride, through no fault of his own.
Because of what had happened with BMI Regional, Paul had already had some thoughts about how to "pick up the pieces" if his flying dream ever fell apart.
He wondered if he could use his pilot's training to help people in other walks of life to manage stress. He launched his consultancy, The Cockpit Method, in May from Bath, and so far has helped everyone from architects to accountants.
"When you think of a pilot you think of a good decision maker," says Paul. "But actually it comes down to a well-rehearsed checklist and a procedure that focuses the mind. It's not an inherent skill."
As well as teaching the pilot's decision-making model, he also instructs on issues like communication, risk assessment and people management.
Ironically, he thinks coronavirus has created a demand for his new company.
"As a pilot if you make the wrong decision, it's catastrophic and lives are on the line, and now with Covid that's what businesses are facing. If they make the wrong decisions with redundancies, it's people's lives on the line."
A recent client is the NHS in Surrey, where he is helping managers develop coping strategies for staff who have suffered from stress and fatigue during the Covid-19 response.
"They need a robust wellbeing strategy because there has been no downtime since March, so I'll devise for them simple, practical steps, like taking breaks for fresh air, or just taking a proper lunch break."
He thinks the pilot's philosophy is well-suited to the business world, especially at the moment.
"A lot of wellbeing and stress management courses will tell you to remove the stresses, or remove yourself from the situation, but if you are halfway over the Atlantic and you are on fire, you can't step away, you have to deal with it."
Since starting in April Paul has delivered 30 consultations, the company is in profit and he hopes to win more contracts with big organisations like the NHS.
But though he finds his new work very satisfying, like so many others in the aviation industry, he says he can't give up on flying.
You can follow CEO Secrets series producer Dougal on Twitter: @dougalshawbbc