Geek Retreat: Retailer of 'all things geeky' to open 100 new shops
By Bill Wilson
Business reporter, BBC News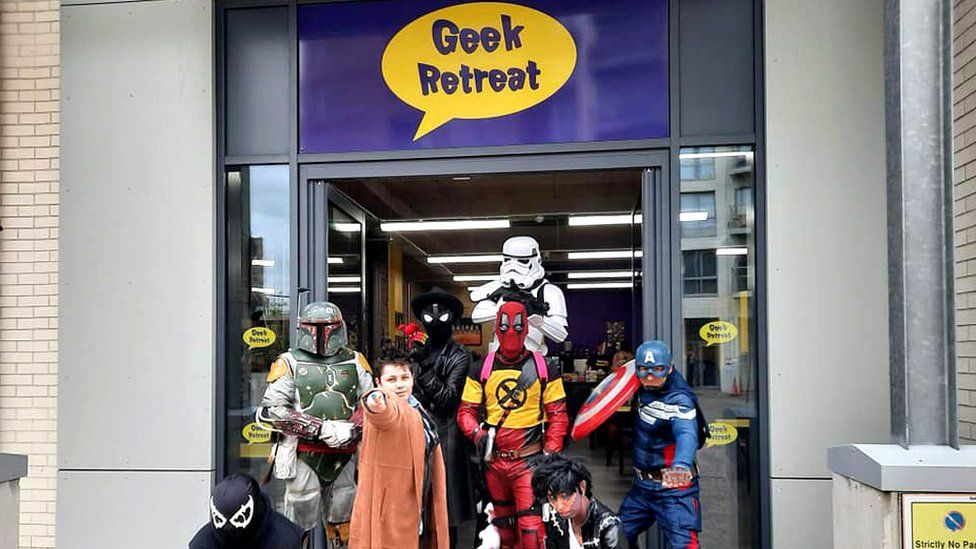 From online fashion to grocery, only a handful of sectors have bucked the coronavirus downturn, and now it seems comics and gaming have joined the list.
Geek Retreat - which specialises in "all things geeky" including comics, memorabilia and table top games - says it will open another 100 stores over the next two years, at a time when the UK High Street is under pressure.
The Scottish firm currently has 14 UK sites, which combine retail space with cafes and areas to play games and hold events.
It said its Covid-safe plan would create around 600 new jobs.
"During the pandemic, while our gaming events have had to stop and the hospitality side of our business is more difficult, our stores still have loyal communities who support our retail side," Geek Retreat boss Peter Dobson told the BBC.
"We have made sure all of our stores are welcoming and accessible to gamers whatever their interests, providing a place for our loyal customers to get out of the house and play safely post-lockdown."
Countless High Street businesses had to close temporarily during lockdown, and many remain under pressure as shoppers minimise social contact.
However, Mr Dobson said Geek Retreat was benefitting from the growth of the wider games and hobby sector which is valued at £8bn a year in the UK and predicted to expand by 3% in 2020.
Earlier this year, miniature wargames manufacturer Games Workshop - which is best known for its Warhammer products -announced record sales and profits, and its shares were promoted to London's FTSE 250 index.
Geek Retreat - founded in Glasgow in 2017 - stocks merchandise such as comics, posters, clothing, figures and memorabilia as well as games and trading cards.
It also specialises in various cult brands such as Dungeons & Dragons, Star Wars and Harry Potter, while selling graphic novels and gaming accessories such as dice.
The retailer said it expected to open sites in Bournemouth, Northampton and Liverpool in coming months, followed by Southampton, Dumfries, Cardiff and Sutton in London.
The chain, which operates as a franchise, aims to open five stores per month from the beginning of 2021, but points out that with the Covid-19 virus those plans are subject to change.
Mr Dobson said all his outlets were Covid secure, with only limited numbers allowed in at one time. Customers also have to book events in advance, submit their details for track and trace and follow social distancing rules.