Coronavirus: US poverty rises as aid winds down
By Natalie Sherman
Business reporter, New York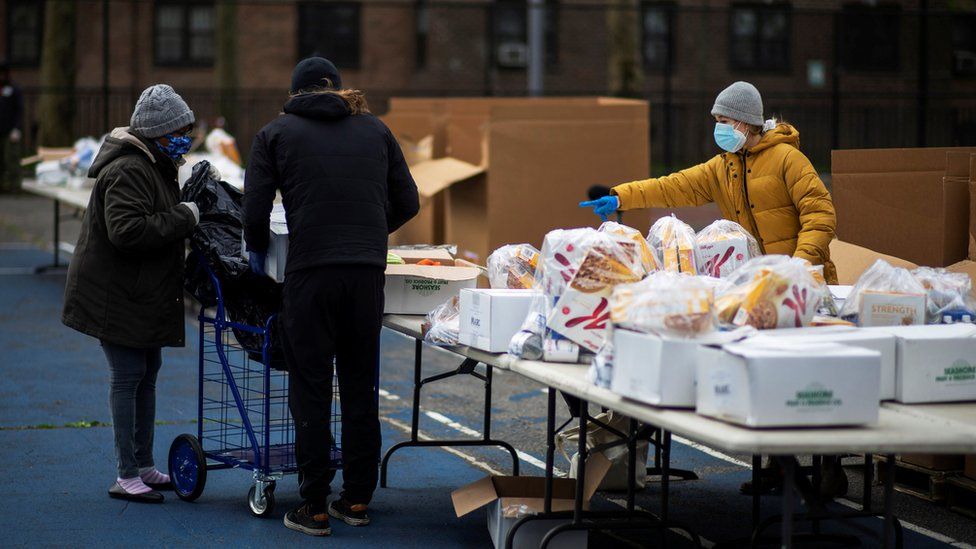 Poverty rates in the US are rising, as government aid winds down despite ongoing economic distress caused by the pandemic.
Last week, nearly 900,000 people filed new claims for jobless benefits - the highest number since August.
Analysts have called for aid to prevent the economic recovery from stalling.
But politicians in Washington have been at odds over a deal for months, with talks in recent weeks overshadowed by the upcoming presidential election and disputes over the Supreme Court.
"The sobering reality is that it appears further help may not be coming from elected officials in Washington," said Mark Hamrick, senior economic analyst at Bankrate.com.
This spring, as the pandemic cast more than 20 million Americans out of work, the US government approved more than $3tn (£2.3tn) in relief money.
The aid included cheques of up to $1,200 for most individuals and money to temporarily boost unemployment benefits by an extra $600 per week.
The massive spending wave initially blunted the economic upheaval caused by the virus, prompting poverty rates to decline.
But those figures began to tick up again this summer, as the one-time financial boost from the cheques wore off and the expansion to unemployment benefits expired at the end of July.
'It has been an extremely difficult time'
Until the pandemic, 49-year-old Latacha Barnett worked as a substitute teacher in Louisville, Kentucky during the school year and at a hair salon in the summer. The virus eliminated both lines of work.
For two months this spring, she received unemployment payments. But those stopped in June, at the end of the school year, forcing her to dip into savings she had hoped to one day put toward a buying a house, stop her internet service and go to food banks for groceries for herself for the first time.
Ms Barnett, who is the primary earner for her three children and two grandchildren, exhausted her savings last month.
"I just didn't expect it to go on as long as it has," she says. "It's been an extremely difficult time for us. I'm behind on everything."
Ms Barnett finally started a new job this month as a family advocate - one she took despite the possible health risks. She says the people she's really worried about are those who can't get new jobs and don't have savings to see them through.
"I honestly think it's been horrible that no more has been done," she says.
In the US, President Donald Trump has celebrated that the economy has so far rebounded faster than many analysts initially expected.
But while the US has regained about half the jobs lost in March and April, many economists do not expect the labour market to fully recover before the end of 2023 - and they warn that momentum appears to be slowing.
Thursday's Labor Department report showed an unexpected 53,000 increase in unemployment filings from the week before, sending new claims to a two-month high.
More than 25 million people continued to collect some form of unemployment payment as of 26 September, the Labor Department said.
Wells Fargo economist Sarah House said the report showed "the risk of the labour market's recovery going into reverse".
Democrats in May approved more than $3tn in additional spending, but Republicans in the Senate have balked at the sums and White House efforts to broker a compromise have so far failed.
On Thursday, Mr Trump said he was willing to agree to more spending, but Treasury Secretary Steven Mnuchin, who has been leading negotiations on behalf of the president, said a deal would be difficult before the November presidential election.
Mitch McConnell, who leads Republicans in the Senate, said Congress would approve more aid, if not before the election then after. But he warned that his members continue to favour more limited, targeted relief.