Brexit: Banks warned over expat account closures
By Kevin Peachey
Personal finance correspondent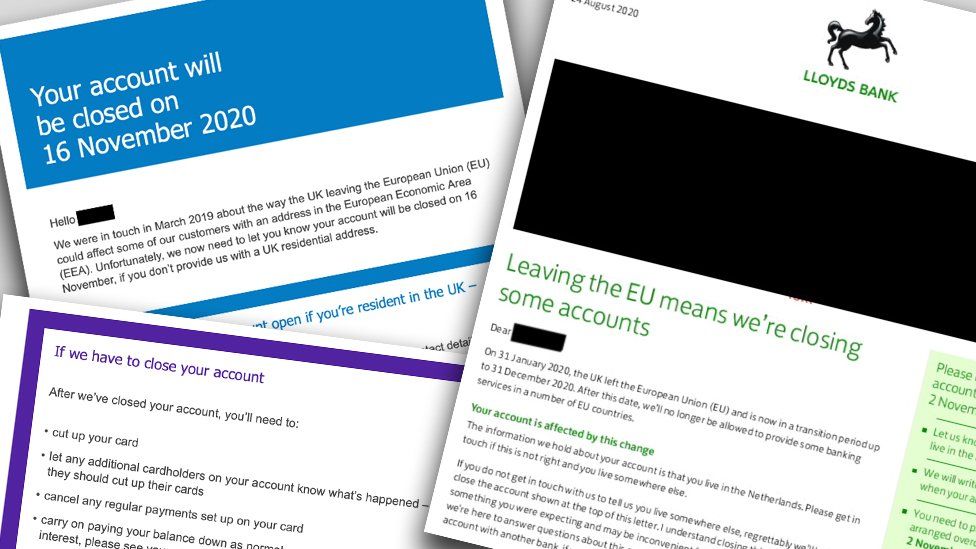 Banks must ensure closing expats' UK bank accounts does not leave customers in "undue financial hardship".
Thousands of expats living in the EU have been told their bank accounts will be closed owing to Brexit.
The Financial Conduct Authority (FCA) has stressed to banks that they must give at least two months' notice of plans to close any accounts in credit.
It said some were not informing customers in good time, but only certain banks plan to shut accounts.
Following the UK's full departure from the EU, UK banks will no longer be allowed to provide services to customers in the EU without the right banking licences.
This is known as passporting, a system for banks in the EU which allows them to trade freely in any other state in the European Economic Area (EEA) without the need for more authorisation.
Some, but not all, banks have decided it is not in their commercial interests to jump through these hoops and continue accounts for expats.
It heard from people like Sharon Clarke, a Briton who has been living in the Netherlands for 20 years and who had banked with Lloyds for decades without any financial problems.
"I was shocked to receive a notification saying that my bank account is going to be closed in two months," she told the programme.
"They said that unless I provide a UK address, my account will be closed and I'll have to cut up my card."
She said she was given until early November to close her account and transfer all monies, standing orders and regular payments to another bank.
The issue was taken up by Mel Stride, who chairs the Commons Treasury Committee.
In response to Mr Stride's questions, the new FCA chief executive Nikhil Rathi said banks were being reminded of their responsibilities.
"This includes identifying whether closing accounts would cause any particular customers or classes of customer undue financial hardship, taking into account the availability of alternative products," he said.
Mr Stride described this as a "welcome move" and said his committee would continue to monitor the situation closely.
However, there seems little chance of many, if any, of these banks reversing their decision to close accounts - leaving many expats needing to switch current account providers.