Downing Street joins criticism of 'crass' job ad
By Dearbail Jordan
Business reporter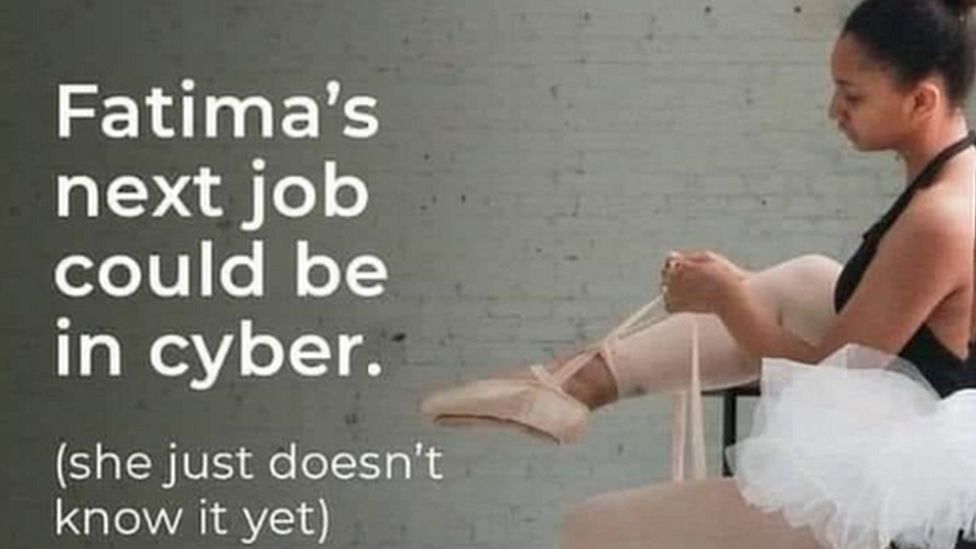 Downing Street has added its voice to criticism of a government-backed advert suggesting a ballet dancer should retrain in cyber security.
A No 10 spokesperson said it was "not appropriate" and had been taken down.
The ad, the latest in a long-running campaign to promote cyber security jobs, sparked a social media backlash.
It had already been disowned by Culture Secretary Oliver Dowden, who said the "crass" ad did not come from his department.
Acclaimed choreographer Sir Matthew Bourne was among Twitter users criticising the advert, asking in a tweet: "This has to be a joke? Right?"
The advert depicts a ballet dancer and reads: "Fatima's next job could be in cyber (she just doesn't know it yet). Rethink. Reskill. Reboot."
It is attributed to CyberFirst, a programme led by the National Cyber Security Centre to encourage young people to get into tech, and to HM Government.
Critics on Twitter called the advert "patronising", saying it showed the government was not helping the arts through the pandemic.
In a tweet, writer Caitlin Moran wondered if the government had "recently created a Hopes and Dreams Crushing Department".
Shadow mental health minister Dr Rosena Allin-Khan tweeted: "Fatima, you be you. Don't let anyone else tell you that you aren't good enough because you don't conform to their preconceived social norms."
"This was part of a campaign encouraging people from all walks of life to think about career in cyber-security, but this piece of content was not appropriate and has been removed," Downing Street said.
Mr Dowden said in a tweet: "I want to save jobs in the arts", and underlined that £1.57bn was being invested in the industry.
He said the advert "was a partner campaign encouraging people from all walks of life to think about a career in cyber security".
To those tweeting re #Fatima

This is not something from @DCMS & I agree it was crass

This was a partner campaign encouraging people from all walks of life to think about a career in cyber security

I want to save jobs in the arts which is why we are investing £1.57bn

— Oliver Dowden (@OliverDowden) October 12, 2020
The image, the latest in a series of promotions that started last year under a "Rethink. Reskill. Reboot." campaign, has now been removed. Before its removal, it read: "If your career plan's been altered this year, you're not alone.
"2020 has shaken up jobs - but most successful careers have a turning point. The government-backed Rethink. Reskill. Reboot. programme by CyberFirst could be yours."
By Alistair Coleman, BBC anti-disinformation team
The reaction to this "Rethink Reskill Reboot" campaign was immediate on social media, and the ballet dancer picture was replaced by a picture of a baker almost immediately.
In the context of the difficulties facing the arts during the Covid-19 pandemic, it's a sensitive subject. The use of a ballet dancer - seen through the narrow focus of social media - seems dreadfully timed and at least one government minister agrees.
The Chancellor's comments during an ITV interview last week have caused confusion around jobs in the arts, but it seems he was talking about all job sectors, rather than the arts in particular. However, it's the persistent belief that he was referring to people in creative industries retraining into new careers that has caused anger.
As for the courses themselves, QA have been running vocational courses under the CyberFirst name since 2017, in partnership with the government's NCSC, and sometimes alongside companies like BAE Systems - so these campaigns are not new.
Last year, the NCSC used the CyberFirst brand in an event aimed at steering school pupils toward a career in cyber-security, and they have told Huffington Post that the current "Reboot" campaign has no connection with them.
The image of "Fatima" comes from a photograph by Atlanta-based photographer Krys Alex published on Instagram in July 2017. The original picture shows dancers Desire'e Kelley and Tasha Williams from the Vibez in Motion Dance Studio in Atlanta, Georgia.
The coronavirus pandemic has forced industries to scale back their businesses and cut jobs, including many music venues and cultural organisations.
Last week, Chancellor Rishi Sunak said that all workers needed to adapt to the changing environment.
He told ITV: "Can things happen in exactly the way they did? No. But everyone is having to find ways to adapt and adjust to the new reality."
Department for Digital, Culture, Media & Sport, the National Cyber Security Centre and GCHQ have all been contacted for comment.