Lockdown city living 'wasn't the best idea'
By Simon Read & Tom Espiner
Business reporters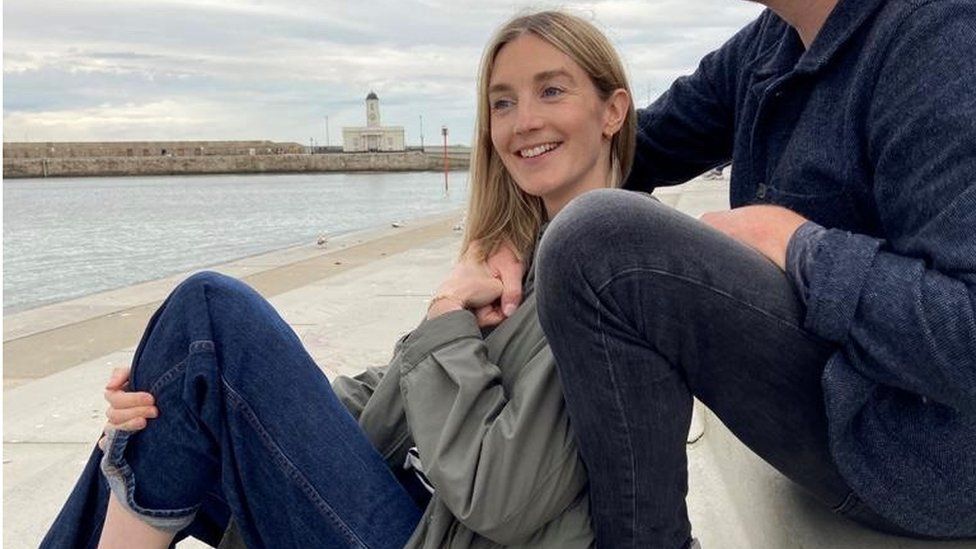 Caroline Langton was on the cusp of exchanging on a flat in East London earlier this year - and then came the coronavirus lockdown.
Instead, she ended up buying a property in Ramsgate near the sea.
She's not alone - property website Rightmove says homebuyers are looking to escape crowded cities and big towns by moving to the country or the coast.
Coronavirus has meant more people are working from home while lockdown made them realise they wanted more space.
Rightmove said that searches have doubled for homes in small towns and villages with populations less than 11,000.
For Ms Langton, the pandemic "changed everything".
She was renting a property in Margate as she and a friend were just about to exchange on a flat in Leyton, East London when the lockdown began in March.
It made her think again about moving to the capital.
"In Margate you've got that huge panoramic beach, and you get that sense of space, which you just don't get in London," she says.
"Living with a friend in a small property wasn't the best idea," she adds, especially as both potential flatmates have partners.
Instead, Ms Langton decided to buy a property in Ramsgate. The economics added up. To get a small two-bedroom flat in Leyton would have cost twice as much as a bigger place in Ramsgate.
Buying next to the sea also worked for her job as co-founder of an interior planting design company which can deal with clients remotely.
According to Rightmove, seaside resorts have seen the biggest rise in sales, as people sought more space during lockdown.
"The desire to move to the country has turned into a trend from a short-term shift," said Rightmove's Tim Bannister.
"Back in May when the market reopened in England we wondered how long the desire to move to the country or to smaller towns and villages would last."
He said there are two main reasons for the trend: some buyers are more willing to have a country commute a few times a week, while others are preparing for social distancing to be here for some time and so are being drawn to places with more outdoor space.
But anyone buying now should expect prices to be lower next year, estate agents have warned.
The latest RICS UK Residential Survey has revealed expectations that prices will move into negative territory over the next 12 months.
"There is increasing concern that the combination of significant job losses over the coming months allied to the scaling back of policy initiatives in early 2021 will have an adverse impact on transaction levels," warned Simon Rubinsohn, chief economist at The Royal Institution of Chartered Surveyors.
However, despite warning of negative prices next year, RICS reported strong house sales in September.
Halifax reported earlier in the week that house prices jumped by 7.3% in September - the strongest annual increase since June 2016.
It took the average UK house price to just below quarter of a million pounds, at £249,870, Halifax said.
These reports encapsulate the difference between vision and reality for many potential homebuyers.
The pandemic has led some people to reassess their domestic priorities, with space inside and out becoming more attractive for some than the buzz of a town or city.
But actually making that move may not be so easy. Demand may not be matched by countryside properties coming on the market - whether it be a two-bedroom terrace or a detached property in its own grounds.
Then there is the question of how easy it is to sell an existing urban home, particularly during dark autumn and winter months.
On top of that, lenders are restricting mortgages for those without lots of equity, to reduce their own exposure to an economic downturn.
And, as always, jobs and pay are key in giving people the confidence and financial security to move - and with heavy redundancies on the cards, that may slow activity in the housing sector.
According to Rightmove, searches for properties in nine areas in England have doubled, and all have populations under 11,000.
Searches for homes in Lightwater in Surrey have risen the most - up 130% in the past year.
The village has a population of less than 7,000 people, and house prices range from a studio flat on offer for £155,000 to a five-bed house with an asking price of more than £3.6m.
Other small villages and market towns have proved popular with searches up 128% for Bruton in Somerset and up 111% for Chipping Campden in the Cotswolds.
The other locations where searches have doubled are:
Hungerford, Berkshire
Sturminster Newton, Dorset
Aylesford, Kent
Shaftesbury, Dorset
Halesworth, Suffolk
and Dartmouth, Devon.
The latter harbour town also tops the table for the biggest increase in the number of sales agreed, up by 179% in the past year.
St Ives in Cornwall posted a 170% rise in sales with Buckhurst Hill, Essex up 164% and Chipping Norton, Oxfordshire up 156%.