Fears of second lockdown wipe £50bn off UK stocks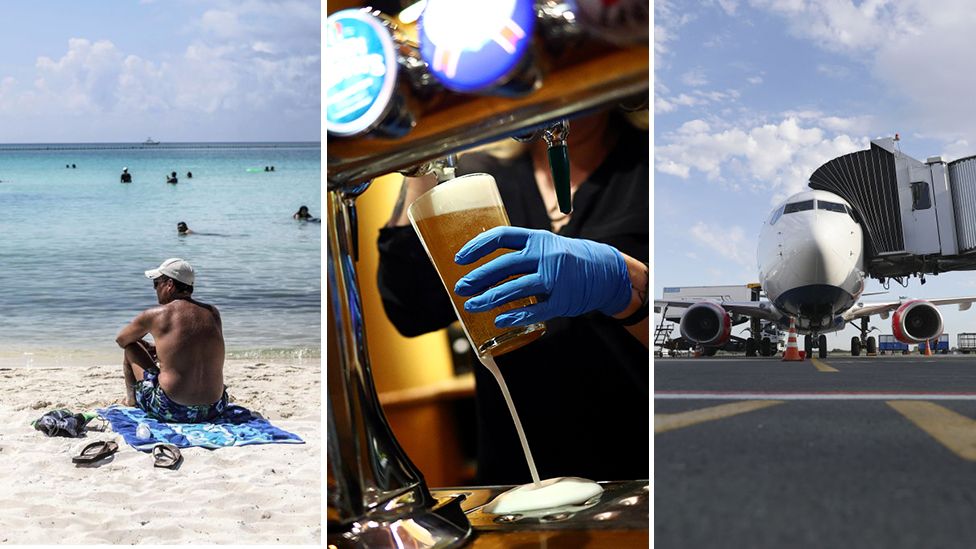 Fears that a renewed rise in coronavirus cases will blight economic prospects have wiped more than £50bn off UK shares, and caused similar falls across European and US stock markets.
London's FTSE 100 share index closed down 3.4%, with airlines, travel firms, hotel groups and pubs leading the rout.
Worst hit was British Airways owner IAG, down 12%.
Markets in Paris, Frankfurt and Madrid also dived, while the US Dow Jones index lost 1.8% after paring losses.
It comes amid fears that major economies could see second lockdowns as they struggle to regain control of the virus.
HSBC, the bank at the centre of the scandal, saw its share price fall 5.3% in London, but the revelations dragged down the entire sector, with other big banks dropping by a similar amount.
On Wall Street, JP Morgan Chase and Bank of New York Mellon saw their share prices fall 3% and 4% respectively in response to the reports.
The downward trend affected all but a handful of stocks on the UK's 100-share index. Only online delivery service Just Eat and supermarkets Tesco, Morrisons and Sainsbury's made it into positive territory.
The FTSE 250 index, seen as a better reflection of the health of the UK economy, closed nearly 4% lower.
One of its biggest fallers was pub and restaurant owner Mitchells & Butlers, which dropped more than 15% as concerns grow that the hospitality industry would have most to lose from a fresh lockdown.
The pound also lost ground against the dollar, falling 1% to $1.2790. It fell 0.4% against the euro to €1.0897.
Why does all this matter to me?
Many people are more affected by stock market falls than they might think.
There are millions of people with a pension - either private or through work - who will see their savings (in what is known as a defined contribution pension) invested by pension schemes. The value of their savings pot is influenced by the performance of these investments.
Pension savers mostly let experts choose where to invest this money to help it grow and a proportion will be in shares.
Widespread falls in share prices are likely to be bad news for these investments, although pension investors stress these are long-term investments and are designed to ride out bouts of weakness.
There has certainly been an element of European unity on the markets today, with the FTSE 100 index in London, the Cac 40 in Paris, the Dax in Frankfurt and the Ibex in Madrid all suffering similar falls.
The reason behind the gloom seems pretty clear. With the number of Covid-19 cases multiplying rapidly here and in many European countries, there's a real prospect of new restrictions on daily life. In some regions - such as Madrid, for example - they're already in place.
The fear is that although these measures are unlikely to be as severe as the lockdowns in spring, they will nonetheless weigh on economic activity and could stifle the post-lockdown recovery.
Shares are down across the board, but inevitably, the companies which rely on people being able to get out and about and mingle are among the worst affected.
Airlines, tourism firms and hospitality businesses have already had a dreadful year - and investors know they can ill afford further setbacks.
Coronavirus cases have been surging in many European countries, as governments strive to avoid another round of national lockdowns.
Prime Minister Boris Johnson is understood to be considering a two-week mini-lockdown in England - being referred to as a "circuit-breaker" - in an effort to stem widespread growth of the virus.
Susannah Streeter, senior investment and markets analyst at Hargreaves Lansdown, said: ''The FTSE 100 is worst hit among its European peers with a storm of pessimistic news swirling, affecting sectors across the board."
She added that concerns for the travel industry had had a "domino effect", with aircraft engine manufacturer Rolls Royce hit, as investors saw no end to the falling demand for new planes.
At the same time, the prospect of evening coronavirus curfews, after a summer of recovering sales, was "a bitter pill to swallow" for the hospitality industry,
If you add the prospect of a no-deal Brexit into the murky mix, there is little surprise so many investors seem to have caught a severe case of the jitters today.''