Making shoppers wear masks could 'trigger abuse', warn unions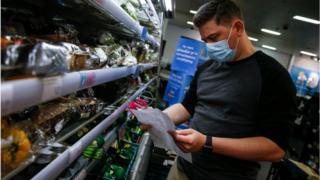 Making the wearing of face masks in shops in England compulsory could "trigger abuse" of staff, unions and businesses have warned.
Union Usdaw said workers should not be made to enforce the rule if it becomes law as it could make them targets.
And the Federation of Small Businesses said masks could make some "happier to shop", but others more nervous.
Wearing a face covering in shops and supermarkets in England is to become mandatory from 24 July.
Those who fail to comply with the new rules will face a fine of up to £100, the government is to announce.
'Confrontational positions'
Waterstones boss James Daunt told the BBC's Today Programme that making people wear masks in shops seemed "a perfectly reasonable thing".
But the book chain boss also said it "would not be right" to ask staff to enforce the rule.
"There are a tiny, tiny minority of people who will be confrontational over it and it is not the position of shop workers to enter into that situation," he said.
"We shouldn't put ourselves in confrontational positions, but I think we can, as retailers, if we are requested to do so, clearly tell everybody it is a sensible thing to do."
The union Usdaw said workers were already dealing with more abuse than normal and urged the government to clarify its policy on face coverings in shops.
"It should never fall on shop workers to enforce the wearing of face coverings," warned Paddy Lillis, Usdaw general secretary.
Mike Cherry, national chair of the Federation of Small Businesses, added: "We must be careful that this does not become a trigger for abuse against shop owners and their employees.
"[This policy] is likely to make some people happier to shop, and make others more nervous."
In Scotland it has been compulsory to wear a covering while inside a shop since last Friday.
Linda Bauld, professor of public health at the University of Edinburgh, told the Today programme that evidence now suggests that wearing masks in confined spaces makes a difference.
"Essentially infections are spread by droplets and they're relatively large when they come out in a cough or a sneeze but they become much smaller as they travel through the air.
"So the job of a cloth covering isn't so much to protect the wearer but to block the source of infection," she said.
She said leaders should lead by example by being seen wearing face coverings and should explain clearly why it is needed or required.
"Enforcement needn't be heavy-handed. Requiring people to wear masks in shops will give that little extra nudge and make it much clearer for the general public," she said.
Since mid-May, the public have been advised to wear coverings in enclosed public spaces, where they may encounter people they would not usually meet.
It has been compulsory on public transport since 15 June.
Health Secretary Matt Hancock is expected to set out the new guidance on face coverings on Tuesday.
They are designed to minimise the spread of coronavirus and also encourage people to return to the shops safely.
Only 7% of shoppers say they have "complete faith" in current protective measures put in place by retailers, according to retail solutions firm Cennox.
Its research suggested just over half of shoppers that had visited stores found measures inadequate or poorly managed.
"For the foreseeable future, safety is the new gold standard for retail loyalty," said Cennox boss Nick Cockett. "Shoppers will vote with their feet if they don't feel protected."
What do I need to know about the coronavirus?