Tesco shoppers buying more during fewer trips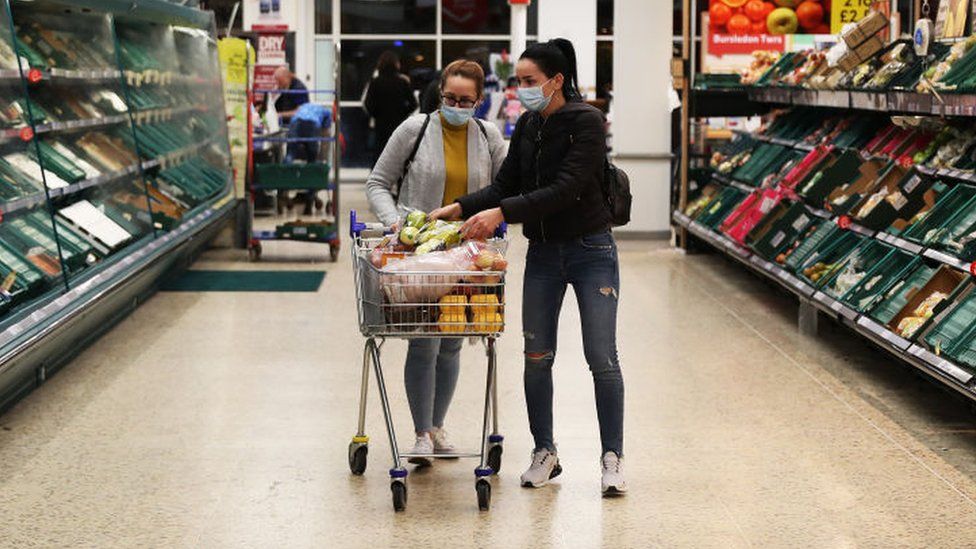 Tesco says that customers have been buying more food during fewer shopping trips amid the coronavirus pandemic.
The supermarket said that while the number of trips made by shoppers fell by nearly a third in the 13 weeks to 30 May, the amount being bought rose 64%.
In a trading update, Tesco said group sales had risen 8% to £13.4bn in the period, but warned coronavirus-related costs were set to hit £840m this year.
Tesco's boss said it had been "a very challenging period for everyone".
Like many of its rivals, Tesco was forced to overhaul its strategy in-store and online amid the coronavirus lockdown.
Coronavirus-related costs
Tesco chief executive Dave Lewis said: "In just five weeks, we doubled our online capacity to help support our most vulnerable customers and transformed our stores with extensive social distancing measures so that everyone who was able to shop in store could do so safely."
The supermarket says that it saw a substantial increase in costs as a result. They stemmed from offering 12 weeks' paid leave to 26,000 vulnerable workers and recruiting 47,000 temporary staff to cover sickness and meet demand.
Across its UK & Ireland business, sales rose by 9.2% in the three months to 30 May. Online sales mainly drove the increase, jumping by 48.5% in the quarter.
As more customers turned to online shopping, the firm ramped up online delivery slots and is now fulfilling more than 1.3 million online order per week.
In UK stores, food sales also increased by about 12% as customers "focused more on the purchase of their essential items".
Mr Lewis said that coronavirus-related costs had been "only partly off-set" by the sales boost and business rates relief.
Tesco said it had benefitted from rates relief worth about £532m under the measures offered to shops in England, Scotland and Northern Ireland.
Sophie Lund-Yates, equity analyst at Hargreaves Lansdown, said that customers stocking up during fewer trips "wasn't a surprise".
"Entering busy shops is something we're less inclined to do than a few short months ago. This change in habits has tangible benefits for Tesco, because its bigger stores and range of products are likely behind the higher number of customers switching to Tesco from discounters like Aldi."
In response to increasing pressure from budget retailers, Tesco introduced an "Aldi price match" promise in March. On Friday it said it would extend the offer to nearly 500 Tesco products.
Tesco warned that its bank was expected to make a loss this year, as a result of the expected downturn in the economy following the coronavirus lockdown measures.
It said it had increased its provision for potential bad debts, and now expected Tesco Bank to report of loss of between £175m and £200m in the current financial year.
Neil Shah, director of research at Edison Group said that Tesco had "clearly benefited from their revised strategy, helping them restore confidence in the group".
But he urged some caution: "Investors should keep a close eye on the company, since the group operates in a crowded market with retailers Aldi and Lidl continuing to gain market share and current results might not be replicated when the UK is lifted from lockdown."
The trading update came ahead of the company's annual general meeting, where it is expected to face a shareholder revolt over its pay rules and plan to hand the outgoing boss a £6.4m pay deal.
Dave Lewis would have missed out on free shares worth about £1.6m if Ocado had stayed on a list used to compare rivals' success. Ocado's sharp share price rise meant Tesco would have underperformed in a benchmark comparing performance.
Tesco said at the time that Ocado was no longer relevant as it was now a technology business.