Coronavirus: Tui urges opening up tourism to safer countries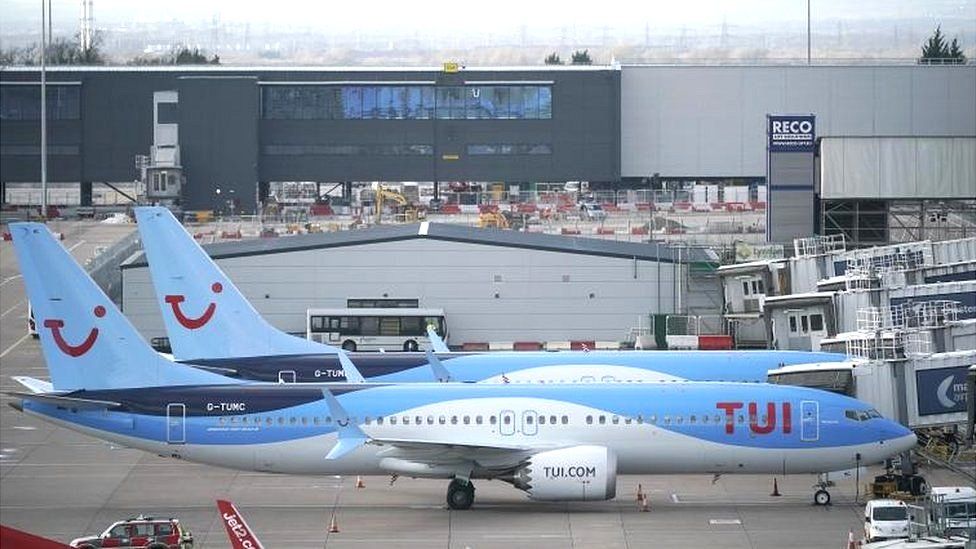 Travel firm Tui is pressing for tourism to resume to countries where the coronavirus threat has abated.
It plans to reopen some hotels in Germany "in the coming days".
The company, which says it has 27 million customers, added operations in other European destinations were also ready to welcome holidaymakers.
Tui has identified Austria, Greece and Cyprus as being more viable among European destinations because the virus there appears to be contained.
It was forced to cancel the majority of its travel programme in March and on Wednesday warned that up to 8,000 jobs would go as it strives to cut costs by 30% in a major restructuring.
TUI has cancelled all holidays until June and cruises until July. It would normally be running hundreds of flights a week at this time of year.
Travel restrictions across Europe and further afield mean that the crucial summer season for many though is still in doubt, leaving millions of holidaymakers unsure of their plans.
In the UK, the Foreign Office is still advising against all non-essential foreign travel, with no indication of when the policy might change.
A spokesman for Tui said countries were "knocking at its door", eager to see it reopen hotels and bring back tourists.
Tui said it was trying hard to resume operations and had worked out a number of protocols to make its holidays safe. It has a 10-point plan of guidance on how to reopen safely, including limited buffet services, restrictions on some sports and games and longer opening times at restaurants.
But the company said blanket travel restrictions were making resumption impossible.
Spain, for example, is introducing a 14-day quarantine period for incomers - which covers the length of most package holidays.
The issue of holiday travel is becoming politically sensitive as parts of Europe begin to either recover from or emerge as less affected by the first onslaught of the virus.
The European Commission said on Wednesday a summer holiday season shouldn't be ruled out this year, contrasting with the UK health secretary's comment on the unlikelihood of a trip abroad this summer.
Tui chief executive Fritz Joussen said: "The demand for holidays is still very high. People want to travel.
"Our integrated business model allows us to start travel activities as soon as this is possible again. The season starts later, but could last longer.
"For 2020, we will also reinvent the holiday: new destinations, changed travel seasons, new local offerings, more digitalisation."
Tui said it was ready to resume providing holidays this year, using new social distancing and cleaning measures.
"The health and well-being of both customers and colleagues remain paramount and we are assessing how we can responsibly adapt to measures so that leisure travel can resume," the firm said.
"We are preparing new procedures for the airport process, on board our aircraft, in hotels and on our ships, so that any social distancing recommendations or guidelines can be implemented, without compromising customer enjoyment and travel experience."
'Permanently reduce' overheads
Tui said its restructuring would affect its airline business and would also involve selling off "non-profitable activities".
"We are targeting to permanently reduce our overhead cost base by 30% across the entire group. This will have an impact on potentially 8,000 roles globally that will either not be recruited or reduced," it said in a statement.
Last month it told its UK workforce they would face a cut of up to 50% in hours worked, with a matching cut in basic pay.
The firm said its turnover and earnings would be significantly lower in the current financial year, with cost savings only partly compensating for the slump.
Tui, which has a global workforce of 70,000, was recently bolstered by a €1.8bn (£1.6bn) state-backed loan in Germany, where it has its headquarters.