Virgin Media and O2 join forces to take on BT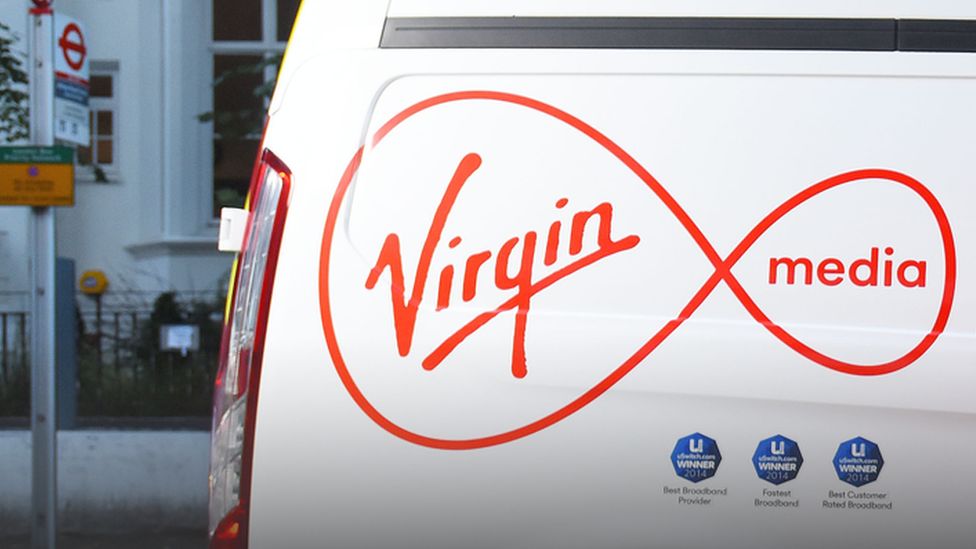 Mobile operator O2 and broadband giant Virgin Media are to merge, creating one of the UK's largest entertainment and telecoms firms and a major rival to BT.
Liberty Global, which owns Virgin Media, and Spain's Telefonica, which owns O2, said they had agreed terms for joining forces.
Consumer group Which? called on the Competition and Markets Authority to investigate the deal.
It said the tie-up "could have a significant impact on consumers".
Which? added: "Neither provider stands out in our recent customer satisfaction surveys, and any merger should only be allowed to go ahead if it delivers positive outcomes for consumers."
O2 has about 34 million mobile phone users, while Virgin has about six million broadband and cable TV customers and another three million mobile users.
As well as having its own subscribers, O2 provides the network for Tesco Mobile, Giffgaff and Sky Mobile.
Telefonica chief executive Jose Maria Alvarez-Pallete said: "Combining O2's number one mobile business with Virgin Media's superfast broadband network and entertainment services will be a game-changer in the UK, at a time when demand for connectivity has never been greater or more critical."
Despite Which?'s concerns about the deal, some analysts said customers were set to benefit by having access to more services, although it is unclear whether cost savings from the tie-up will be passed on to consumers.
Ernest Doku, mobiles expert at price comparison website Uswitch.com, said he did not expect customers to lose out.
"It will be interesting to see what this means for existing customers in terms of products and access to extra services, such as O2 Priorities.
"For all customers there is the exciting prospect of greater breadth of entertainment and faster speeds to look forward to."
Karen Egan, telecoms analyst at Enders Analysis, told the BBC's Today programme the deal was "a fortuitous marrying of objectives" for the two parent companies.
Telefonica was "keen to monetise" its stake in O2, while Liberty Global had long believed in combining fixed-line and mobile networks, she said.
The new merged company would now be able to "diversify and match some of BT's innovative products", she added.
Virgin Media and O2 are celebrating the creation of a powerful competitor to BT as a converged communications business. They appear confident that their merger will be waved through by the competition regulator - but that assumes the deal is self-evidently good for consumers.
Will removing one player from the telecoms market really mean better prices and improved service for Virgin and O2 customers? The firms are insisting that it will give them the resources for the huge job of extending full fibre broadband and 5G across the UK, promising to spend £10bn over the next five years. But the consumer group Which? isn't convinced, pointing to the patchy customer service record of both firms and calling for an inquiry.
Having allowed a merger between BT and EE in 2016, it seems unlikely that the Competition and Markets Authority will block this deal. But Virgin O2 - or whatever brand they choose - can still expect plenty of regulatory scrutiny, even after their marriage is approved.
The companies said O2 would be valued at £12.7bn and Virgin Media at £18.7bn, both on a total enterprise value basis.
"O2 [is] to be transferred into the joint venture on a debt-free basis, while Virgin Media to be contributed with £11.3bn of net debt and debt-like items," the firms said in a joint statement.
Telefonica tried to sell O2 to the owner of Three, CK Hutchison, for £10.3bn in 2015. However, that deal was blocked by the European Commission over concerns that it would have left just three major mobile phone operators in the UK.