Coronavirus: Primark sells nothing as retailers struggle
By Howard Mustoe
Business reporter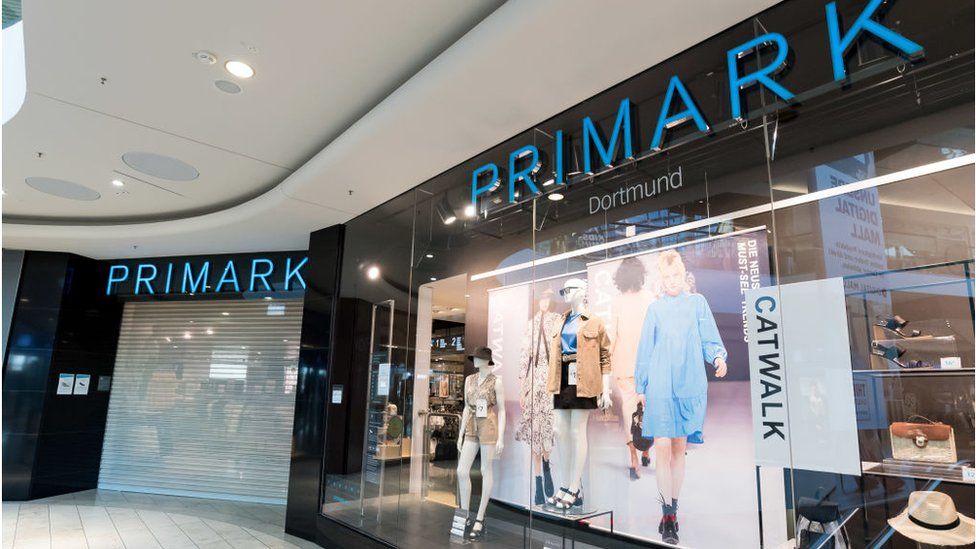 Clothing giant Primark has gone from making £650m in sales a month to nothing as the coronavirus has forced it to close in Europe and the US, it revealed on Tuesday.
It was not the only company to admit struggling in the face of the pandemic.
John Lewis has furloughed thousands of staff and fashion retailer Cath Kidston said it had closed its stores for good.
Primark owner Associated British Foods "has been squarely in the path of this pandemic," said boss George Weston.
Without furlough support from European states, many of Primark's 68,000 staff would have been made redundant, he said.
The company has also written down the value of its clothing stock by £284m.
"From making sales of £650m each month, since the last of our stores closed on 22 March, we have sold nothing," Mr Weston said.
He added that while he would "love" to be able to reopen Primark stores, "I know that we must not do so until we have suppressed this disease".
The chain, which was founded in 1969, does not have an online store or offer click-and-collect services for its products. The firm has previously said this is because it would not be able to keep prices for its clothing as low if it offered home delivery.
Mr Weston said that when stores can reopen, "we must make our Primark stores safe for our staff and our customers, even if that means ensuring there are fewer people shopping at any one time and so accepting lower sales at least until the remaining risk is minimal".
"In time we can rebuild the profits. We can't replace the people we lose."
Mr Weston paid tribute to two workers at AB Foods who within the last three weeks have died from coronavirus.
Mario Marioli worked for 40 years at a yeast plant the firm owns in Italy, and Claudio Maini worked at Italian balsamic vinegar maker Acetum for 20 years.
AB Foods said it had paid Primark's suppliers for stock it has received and will set up a fund to ensure workers who make those clothes are paid.
This move comes at a time when competing retailers have asked suppliers for payment holidays and cuts.
Earlier this month, New Look said it would suspend payments to suppliers for existing stock "indefinitely", telling them in a letter that the stock can be collected by its owners.
AB Foods is cash-rich by comparison with many companies with a High Street presence.
It has £801m in cash and a £1.09bn loan agreed, which it has recently drawn down in case banks have trouble lending in the future.
As well as Primark, Associated British Foods owns food brands including Twinings tea, Blue Dragon sauces and Ovaltine.
For these and other businesses outside Primark, the company has kept its financial forecasts for the year the same.
However, while many clothing rivals have been able to make sales online, Primark sells only gift cards through its website.
This is a big problem for AB Foods as Primark usually contributes about two-thirds of the company's profits.
"Although AB Foods derives some benefit from product and geographical diversification in other parts of the group, the impact of the loss of Primark income, even if temporary, is a major blow," said Richard Hunter, head of markets at Interactive Investor.
The shares fell 2.3% in London trading to 1,944 pence apiece, valuing the firm at about £15.4bn. The shares changed hands at 2,708 pence each in February.
Overall, it said net profit for the first half of the year fell to £217m from £389m.
"Our food businesses have continued production at all facilities, maintaining their essential output to support the food, animal feed and pharmaceutical supply chains. This has been and remains a key priority for us," said Mr Weston.
John Lewis also reported trading figures on Tuesday.
Unlike Primark it has a strong online presence, but it said a surge in online orders had not made up for its loss of trade from department store closures amid the coronavirus outbreak.
Products like clothing and other items that can offer high margins for a retailer are not selling well right now, said Maureen Hinton, global retail research director at GlobalData. Meanwhile, low-margin areas with lots of competition like technology are selling well, which is good for sales but not profit.
The lockdown will test its ability to deliver, which may put it in good stead for September, when it parts ways with delivery firm Ocado.
"It will certainly have tested their ability and it is bringing on more capability as well," she said.
Its Waitrose supermarket chain has seen a boost, albeit one the company thinks could be temporary.
It warned that in a worst-case scenario, its department stores could see sales fall 35% this year, with Waitrose seeing a fall of less than 5%.
"Items in highest demand have been cupboard essentials like rice, pasta, long life milk; home baking; frozen foods and cleaning products," the company said.
Since 26 January, Waitrose sales have risen 8% compared with a year ago, while John Lewis sales are down 7%.
Primark and John Lewis were not the only brands to reveal on Tuesday that they are struggling in the face of the crisis. Floral fashion firm Cath Kidston said that its 60 stores in the UK would not be reopening their doors after the lockdown is over.
The firm fell into administration and now its brand and online shop has been bought by a company owned by Baring Private Equity Asia. That has left its physical stores in the hands of administrators and more than 900 shop staff unemployed.