Airlines warn they may not survive without bailout
By Justin Harper
Business reporter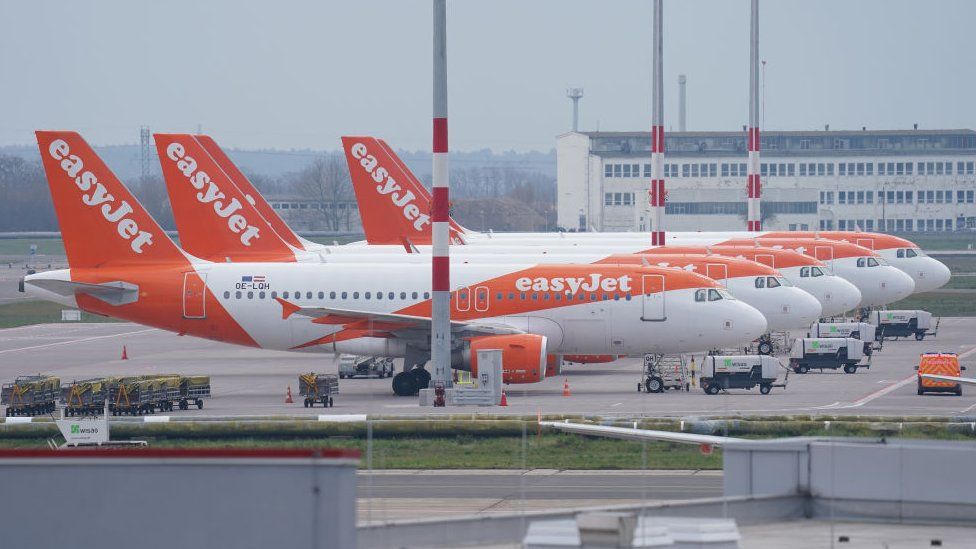 The bosses of EasyJet and Lufthansa have said some airlines may not survive without government support if the coronavirus pandemic drags on.
The warnings came just hours after Qantas became the latest major airline to cancel its international flights.
At the same time India is reportedly preparing a rescue package to support its carriers.
It comes as airlines around the world are being forced to cancel services as travel demand dries up.
"The longer this crisis lasts, the more likely it is that the future of aviation cannot be guaranteed without state aid," said Lufthansa chief executive Carsten Spohr.
Lufthansa has already held talks with the German government about providing special loans.
Mr Spohr's comments were echoed by the boss of UK carrier EasyJet, Johan Lundgren, who also warned that airlines could go bankrupt without state aid.
"If you take EasyJet as one of the more stable operators in normal times, if this goes on for an extended period of time you're going to have a lot of failures around the airline industry," Mr Lundgren told the BBC's Today programme. "I have been working in the industry for 30 years and I have never seen anything like this."
India may be set to join a growing list of governments offering aid to its aviation industry. The Finance Ministry is considering a proposal worth up to $1.6bn (£1.4bn) that includes temporary suspension of most taxes levied on the sector, according to reports.
Earlier on Thursday, Qantas became the latest major airline to cancel international flights as it struggles during the pandemic. The carrier said it would send home two-thirds of its 30,000-strong workforce.
The Australian flag carrier and its low-cost unit Jetstar will suspend all overseas flights from late March to at least the end of May.
"Demand has evaporated," Qantas chief executive Alan Joyce said in a note to employees. "We have no work for most of our people. We have to make difficult decisions to guarantee the future of the national carrier."
The airline industry is facing its biggest crisis since the September 11 attacks almost two decades ago, with several airlines on the brink of collapse.
"If you were not financially healthy going into the crisis, then you are very vulnerable now," said Greg Waldron at Flight International magazine. "What we are seeing is unprecedented."