British Steel: Takeover by Chinese firm completed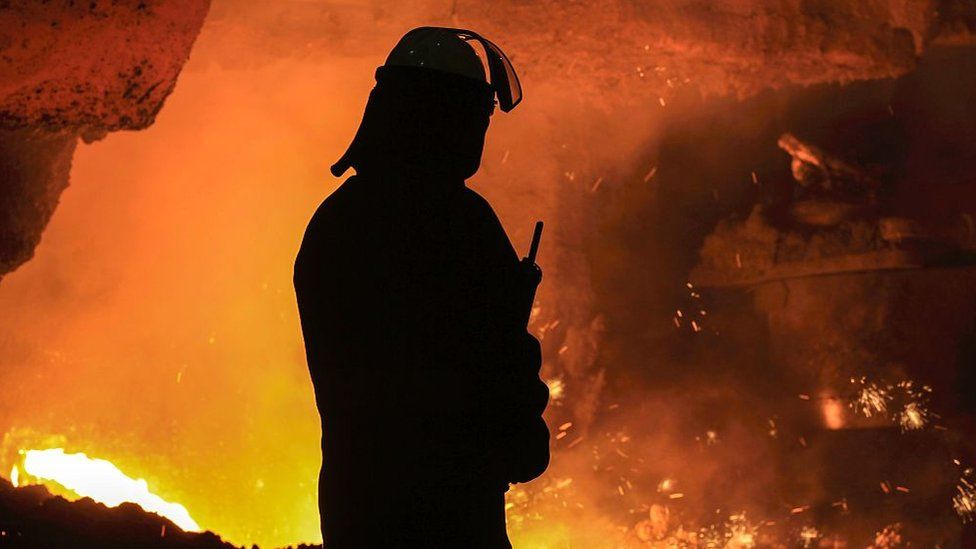 A Chinese firm completed its takeover of British Steel on Monday.
Jingye Group said that the move would save more than 3,000 jobs in Scunthorpe and Teesside and it would modernise the towns' steelworks.
Unions have said that although the deal "must be celebrated", about 450 workers still face losing their jobs.
The sale includes the steelworks at Scunthorpe, mills in Teesside and Skinningrove, as well as the TSP Engineering business based in Cumbria.
Jingye Group, which also makes steel, has promised to invest about £1.2bn over the next 10 years on upgrading its plants and machinery.
'A new chapter' for British steelmaking
Jingye's chief executive, Li Hiuming, said: "It has not been an easy journey since we first announced our intentions in November.
"But the longer I have spent in Scunthorpe, the more I have come to believe in the successful future of these steelworks and the employees that have made them famous throughout the world."
He added that the deal marks the "beginning of a new illustrious chapter" in the history of British steelmaking.
Charlotte Childs, an organiser for the GMB union, described the deal as "a big win for the industry", but expressed disappointment at job cuts.
She said: "It is heartbreaking that long-serving members of high-skilled staff, many of whom have given their entire career to British steel, are seen as surplus to requirements."
Tony Watson, a British Steel worker and GMB union convenor, is one of those who has been made redundant.
Mr Watson, who worked for British Steel on and off since the age of 16, told the BBC he received an email from HR with the news.
"The way the process has been done has been a bit brutal," he said. But Mr Watson added that he was "feeling optimistic" about the prospect of hunting for a new job at age 59.
Business Secretary Alok Sharma said he wanted "to reassure British Steel employees who may be facing redundancy that we are mobilising all available resources to give immediate on the ground support and advice to those affected".
Confirmation of the takeover follows months of uncertainty for workers. The government has kept British Steel running since last May, as it looked for a buyer for the business.Jingye signed an agreement to purchase British Steel in November after talks between the Official Receiver, which handled the insolvency process, and a Turkish bidder fell apart.
The Official Receiver said that it was "grateful" to British Steel employees for their professionalism during a difficult time.
Located in north-east France, the plant is seen as important because it supplies track for the country's railways.
Jingye's boss said earlier this year that he remained "interested" in purchasing the plant, but has pressed on with purchasing assets in the UK and the Netherlands.
British Steel was formed in 2016 after being sold by India's Tata for £1 to the private equity firm Greybull Capital.
Analysis: Sarah Corker, BBC business correspondent
They've been making iron and steel in Scunthorpe for more than 150 years. This is very much a one-industry town and when the steelworks struggles the whole community feels it.
The plant directly employs almost 3,000 people but supports another 20,000 jobs in the wider supply chain. From hairdressers to market traders, businesses say they've noticed people reining in their spending amid the ongoing uncertainty.
The loss-making steel plant has had a string of owners over the decades from Corus to Tata Steel to Greybull Capital - all tried and failed to turn the business around.
A fourth-generation steelworker told me back in May that it felt as though they were "staring over the edge of the abyss" as the plant was on the brink of closure with mass redundancies ahead. But - again - Scunthorpe steelworks has been rescued by a new owner at the eleventh hour promising huge investment.
There is some scepticism about how much influence China will soon have in the UK steel industry. While steelworkers are deeply relieved that the takeover is going ahead, they are asking what Jingye can and will do differently amid tough global trading conditions where many before have struggled.