Department store Beales warns of collapse risk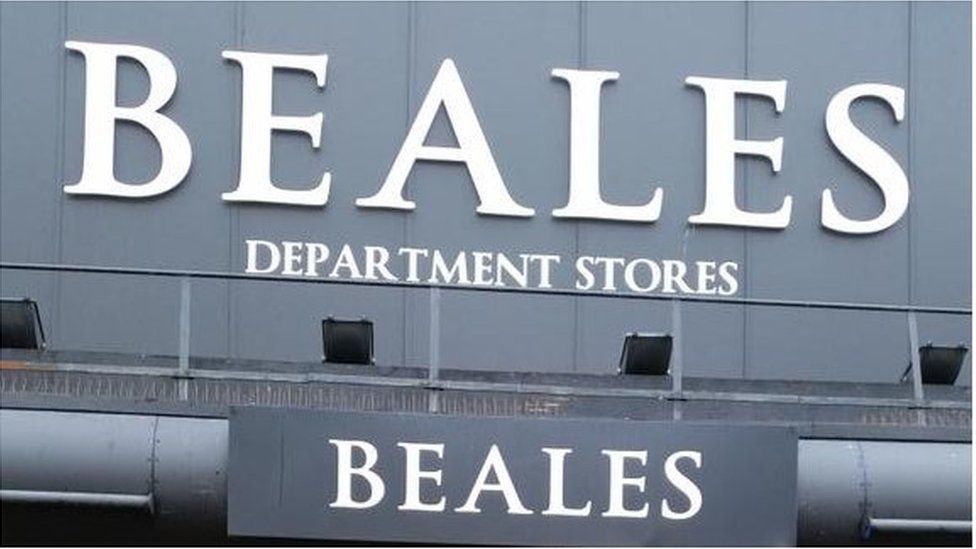 One of Britain's oldest department stores has warned that it could collapse into administration.
Beales, which began trading in Bournemouth in 1881, said 22 stores and 1,000 jobs were at stake if it cannot find a buyer.
The firm is negotiating with its landlords to try and agree rent reductions.
It is also in talks with two potential buyers - a rival retailer and a venture capital investor, the BBC understands.
Chief Executive Tony Brown led a management buyout of the firm in 2018.
By Rob Young, BBC business correspondent
It's a brutal time for retailers. Debenhams began closing 19 shops yesterday. Mothercare's 79 UK stores will stop trading today.
Now Beales, with its 22 stores up and down the country, confirmed that it may have to call in administrators.
Beales has been around for almost 140 years, but poorer than expected trading over Christmas threatens its survival.
Even if its immediate future can be assured, store closures aren't being ruled out, with a risk to jobs.
The British Retail Consortium said last year was the high street's worst on record.
In the year to March 2019, Beale Ltd posted a loss of £3.1m, up from £1.3m for the year earlier as costs swelled and sales dipped.
Beales has stores in the following towns and cities:
Beccles
Bedford
Bournemouth
Chipping Norton
Diss
Fareham
Hexham
Keighley
Kendal
Lowestoft
Mansfield
Perth
Peterborough
Poole
Skegness
Southport
Spalding
St Neots
Tonbridge
Wisbech
Worthing
Yeovil
Sales in November and December fell by 0.9%, according to industry body the British Retail Consortium (BRC).
John Lewis has warned that its staff bonus may be in doubt as it reported Christmas sales at its department stores were down 2% for stores open at least a year.
Last week, fashion chain Superdry warned that its profits could be wiped out after sales fell sharply over Christmas.
The firm, which has been trying to sell more clothes at full price, said it had been hit by "unprecedented levels of promotional activity" by rivals.
A raft of collapses in 2019 including Jessops, card chain Clintons, Bonmarche and Karen Millen depressed rents and hit landlords.
Some companies are prospering, however.
Sports fashion retailer JD Sports says it expects to report full-year profits at the top end of forecasts.
Next lifted its profit forecast after better than expected sales over Christmas trading period. The company's full-price sales rose by 5.2%.
And big companies are using the tough environment to experiment.
Ikea will open its first small-format store in the UK, following the acquisition of a shopping centre in London.
The Swedish retail giant paid £170m for the Kings Mall Shopping Centre in Hammersmith.