Greggs staff to get £300 bonus after 'phenomenal year'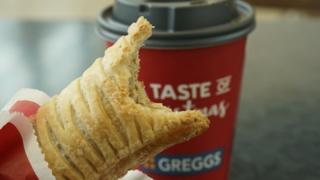 Thousands of Greggs staff are set to get a £300 one-off payment after a "phenomenal year", the firm said.
Sales growth had been helped by strong demand for its traditional snacks and Greggs' "now iconic" vegan sausage rolls, the bakery chain said.
Greggs staff will share a £7m payment after shareholders received a £35m special dividend in October.
The firm expects underlying annual pre-tax profit to be ahead of its expectations when it reports in March.
The 19,000 Greggs staff who have been with the chain since before 31 March will get a £300 windfall at the end of January, while the remaining 6,000 will get £75 for each quarter they have worked for Greggs.
The one-off payment to staff will be on top of the profit-sharing scheme that Greggs already has, a spokeswoman said. The bakery chain already shares 10% of profits with employees, she said.
"Our record financial performance in 2019 has enabled us to enhance returns to shareholders," said chief executive Roger Whiteside.
"I am delighted to announce that we will also be making a special additional payment to all of our colleagues across the business who have worked so hard to deliver this success in what has been a phenomenal year."
The bonus comes a year after Greggs launched its vegan sausage roll snack, which is made from meat substitute Quorn.
Its launch has been followed by other initiatives such as a vegan steak bake and a vegan doughnut.
---
When store manager Victor Connor and workers James Compton and Stephen Green heard about the bonus they started screaming and shouting.
"It genuinely feels like a thank you," Victor said. "Quite a few customers have said: 'To be fair you guys deserve it'."
Stephen said it was particularly welcome just after Christmas: "They don't need to give it us, something for all our hard work."
"But it makes the staff feel more appreciated- everyone here is made up," he added.
---
It isn't uncommon for workers to benefit from a share in the profits. Other UK retailers that have staff bonus schemes include John Lewis and Waitrose, Sainsbury's, and Sports Direct for shop floor workers.
Maureen Hinton, global retail research director at GlobalData, said offering a staff bonus reflected a growing trend amongst firms to want to appear ethical.
"This is a great way for Greggs to maintain the loyalty of the workforce and creates a very inclusive culture, as the benefits of its success is being shared with everyone.
It was also good "PR" she added "something Greggs is excellent at."
Greggs, like other retailers, will face higher costs in 2020 from a boost to the National Living Wage and higher pork prices, the firm added.
Greggs opened 138 new shops over the last year and closed 41, bringing the total to 2,050 across the UK. It said it planned to open about 100 new shops in 2020.
Like-for-like sales grew 9.2% in 2019, compared with 2.9% growth in 2018.