Christmas pudding sales slump in challenging festive period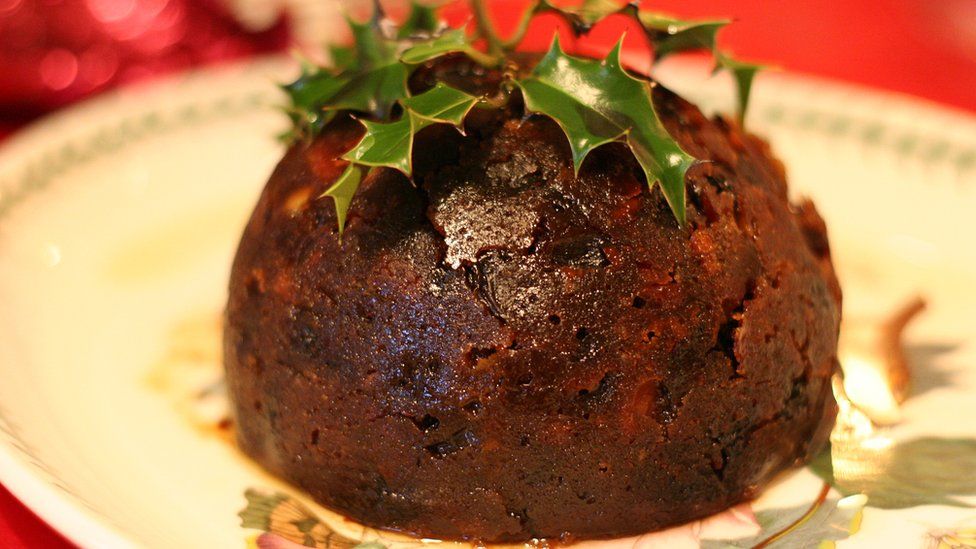 Are the days of families tucking into a Christmas pudding after their festive dinner slowly coming to an end?
Figures from market research company Kantar suggest they may be, as sales of the traditional dessert fell by 16% in the UK in the run-up to Christmas.
There was also an 11% drop in sales of seasonal biscuits in supermarkets, while turkey sales were down by 1%.
The figures come as Morrisons said its sales fell over the Christmas period amid "challenging" trading conditions.
The UK's fourth-largest supermarket group reported a 1.7% fall in like-for-like sales - which strip out the impact of new stores - excluding fuel, for the 22 weeks to 5 January.
Morrisons is the first of the big four chains to report Christmas sales, with Sainsbury's and Tesco due to report later this week.
On Monday, discount chain Aldi said that its total UK sales in the four weeks to 24 December rose 7.9% from a year before, although it did not give a like-for-like comparison. It also said it sold 55 million mince pies over the festive period.
According to Kantar, Aldi's sales over the 12 weeks to 29 December went up by 5.9%.
Fellow discount retailer Lidl had the highest percentage increase in sales growth for bricks and mortar supermarkets over the same period, with its sales up 10.8%.
Lidl and Aldi had their highest-ever combined Christmas market share of 13.7% - more than treble the figure in 2009.
However, Britain's fastest-growing grocer according to Kantar was online retailer Ocado, where sales rose by 12.5%.
This industry data shows that it's been a pretty slow Christmas for the supermarkets, with next to no growth.
Households, on average, spent less this festive period than last. The big grocers have been working really hard to get us to part with our cash, with lots of promotions on alcohol and cut-price fuel.
The competition has been intense. According to Kantar, the big four grocers have all struggled to increase sales and have lost market share. Once again, Aldi and Lidl have pulled in shoppers, thanks largely to opening dozens of new stores.
Retailers will be hoping that consumers will be feeling more confident in 2020, buoyed by wages rising faster than inflation. But the big grocers are likely to remain under pressure.
The discounters could reach a combined 17% market share this year and shopper behaviour continues to change. For instance, fast-food operators such as Deliveroo are growing in popularity.
Overall, Kantar's figures indicated that in the 12 weeks to 29 December, supermarket sales grew by 0.2% from a year earlier - the slowest rate of growth over the Christmas period since 2015.
"There was no sign of the post-election rush many had hoped for in the final weeks before Christmas, with shoppers carefully watching their budgets," said Kantar's Fraser McKevitt.
While sales of some foods went down, the fizz also went out of sparkling wine with its sales falling by 8%.
However, beer and wine were more popular than in 2018 with respective rises of 1% and 2% in their sales over the previous year.
And instead of Christmas pudding, the desserts that proved most popular were sponge puddings (up 12.4% on 2018), crumble (up 9.4%) and custard to go with them (up 28%).
Another data firm - Nielsen - using different methodology to Kantar, said supermarket sales grew by just 0.5% in the last four weeks.
It said grocery sales reached a peak of £6.2bn over the two weeks to 28 December - but this was down 0.2% compared with the same period in 2018.
Reflecting on the Morrisons figures, the company's chief executive, David Potts, said: "It was encouraging that during an unusually challenging period for sales, our execution was strong and our profitability robust, demonstrating the broad-based progress we have made during the turnaround.
"As always, we will take some learnings into the new year and look forward to 2020 with a strong plan and solid foundations on which to continue to grow."
Morrisons said its key Christmas items were "once again very competitive", with most prices the same as or lower than in 2018.
Richard Lim, chief executive of Retail Economics, said the results suggested that Morrisons had been "outmanoeuvred" by its competitors.
"Shrinking sales demonstrate the fiercely competitive food sector," he added. "Shoppers remained fixated on searching for the best value and highly price-sensitive against the backdrop of ongoing uncertainty."