Civil service: What changes does the government want to make?
By Tom Edgington
BBC News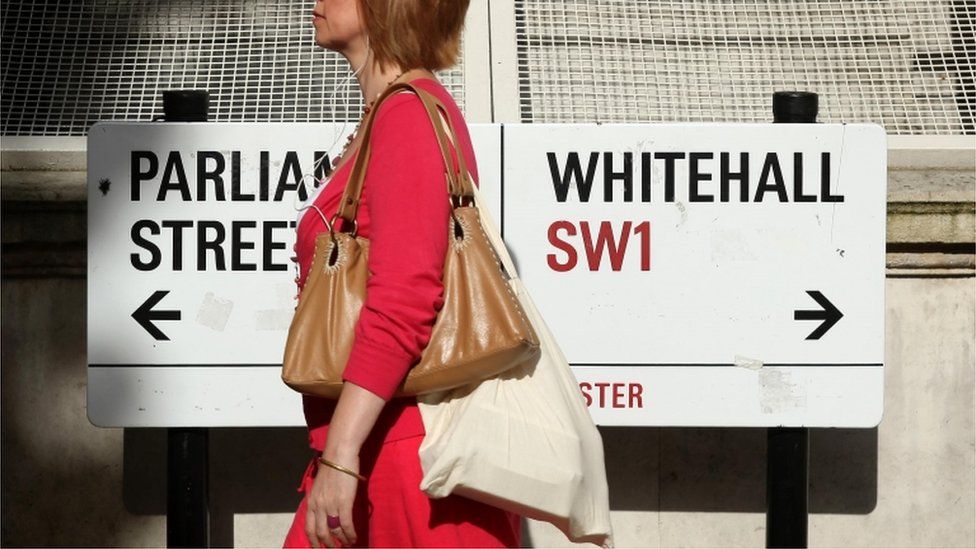 The head of the UK's 450,000-strong civil service has quit, amid plans to reform the way it works.
But what is the civil service anyway and what changes does the government want to make?
Civil servants are responsible for carrying out government policy. Running prisons, issuing driving licences and providing benefits and state pensions - to name a few examples - are among the jobs that they do.
There are currently 24 ministerial departments, which are headed up by cabinet ministers. These departments, including the Treasury, the Home Office and the Department for Education, are often collectively called "Whitehall" - a road in Westminster which contains a number of government buildings.
In addition, there are a further 20 departments which don't have their own minister - such as the Food Standards Agency and the Charity Commission - but are still staffed by civil servants.
All civil servants are expected to be impartial, meaning they should carry out work to the best of their ability no matter what their own political beliefs are.
Getty
Civil servant numbers
445,000 Current number of UK civil servants
85,000Staff employed by the Department of Work and Pensions alone

8Departments with an annual staff turnover of more than 15%

53.9%Civil servants who are female

£27,080Average (median) civil servant salary
Source: Cabinet Office / Institute for Government
How many civil servants are there?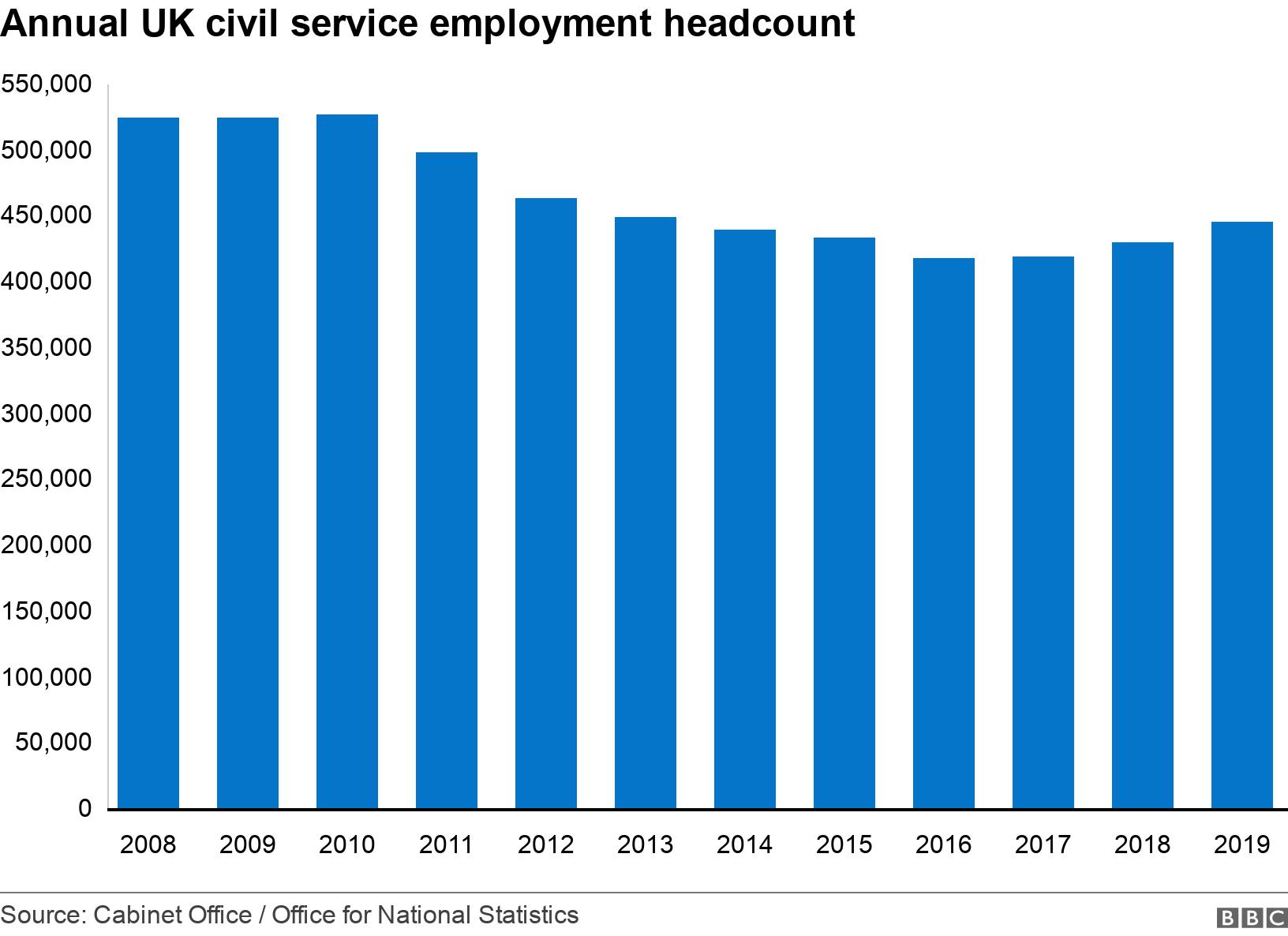 Despite recent rises, the overall headcount is about 80,000 lower than it was in 2010 - the year the government began its austerity programme.
The five largest departments employ almost three-quarters of all civil servants. The Department for Work and Pensions, with 85,350 staff, has the highest headcount. This includes people who work in JobCentre Plus centres across the UK.
People who are employed by public bodies, such as the BBC, local government, the police and the NHS are not classified as civil servants.
What's happening to the civil service?
The most senior civil servant is known as the cabinet secretary, currently Sir Mark Sedwill.
As well as providing leadership for the civil service, the cabinet secretary also acts as the prime minister's most senior policy adviser and ensures departments deliver the government's priorities.
The government has made no secret of its plans to shake up the civil service. In a speech on the future of government, Cabinet Office minister Michael Gove said major changes to the civil service are needed to tackle "group think".
Mr Gove called for more diversity in recruitment and emphasis on mathematical and scientific skills.
Similar ideas have also been set out by Dominic Cummings, Mr Johnson's senior adviser. In a blog written in January, he set out his vision of a civil service which includes data scientists, mathematicians and "misfits with odd skills".
In the same blog, Mr Cummings argued the civil service does not have enough senior staff with specialist knowledge, because they switch departments too often.
Only about 7% of civil servants leave the workforce each year, which is about half the rate compared with the private sector.
For example, the Treasury - which oversees how public money is spent - sees about 20% of its staff change every year, once you include people who move to another department.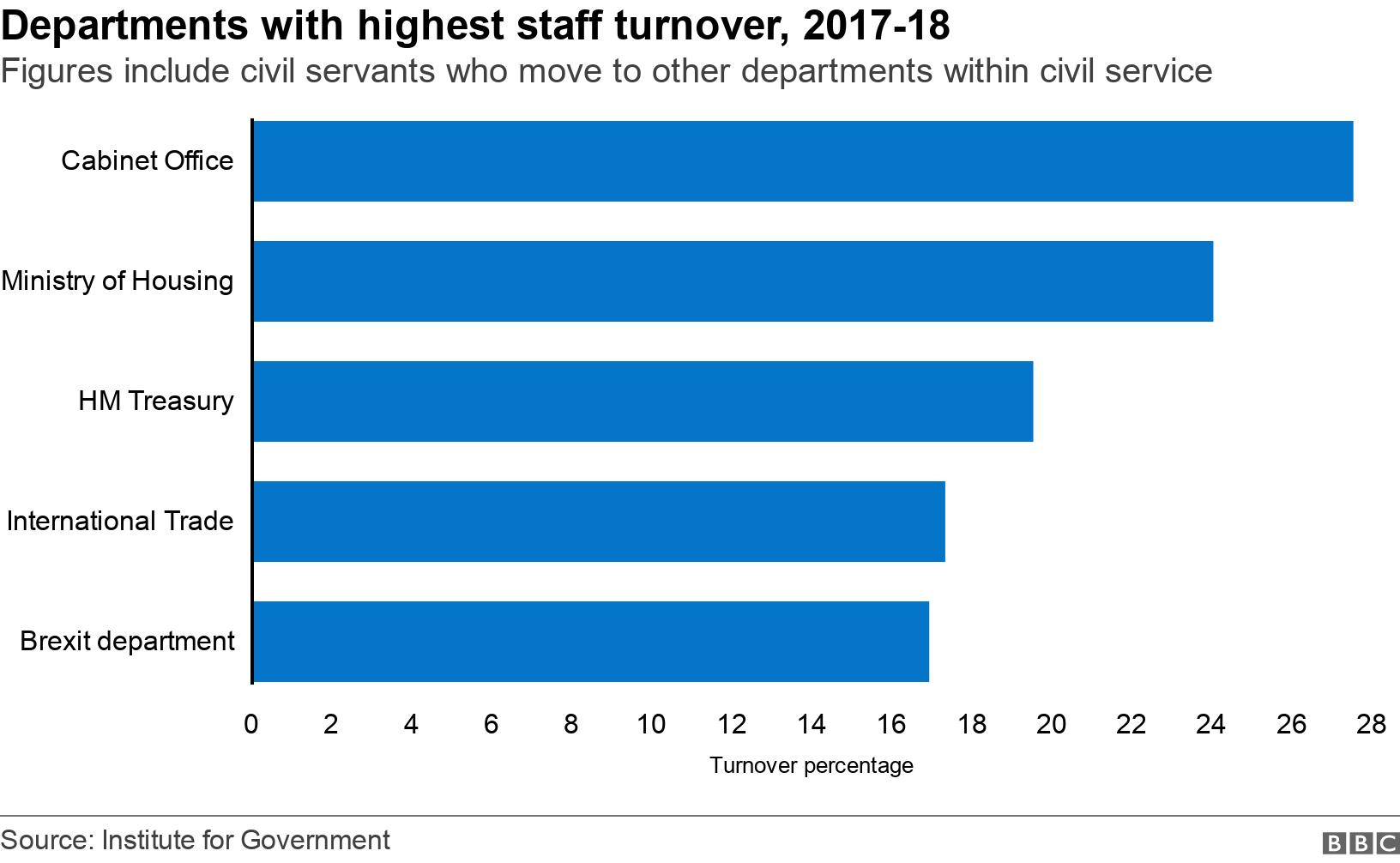 Switching departments can be the only way for some some civil servants to secure meaningful pay rises and promotions, according to Tom Sasse, a senior researcher at the IFG.
"There is a very large internal open job market in the civil service, which leads to people looking for the next rung up the ladder," he says.
While this can create a drain in policy expertise, as well as problems with accountability, some shifting between departments can be invaluable, especially for those aspiring to reach the top of the civil service.
The civil service therefore needs to strike a balance between people who move around to broaden experiences and those who stay in the same department to develop expertise, according to Mr Sasse.
Has civil service reform been tried before?
Lord Fulton carried out a study into the civil service back in 1968. It suggested that parts of it had become a "cult" of the generalist and that changes needed to be made.
However, there was not enough determination to fully carry out the reforms, according to the political historian Catherine Haddon.
"Harold Wilson was quite enthusiastic for aspects of it. But the cabinet was not and he also lost interest in some of the key aspects," she says.
The lesson from history appears to be that strong long-term commitment will be needed if the vision of Mr Cummings' is to become reality.