US threatens tax on champagne and French cheese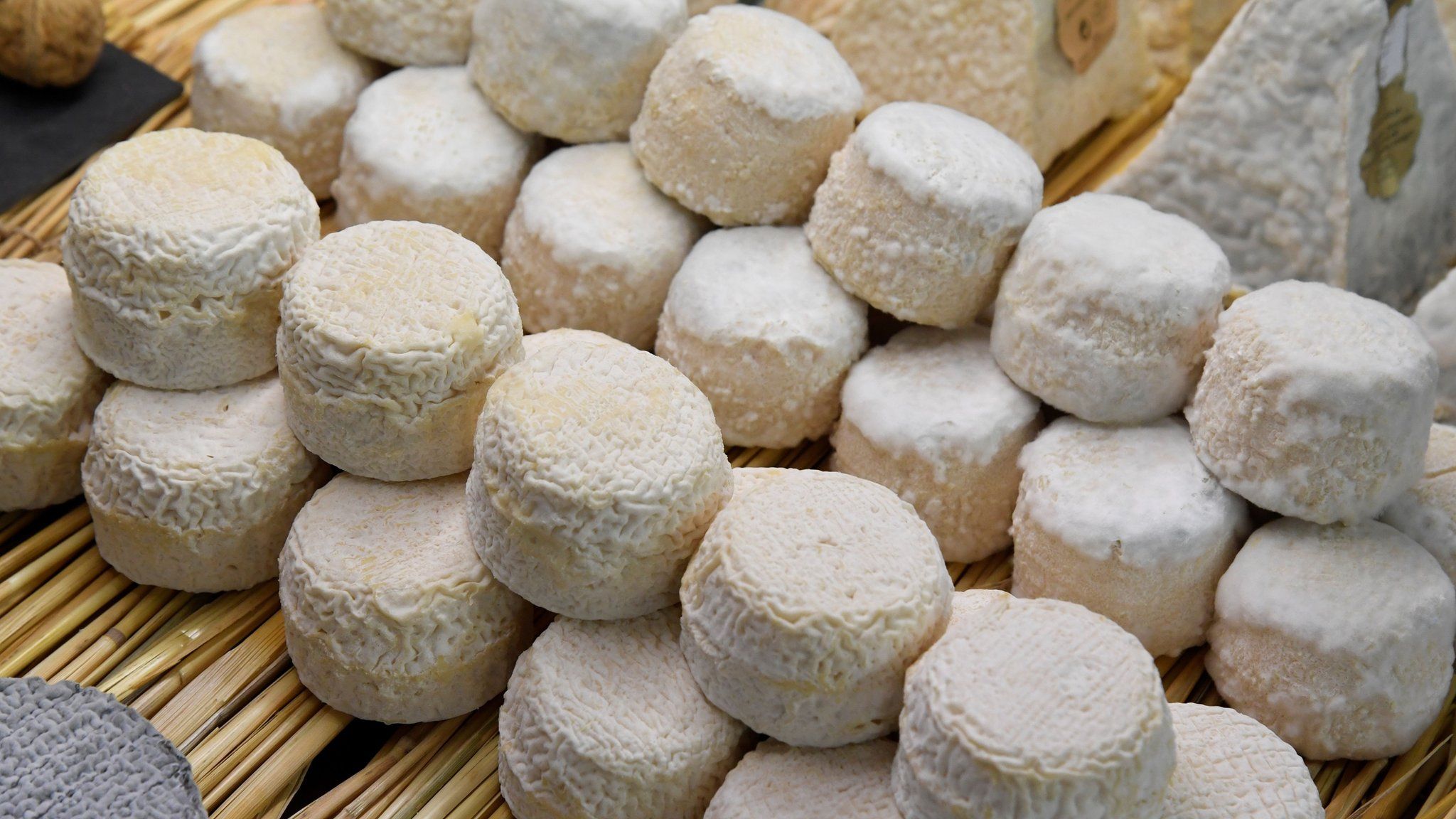 The Trump administration is threatening to slap import taxes on $2.4bn worth of French goods, including cheese, champagne, make-up and handbags.
The planned tariffs come in response to a new French digital services tax that would affect companies including Google, Amazon and Facebook.
France, along with several other European countries, wants to limit the tech giants' ability to avoid taxes.
But trade officials in Washington say US firms are being unfairly targeted.
French minister Bruno Le Maire called the US threat to impose tariffs in response to the tax "unacceptable" and suggested France would be prepared to retaliate.
Why has France introduced the new tax?
France has long been concerned that US technology giants are avoiding taxes in the European Union. France says taxes should be based on where the digital activity - browsing the page - takes place, not where firms have their headquarters.
It is not the only country to raise concerns and a group of nations are drawing up new multilateral rules via the OECD. But France does not want to wait for that to bear fruit, so this summer drew up its own tax.
It is imposing a 3% tax on any digital company with revenue of more than €750m ($850m; £670m), of which at least €25m is generated in France. The tax will be back-dated to early 2019, and is expected to raise about €400m this year.
About 30 companies are expected to pay it, mostly US firms such as Alphabet, Apple, Facebook, Amazon and Microsoft. Amazon has already responded by raising fees for French businesses by 3%.
What is Washington threatening?
Robert Lighthizer, the US Trade Representative (USTR), has published a list of French products that could face tariffs, including champagne and sparkling wine, Roquefort and other cheeses, make-up, handbags, and homeware such as porcelain and bone china.
Some of the tariffs are as high as 100% of the import price, and are likely to push up the price of these products for US consumers.
However, before the tariffs are confirmed, there will now be what the US calls a period for public comment, including a hearing in Washington in January.
Why does the US want to impose the tariffs?
The US says the French tax unfairly targets some US multinationals. Mr Lighthizer said the threat of tariffs was intended to deter other countries from taking similar steps.
The trade official said the move "sends a clear signal that the United States will take action against digital tax regimes that discriminate or otherwise impose undue burdens on US companies".
Mr Lighthizer warned that the US intended to look into digital taxes introduced by Austria, Italy and Turkey.
Is the UK planning its own digital services tax?
A digital sales tax has long been on the UK agenda too.
Prime Minister Boris Johnson has also backed the idea, calling out the so-called "FAANG" stocks - Facebook, Apple, Amazon, Netflix and Google - as paying "virtually nothing". The Tory manifesto pledges its own Digital Services Tax to fund improvements in broadband infrastructure, among other things.
Both leaders are capitalising on the growing momentum in Europe to tax tech firms based on their sales in a country - rather than profits, which are often funnelled through counties with a lower tax rate, such as Ireland.
But while promising a "Google tax" sounds great on the campaign trail, it only strengthens the view in Washington that American success stories are being unfairly targeted. And the move today suggests the US is ready to start fighting back.
Here's what might happen next: France has said it would drop its digital tax if Europe could, as a bloc, come up with an alternative that's consistent across the Union; a strength-in-numbers move that would be more difficult for the US to counteract. But the UK, post-Brexit, would be on its own - and needs to stay in Washington's good graces.
Could a UK digital tax cause problems for a US-UK trade deal?
The US reaction to France's digital services tax suggests it would not go down well if the UK were to follow suit.
Earlier this year, US firms were at pains to make it clear to the US Trade Representative that any such UK digital tax would be a big concern for them, with some even suggesting it would need to be dealt with before trade negotiations could go ahead.
The BBC's economics editor Faisal Islam says the issue has split the UK government, with some in the current cabinet believing the tech tax would be an obstacle to a future US trade deal.
While the matter has not yet been openly discussed, in the recently leaked trade documents UK negotiators clearly anticipate that the issue would emerge during later parts of the process.
What is the reaction beyond Paris and Washington?
The US technology sector has welcomed the Trump administration's tougher stance, although it still hopes for a negotiated settlement before the tariffs are imposed.
Jennifer McCloskey, vice-president for policy at the Information Technology Industry Council, whose members include the major US tech firms, said the French tax was "discriminatory" and welcomed the USTR's "strong trade response".
However, the US move has unnerved investors. Mr Lighthizer's comment that he sees the French tax as part of a "growing protectionism of EU member states," raised concerns that this latest spat could be part of a wider trade war with the EU that has drawn in car companies and planemaker Airbus.
Shares in leading French luxury-goods companies fell on Tuesday, with LVMH, Kering and Hermes down 1.4% to 1.5% in early trading.
Some US business lobby groups have warned against tariffs because of fears of escalating another trade fight, despite their opposition to the French law.
The US Chamber of Commerce, for example, had said tariffs "may elicit additional rounds of retaliatory measures that represent a substantial risk to US economic growth and job creation".