Peacocks set to rescue Bonmarché from collapse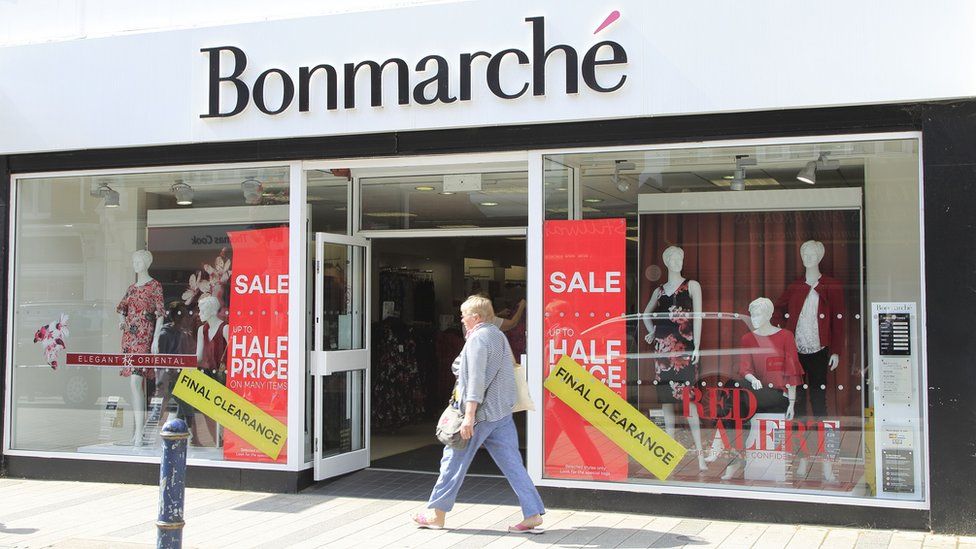 Bonmarché, the womenswear retailer that fell into administration in October, is set to be rescued by rival Peacocks.
Peacocks has been named the "preferred bidder" for the business, although further negotiations are needed before the deal is secured.
However, 30 Bonmarché stores will now be closed by 11 December, the administrators said, putting up to 240 jobs at risk.
Bonmarché's 285 remaining stores will continue to trade.
The administrators said the "vast majority" of these were expected to be bought by Peacocks.
However, they added: "The future of all remaining stores cannot be assured at this time and remain subject to negotiation between any future purchaser and landlords given the period of historical market difficulty on the High Street.
Administrators FRP Advisory said 25 posts have already been made redundant in a number of head office and middle management roles.
A spokesperson for Peacocks said: "We are working very hard to reach a deal that secures the future of the company and the greatest number of jobs. But given the unprecedented pressures the business continues to face, it is also important to recognise this cannot be assured at this time.
"We will now enter a period of advanced negotiations with the administrator and landlords to find a way forward that provides a sustainable, long-term future for the business."
Tony Wright, joint administrator and partner at FRP Advisory, said: "There is still a lot more work to do before we can secure the future of the business.
"Whilst we are optimistic that a transaction can be completed, ultimately, it will depend on ongoing negotiations between our preferred bidder and landlords on market rents and there remains a risk that the business could cease to trade."
Peacocks has about 500 stores in the UK and was founded by Albert Frank Peacock in Warrington in 1884 as a penny bazaar, selling "anything and everything", according to its website.
In 1940, the business moved to Cardiff, and from the 1990s it focused on clothing.
It was bought out of administration itself in 2012 by Edinburgh Woollen Mill.
News of the latest potential deal comes after a previous offer was rejected in April. Bonmarché told its shareholders that an offer made by Peacock's billionaire owner, Philip Day, undervalued the business and its future prospects.
But Bonmarché entered administration last month, wiping out a stake Mr Day had already built up in the company.
Bonmarché is among a number of High Street retailers to have fallen on hard times in recent years. The sector has been hit by a combination of growing competition from online retailers and higher operating costs, such as rising business rates and the minimum wage.
Research by PwC and the Local Data Company found that a net 1,234 stores closed on the UK's top 500 High Streets in the first half of the year, with fashion retailers seeing the biggest declines.
The figure was up from 1,123 in the same period a year earlier and was the highest since the survey began in 2010.