Fresh doubts about British Steel as bid hopes fade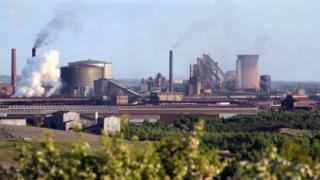 The government is ready to open talks with bidders for British Steel after failing to agree terms with the Turkish company granted exclusivity in August.
Turkey's Ataer Holding had until Thursday to reach an agreement to buy the business, which includes the works in Scunthorpe.
Since May, British Steel has been kept running by the government as it seeks a buyer for the business.
Some 5,000 jobs are directly at risk and another 20,000 in the supply chain.
British Steel was put into compulsory liquidation in May after rescue talks with the government broke down.
The Official Receiver said on Wednesday that while discussions with Ataer were continuing, it was now possible to talk to other potential bidders.
Ataer owns nearly 50% of Erdemir, Turkey's biggest steel producer, and is the investment vehicle of the Turkish Armed Forces Assistance Fund (known as Oyak), the pension fund for the country's armed forces.
MPs have voiced concerns about Ataer's links with the Turkish government following the country's military crossing into Kurdish-held parts of Northern Syria.
The Official Receiver said: "While discussions with Ataer are continuing, discussions with other parties who have expressed continued and renewed interest in acquiring the whole British Steel business will now be possible.
"I have instructed the 'special managers' [at accountants EY] to engage with these additional interested parties.
"Diligence team members from these parties are expected to visit the company's sites over the coming days and weeks.
"Meanwhile, Ataer remain very much interested in acquiring the business and we remain in detailed discussions with them to conclude a sale."
'Consider all options'
It is expected that Liberty House, run by businessman Sanjeev Gupta, is likely to rekindle its interest in buying British Steel.
Liberty House already owns facilities in Rotherham and Stocksbridge, both in South Yorkshire, and employs 5,500 people across some 30 sites in the UK.
Steve Turner, Unite assistant general secretary for manufacturing, said he had written to Business Secretary Andrea Leadsom requesting an urgent meeting.
"It is vital that the government continues to stand behind British Steel until the sale process is finalised to maintain customer, supplier and workforce confidence in a company which can have bright future," Mr Turner said.
He said it was a "strategically important business" which provides 95% of the UK's rail tracks and supplies other UK steelmakers with product.
Analysis: BBC Reporter Katy Austin
When you speak to people into Scunthorpe town centre, it seems everyone knows someone who works at the steelworks. It's at the heart of the area's economy and community.
The blast furnaces haven't stopped at British Steel, and those who work there still believe it's a viable business.
But for staff and contractors, today's news means the wait goes on for assurances their jobs are safe.
The typical response from people I spoke to leaving their shift today was a resigned shrug of uncertainty. We just don't know, they say. We can only keep turning up for work.
The fear of those who have worked there for decades is that they won't be able to find other jobs locally, if the steelworks doesn't find a buyer.
Union representatives who visited an Ataer site in Turkey a few days ago remain optimistic that the company is keen to buy - and heavily invest in - British Steel. They urge patience.
But some workers are taking no chances, especially with Christmas around the corner. One told me he's handed in his notice, after receiving a job offer he regarded as more secure.
Nic Dakin, the Labour MP for Scunthorpe, said he was in regular contact with the business secretary, trade unions and the British Steel special managers.
"The fundamentals of British Steel are unchanged. This is a strong business, which is reflected by the continued interest of a number of parties in buying British Steel. I am continuing to do everything I can to ensure that there is a successful outcome," Mr Dakin said.
The Official Receiver said the focus was on achieving a sale as "quickly as possible".
"The conclusion of the exclusivity period allows us to consider all of the options available at this point in the process. I would like to thank the team at British Steel for their continued support and hard work during this period of uncertainty," the Official Receiver said.