Thomas Cook refund delay 'ruined my dream holiday'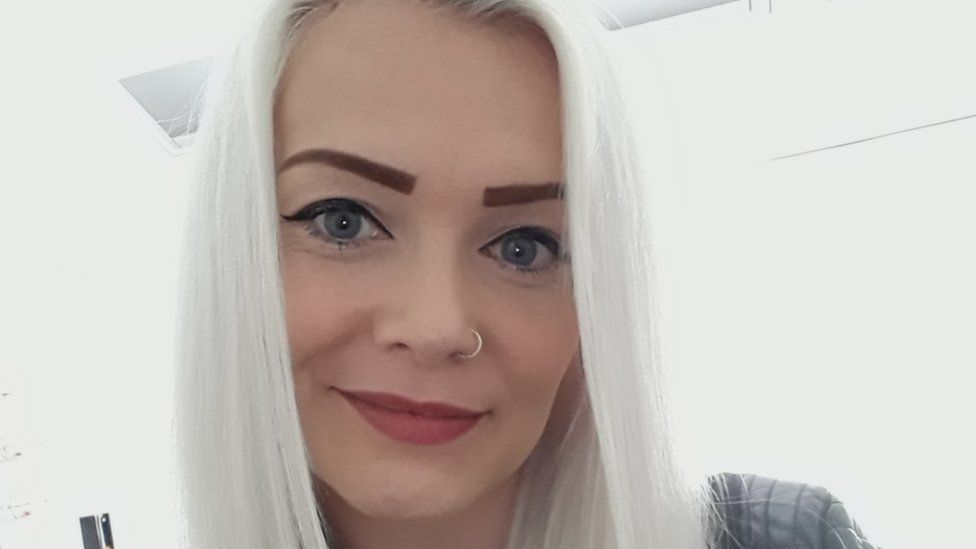 Thomas Cook customers may have to wait as long as two months to receive a refund for holidays they have booked with the collapsed travel firm.
The Civil Aviation Authority (CAA) said direct debit customers would be refunded within 14 days but others would have to wait up to 60 days.
Lucy Aydinalp said the delay meant her "dream holiday" to the Dominican Republic in November was now ruined.
"I have three children who don't get their holiday; it's such a sad time."
Ms Aydinalp from Manchester was a Thomas Cook employee for six years up until the collapse of the holiday firm.
She is currently on maternity leave but previously worked in a Thomas Cook High Street store.
The two-week holiday for herself, her partner and three children cost £3,500, including a staff discount.
"Not only have I lost my job with Thomas Cook I've lost my holiday too. I am currently on maternity leave and I'm not getting any money any time soon which is a big worry for my family. Just living at the moment is not easy."
Ms Aydinalp said even when she did receive a refund, it was likely she would have to pay "a substantial amount" more for a similar holiday, because prices had now risen.
She said the refund process should be faster.
"I don't think people are going to be able to rebook their holidays in time (if they have to wait two months)."
The Civil Aviation Authority said it had to refund 360,000 customers, three times larger than any previous refund programme.
A new online refund system is due to launch from 7 October.
The new system would provide "an electronic refund form", said the aviation regulator.
"We hope to pay refunds within 60 days of receiving a valid refund form. More information will be available on our website from 7 October."
Another Thomas Cook customer Ian Elsworth was due to fly to Crete with his wife for their silver wedding anniversary, but said he was now going to Blackpool instead.
"I was expecting a high standard break in Crete but instead we're going to a caravan park in Blackpool just to get away because we're off work for two weeks now."
Mr Elsworth said the couple were using the spending money they would have taken to Crete.
He said they had paid for the break by direct debit, meaning they expected to get a refund in two weeks.
"If we get the refund we'll probably keep it and go away next year because the price of holidays now has gone through the roof," he said.
The majority of Thomas Cook holidays are packages. Anyone who has bought a package holiday with Thomas Cook will be covered by the Air Travel Organiser's Licence scheme (Atol). Customers entitled to a refund would have received an Atol certificate when they booked.
In total, 100,000 Thomas Cook customers paid for their future holiday by direct debit, with the remaining 265,000 using other payment methods.
In previous cases, where a holiday firm has collapsed, the refund process has typically taken 20-30 days, but the huge number of customers affected by Thomas Cook's collapse and the possible risk of fraud is understood to have made the process much more time consuming.
Thomas Cook staff were due to be paid for September on Monday, but because the company is in liquidation they will not have received their salary. Instead, they have been told to apply for their salary and redundancy related payments from the Insolvency Service's Redundancy Payment Service (RPS).
The Insolvency Service said claims would be paid within 14 days of receipt of information, but "special arrangements are being put in place to pay sooner if practicable to do so".
The British Airline Pilots Association said it was "absolutely disgraceful" for staff not to receive salary for the work already done.
Meanwhile, the CAA said it had now brought home over two-thirds of the people on holiday when the tour operator collapsed back to the UK.
It said there were still more than 43,000 people on holiday abroad due to return on or before 6 October.
"The scale and complexity of this operation will inevitably cause some inconvenience and disruption and I would like to thank holidaymakers for bearing with us," said Richard Moriarty, the CAA's chief executive.