RBS and NatWest websites' problems fixed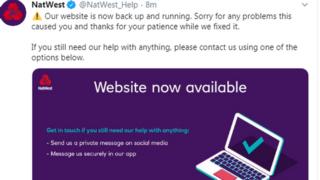 A problem which saw RBS and Natwest's online banking websites inaccessible for several hours has been resolved.
RBS, which owns Natwest, said both the websites were now both working again.
Both websites were out of action from 09:00 BST. In RBS' case the disruption lasted seven hours, while Natwest's online banking was down for nine hours.
RBS had suggested customers could use other methods to access their accounts, including mobile apps, ATMs, telephone banking, or going into a branch.
RBS has not explained what caused the problem, but simply said its websites were now "both up and running again".
At 15:00 BST, the NatWest Help Twitter account had told a customer the bank did not know when the problem would be resolved.
An RBS spokesperson earlier told the BBC that customers were experiencing issues accessing its websites and online banking login pages.
"We apologise for the inconvenience caused," it said at the time.
---
Mark McLeod, the owner of Clouds Property Management, an estate agent based in Edinburgh, says his business has been affected by the RBS outage.
"We've had tenants who want to move into flats but as we couldn't confirm the funds had been received, we couldn't allow them to move in," he told the BBC.
Mr McLeod said access to the firm's online bank account had been "sporadic", but he was able to get into it again recently.
He said the disruption meant he was unable to see what funds had been transferred to the bank on Monday, a bank holiday in England, but not Scotland.
"Today was quite a crucial day because it was our first opportunity to see what funds have been transferred to us since Friday," he said.
"It's frustrating. The last thing anyone needs is unpredictability," he added.
---
NatWest is part of the RBS group and it is not the first time that both banks' websites have gone down.
Figures published last week showed that they were the banks with the most problems in the past three months, although Barclays has had the most in the past year.
Barclays reported 33 incidents in the 12 months to the end of June this year, higher than NatWest which had 25 and Lloyds Bank, which had 23.