Love Island goes to two series a year in 2020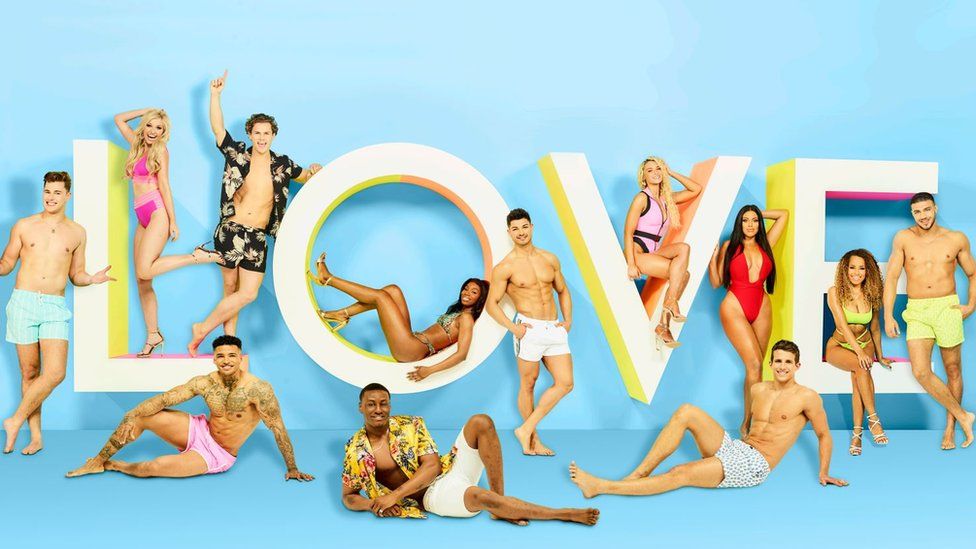 ITV has announced that one of its top shows, Love Island, is moving to two series a year in 2020.
Love Island is currently the most watched programme for adults aged 16-34 in the UK, across any channel.
The latest season saw a new record of more than 6 million viewers tune in across TV and devices.
"Off the back of a record-breaking year, we're delighted to be bringing an extra series.... to the 2020 schedule," said ITV's Paul Mortimer.
"Love Island has proven yet again to be the perfect format that engages younger audiences," the firm's head of digital channels and acquisitions added.
"In response to this viewer appetite, a new batch of young singletons will deliver some highly anticipated post-Christmas romance and drama from our new and luxurious location."
Next year, Love Island will host a second series of the year in a new winter location - a brand new villa in South Africa.
But profits and advertising have fallen, as the broadcaster reeled from an "uncertain economic and political environment".
Pre-tax profits at ITV fell 16% to £222m from £265m in the same period in the previous year, while revenues dropped 7% to £1.4bn. Advertising sales slid 5% to £849m from £890m, in 2018.
However, its shares were up by 6% in morning trade in London, at 112.72 pence.
How does Love Island make money?
Analysis: BBC Business reporter Mary-Ann Russon
Love Island is not merely a reality TV show - fans flock to its online shop, where you can buy everything from personalised water bottles and suitcases, to special make-up collections designed just for Love Island's audience.
The show also has its own companion app, where users can take part in quizzes and access exclusive content such as podcasts and videos, vote for their favourite contestants, and even shop for the latest look.
In an unusual move, fashion retailers need to pitch ITV before each new series of Love Island in order to win the coveted job of providing the contestants with wardrobes for the latest season.
On top of having millions of viewers see the retailer's latest collections, direct links to clothing items on the retailer's website are featured within the Love Island app in its Style section.
This year's official fashion partner is I Saw It First, which recently told Drapers fashion industry magazine that its sales jumped 67% month-on-month since Love Island series 5 began airing on 3 June.
I Saw It First said that it had seen a 60% increase in traffic to its website, with spikes in site visits occurring on Monday nights after 9pm when the show airs on ITV2.
According to Monterosa, which developed the Love Island mobile app, as of July 2018 - by the end of the fourth series - the app had more than 3.5 million users and had generated sales of in excess of £5m.
"The Love Island App... has more active users than other apps like Uber, Deliveroo, BBC News, Asos, Amex, and British Airways," mobile technology marketing experts Ogury Research wrote in its Mobile Marketing July 2018 report.
Ogury told the BBC that the Love Island app is performing even better now than it did in summer 2018.
Last year, the Love Island app ranked 29th in the Entertainment category in Ogury's mobile information platform, which analyses apps in the iOS and Android app stores. Now, the app is ranked 26th.
Love Island is franchised overseas and currently airing in Australia, Germany, Denmark, Norway, Finland and Sweden. In the US, CBS has bought the rights to the show, which just began airing its first series on 9 July.
In May, ITV cancelled the Jeremy Kyle Show after the death of a participant who had reportedly failed a lie detector test.
And there has been some controversy around Love Island after two former contestants died in 2017 and 2018.
When asked on BBC Radio 4's Today programme whether Love Island should be cancelled too, ITV's chief executive Carolyn McCall disagreed.
She said that the circumstances surrounding the Jeremy Kyle Show were completely different to those around Love Island.
"Mind and the Samaritans tell the public constantly not to simplify links, and I'm afraid that's what media does," she said.
"The two contestants, who were really popular contestants - Sophie and Mike - there was nearly a two-year gap for each of them and they did lots and lots of other things after Love Island, so I think it's a strange thing... to bring up to be honest."
She defended ITV's decision to offer contestants counselling after they leave the show: "We offer that because we think it is important if you come out of a villa after eight weeks - you were living a very different life and you're now coming out into the real world.
"And adjusting to that real world can be quite difficult to some people, and that's why we offer counselling or therapy."
Ms McCall said she watches the show every night and felt that Love Island does offer the public value.
"The thing about Love Island is that it's a dating show. If you watch it, it is entertaining, but it is also about the every-day ups and downs of relationships," she said.
"They are also very kind and supportive and they discuss a lot of issues that a lot of people value because they are issues that happen in modern-day relationships."