How much do you spend on a night out?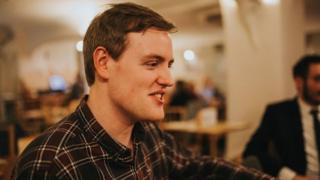 A "blow-out night" for Calum is £100 to £120, but he keeps such extravagant occasions to just once a month.
Normally, it's £20 to £30, he says.
Calum's typical spend is well below the £70.56 most Britons spend on average when they go out, a survey suggests.
The figure is based on a survey of 2,300 people by night club and bar operator The Deltic Group, which says people are now spending almost a fifth more on going out than they were last year.
The rise was largely driven by people spending more on "pre-drinks" and transport, the survey found.
It also identified a shift in what people are doing for fun. While the pub is still where almost a quarter of people spend most of their going-out money, it's slipped slightly in popularity from last year.
Meanwhile, the number of people spending most of their entertainment budget at the cinema has increased, rising to 16%, up from 13% last year.
---
How do you budget for a night out?
Charlotte - "When a cocktail in Leeds cost £11, then you go to Wetherspoons and can get four bottles of lager for £10, it's hard to budget."
Georgina - "If it's a Saturday evening, then I really try to budget £50 with no food. But depending on where you go, that can be blown. Now I have Apple Pay on my phone, I just end up using that, even if I'm really strict and only take cash and no card. I would say it can easily end up being £100. Then if you add a meal..."
Keith - "Cannot afford to go out, period. As a contractor... wasting money on a night out, is no longer an option, save it, as you don't know where the next meal will come from."
Josh - "I budget until I forget the budget, then spend as much as I like."
Christian - "I have a separate bank account for my going-out budget. I basically transfer a certain fixed amount to it every month and pay every night out from this money. Once it's empty, it means I can't go out until my next pay cheque."
Gareth - "I budget and only take cash out with me, which becomes my limit."
Anita - "I try not to go out on weekdays. I spend most of my money on rent, groceries, bills, travel and clothes."
*Based on a selection of LinkedIn responses to a request by the BBC
---
Calum - who works in an administrative role for the University of Westminster - says drinks with mates is still how he prefers to spend a night out, but since he moved to London from the North East nine months ago, inevitably this has got pricier.
"As you can probably guess, I now try and budget on the weekend and tend to buy a lot less rounds, especially when in a group," he says.
The 27-year-old is saving up to buy a house, but says it's also "a flexible travel fund if I get bored of city living and the £5 pints".
He admits how careful he is on budgeting depends entirely on his mood.
"If I'm sad (I went through quite a bad break-up this year), the beer (and money) flows quickly. Likewise if I'm quite happy, I tend to forget my budgets and spend, spend, spend."
The research behind the Deltic Night Index survey was conducted by third-party survey consultant, Censuswide, which used a nationally representative sample from its panel of 69,000 members.
About 55% of those surveyed said they went out at least once a week, down slightly from last year's 56%.
But the figure is much higher among 18 to 30-year-olds, 73% of whom said they had a night out at least once a week.
The average night out lasts four hours and 32 minutes, the survey found.
The research also found that 18 to 21-year-olds, the so-called post-millennials or Generation Z, are much keener on getting out and meeting people than they are on spending time interacting on social media.
According to the figures, 71.6% said socialising IRL (in real life) was more important than connecting with people virtually.
By contrast, only 56.5% of 22 to 25-year-olds felt the same, while the overall figure for all age groups was 69.1%.