Dixons Carphone shares plunge on mobile phone woes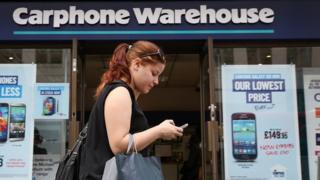 Shares in Dixons Carphone have plunged after it reported a full-year loss and said its mobile phone arm would make a "significant loss" this year.
The retailer lost £259m in the year to 27 April, compared with a pre-tax profit of £289m last year.
In December, the retailer wrote down the value of its mobile business, Carphone Warehouse.
One analyst said the division was "on life support" in an "evolving" mobile market.
It has suffered because people are renewing their handsets less often and demand for mobile contracts is down.
Last year, it announced the closure of 92 of its 700 stores.
The company - which also owns the Currys PC World chain - added that it was set to take "more pain" in the coming year amid "a deterioration in the forecast performance of the UK and Ireland mobile business".
Having plunged by about a quarter at the start of trading, Dixons Carphone shares recovered some ground to trade about 12% lower.
Group chief executive Alex Baldock said the UK mobile market was "changing in the way we described in December, but doing so faster".
"So, we're moving faster to respond."
He said the company had renegotiated all its legacy network contracts with mobile operators, developed a new "customer offer" and was accelerating the combination of its mobile and electrical goods businesses.
"This means taking more pain in the coming year, when mobile will make a significant loss," he said.
However, he added: "We expect mobile will at least break even within two years, and beyond that, equipped with a stronger and unconstrained offer, we will of course aim to do better."
'Life support'
Richard Hunter, head of markets at Interactive Investor, said the "rapidly evolving" nature of the mobile business had "threatened to leave Dixons behind".
"The mobile business in particular is on life support, draining capital and resources prior to its integration with the electricals business."
The loss reported by Dixons Carphone was mainly due to one-off charges of £557m, the majority of which was caused by the writedown in the value of the Carphone Warehouse business in December.
When the charges are stripped out, Dixon's Carphone made a profit of £298m - although that was still a 22% fall from the previous year.
Revenue across the group dipped 1% to £10.43bn.
The electrical goods business gained market share in all territories, and Mr Baldock said this side of the company was expected to grow sales and headline profits this year.
Emma-Lou Montgomery, associate director from Fidelity Personal Investing's share dealing service, said: "While elsewhere in the group the five-year plan is going to plan - if not a little better - the mobile phone business is under considerable strain as customers demand flexibility, are sticking with their old phones for longer and Carphone is dragged down by binding network contracts."
For many years, Carphone Warehouse hasn't sold carphones in warehouses, but despite that, the company has continued to prosper. Now it is suddenly looking about as up-to-date as one of those bricks toted by Michael Douglas in Wall Street.
According to analyst Ben Wood at CCS Insight, there's been a sudden and radical change in the way people buy mobile phones.
A survey carried out by his firm found a third of consumers saying they intended to hold on to their current phones for longer than their previous handsets - even extending renewal time by a few months means a big drop in annual sales.
The UK market peaked in 2012, when 31 million were sold. This year, CCS Insight expects that to fall to below 18 million.
And while the habit of going into a shop to research and buy a new phone has been stubbornly persistent, it is now fading. The survey showed 21% of buyers said they did absolutely no research.
"People know what they want," says Ben Wood. "And in any case, all smartphones are pretty samey these days."
With more people buying online or direct from mobile operators, phone shops may soon be another of the High Street's endangered species.