Superdry issues another profit warning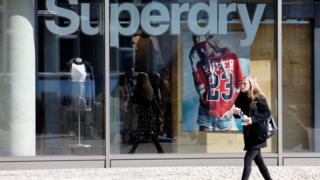 Fashion chain Superdry has issued another profits warning, just weeks after founder Julian Dunkerton returned to the retailer.
The company said full-year pre-tax profits would be lower than analysts' expectations, partly due to weak wholesale and online sales.
Full-year sales were flat, but were down 4.5% in the final three months.
Mr Dunkerton's return, after a very public dispute, sparked the resignation of eight members of the firm's board.
The latest alert from Superdry follows profit warnings from the company in October and December last year.
Mr Dunkerton had criticised the retailer for following a "misguided strategy" since he left the firm in 2016, and last month, shareholders narrowly voted him back on to the company's board.
In a statement, Superdry said that since Mr Dunkerton's return as interim chief executive he had "already identified immediate opportunities to improve the efficiency and performance of the business, and taken action to implement these opportunities".
Mr Dunkerton said his first priority had been to "stabilise the situation".
"All of us in the business are putting all our energy into getting the product ranges right and improving the ecommerce proposition, which are two important steps towards addressing Superdry's recent weak performance.
"The impact of the changes we are making will take time to come through in the numbers but I'm confident we are heading in the right direction."
Julie Palmer, partner at Begbies Traynor, said the latest profit warning was "another sign of the scale of the task at hand for Julian Dunkerton now he is back at the top".
In the year to 27 April, wholesale revenues rose by 3.6%, but they fell by 9.3% in the last three months of the year as a result of more goods being returned, lower-than-expected orders and the decision not to supply customers who had reached their credit limits.
Online sales rose by 1.6% over the year to £163.7m but fell by 3.9% in the final three months, due to less discounting.
Sales in stores actually rose by 2.2% in the final three months but fell by 3.7% over the year as a whole.
'Fundamental disagreement'
Superdry, which started out as a market stall in Cheltenham 16 years ago, was set up by by Mr Dunkerton and James Holder, and went on to enjoy huge commercial success.
More recently, though it has struggled.
Its shares have lost more than 70% over the past year and in March the company announced it would cut up to 200 jobs.
Mr Holder left the company in 2016 and Mr Dunkerton stepped down last year citing "other demands on his time", although more recently he blamed "my fundamental disagreement" with the company's strategy.
Mr Dunkerton criticised the retailer's strategy - including a reduction in stock both in stores and online - which he claimed he had always predicted would fail.
Prior to his recent return to the business, he had accused Superdry of having undergone a "dramatic shift from being a design-led business with innovative creative input, a strong brand identity and an innate understanding of the customer, to follow a misguided consultant-led business model".