US accuses China of backtracking on trade deal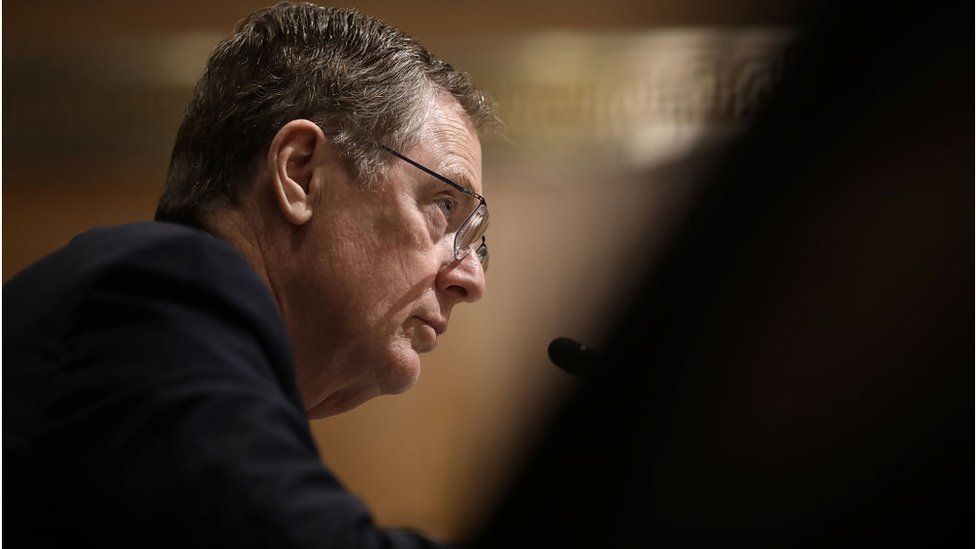 US trade representative Robert Lighthizer has accused China of backtracking on commitments in trade talks, but insisted a deal on tariffs is still possible.
He said President Trump's threat to impose new taxes on Chinese exports came after China reneged on promises.
But he said a Chinese delegation was still expected in Washington on Thursday for a further round of talks.
US stocks regained ground after sharp falls earlier.
On Sunday Mr Trump said on Twitter the US would more than double tariffs on $200bn (£152bn) of Chinese goods on Friday and could introduce fresh tariffs.
Speaking to reporters on Monday, Mr Lighthizer said: "Over the course of the last week or so we have seen an erosion in commitments by China. That in our view is unacceptable."
He said China had tried to substantively change the text of an agreement between the countries as it was nearing its final stages.
"We're not breaking off talks at this point. But for now... come Friday there will be tariffs in place," Mr Lighthizer said.
Earlier, world stock markets sank following the president's tweets, with the Shanghai Composite tumbling 5.6%.
However in the US the Dow Jones closed down just 0.3%, having slumped 471 points - almost 1.8% - in early trading.
On Sunday the US president tweeted that tariffs of 10% on certain goods would rise to 25% on Friday, and $325bn of untaxed goods could face 25% duties "shortly".
"The Trade Deal with China continues, but too slowly, as they attempt to renegotiate. No!" he tweeted.
He followed that on Monday by tweeting that the US had been "losing" $500bn a year on trade with China. "Sorry, we're not going to be doing that anymore!" his tweet said.
After imposing duties on billions of dollars worth of one another's goods last year, the US and China have been negotiating and in recent weeks, appeared to be close to striking a deal.
Last week US Treasury Secretary Steven Mnuchin described talks held in Beijing as "productive".
For 10 months, China has been paying Tariffs to the USA of 25% on 50 Billion Dollars of High Tech, and 10% on 200 Billion Dollars of other goods. These payments are partially responsible for our great economic results. The 10% will go up to 25% on Friday. 325 Billions Dollars....

— Donald J. Trump (@realDonaldTrump) May 5, 2019
The United States has been losing, for many years, 600 to 800 Billion Dollars a year on Trade. With China we lose 500 Billion Dollars. Sorry, we're not going to be doing that anymore!

— Donald J. Trump (@realDonaldTrump) May 6, 2019
But according to reports, in recent days US officials have become frustrated by China's refusal to change its laws as part of the deal - something that had previously been agreed.
Other sticking points have included how to enforce a deal, whether and how fast to roll back tariffs already imposed and issues around intellectual property protection.
On Monday, US Treasury Secretary Steven Mnuchin told reporters that the negotiations were 90% complete but that Chinese negotiators were trying to "go back on language that had been previously negotiated".
"[This was] very clear language, that had the potential of changing the deal dramatically," he said.
So far, the US has imposed tariffs on $250bn of Chinese goods, having accused the country of unfair trade practices.
Beijing hit back with duties on $110bn of US goods, blaming the US for starting "the largest trade war in economic history".
However, some analysts have questioned whether Mr Trump's threats are a negotiating tactic.
William Reinsch, trade policy expert at the Center for Strategic and International Studies, said China would never meet all the US demands.
"At some point the president is going to figure out that they're not going to give him everything he wants," he told news agency AFP.
That will put Mr Trump in "a precarious political position" whether "to accept an agreement that will be criticised as weak, or not to have an agreement and be criticised for failing".
What will the tariff rise affect?
Mr Trump's latest move will raise duties on more than 5,000 products made by Chinese producers, ranging from chemicals to textiles and consumer goods.
The US president originally imposed a 10% tariff on these goods in September that was due to rise in January, but postponed this as negotiations advanced.
Fears about a further escalation caused a slump in world stock markets towards the end of last year.