Wow Air failure: 'They gave us pizza - then cancelled our flight'
By Rebecca Marston
Business reporter, BBC News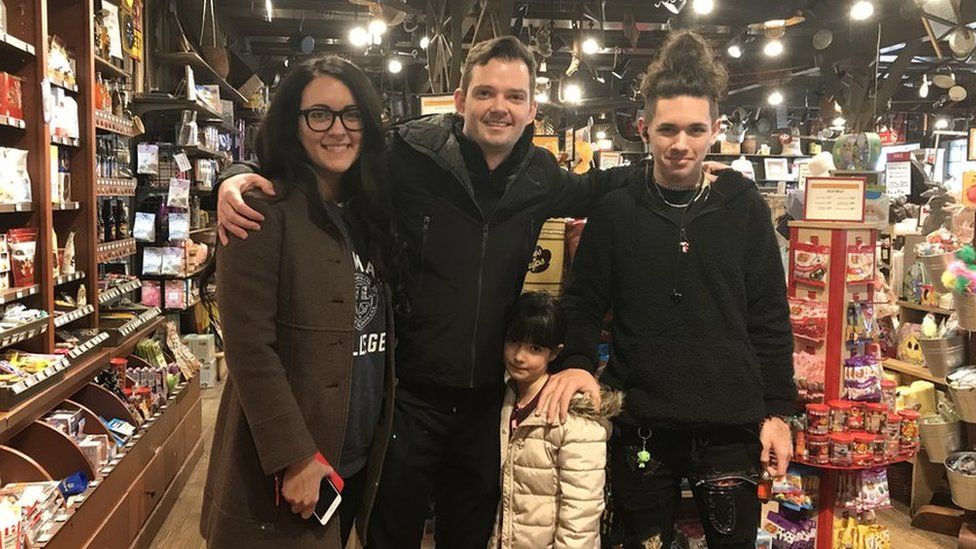 Dubliner Barrai Omuireagain is one of an estimated 10,000 people stranded by Thursday's collapse of Iceland's Wow Air.
He was due to board his flight from Detroit to Dublin at 7pm local time last night.
"Then it was delayed, then it was delayed every hour, and finally at 11pm on Wednesday I asked what happens if the company goes bust?
"She said it wouldn't happen and gave us a pizza, saying we're expecting a flight plan in the next 15 minutes.
"Next thing the PA said the flight was cancelled."
The family eventually spent the night in a hotel, and woke to find the airline had indeed stopped flying.
Wow Air, which also operated flights from UK airports Gatwick, Stansted and Edinburgh, had been in talks this week with bondholders about raising new money.
@wow_air cancels flight to Dublin from Detroit at the last minute, looks like the company has gone bust. Any chance you can accommodate a family of four on @AerLingus out of Chicago or Tornado tomorrow the 28th. You would make this little girl Maeve very happy to see her cousins pic.twitter.com/jMnmWSh6zI

— Barrai Omuireagain (@BOmuireagain) March 28, 2019
The past six months have seen talks about a potential sale of the carrier, first to Icelandair, then to US-based private equity firm Indigo Partners - which has stakes in several other airlines including Hungary's Wizz Air.
With Wow not flying, passengers are scrambling to find alternatives.
The travel editor of the Independent, Simon Calder, said that in these situations other airlines do tend to step in as they would not seek to make money out of "a bad situation". He said passengers should not spend "a fortune on alternative flights unless you are in a real hurry".
Norwegian said that repatriation fares would be available at a 25% discount, subject to availability, as long as passengers could show a valid Wow Air booking. These would be available until 8 April.
The Icelandic authorities said they would continue to monitor the availability of rescue fares for Wow passengers scheduled to travel over the next few days.
These airlines are not ideal for Barrai Omuireagain, who needs to get to Dublin. He is hoping Aer Lingus will be able to help fly him to Dublin, but currently he says flights for himself and his wife Katie, and children Chase, 16 and Maeve, 6 would cost £5,000 - more than double the normal fare.
He is also less eligible for help as he currently lives in Indiana, and therefore is not stranded. His holiday would have started in Ireland.
Another affected passenger was Aoife O'Dwyer, who was due to go on honeymoon to Iceland on Saturday with her wife, Jen.
In a tweet she said she was "devastated" that her "dream honeymoon trip" was postponed.
It says passengers covered by various protected booking methods, including booking by credit card or through a European travel agent, should try to get their money back from them.
Otherwise it says they could be entitled to some compensation from Wow, "including in accordance with European regulation on Air Passenger Rights", or, in case of a bankruptcy, claims should be filed to the administrator or liquidator.
Wow was founded in 2011 by its chief executive, Skuli Mogensen. It started flights in 2012 and grew to employ 1,000 people, carrying 3.5 million passengers last year in its 11 aircraft.
It operated both short and long haul routes, flying to Copenhagen and Alicante in Europe and Washington and Boston in the US.
Aviation expert Chris Tarry, from consultants Ctaira, said Wow was simply not able to make enough profit in a highly competitive market: "Wow faced stiff competition on the northern Europe to North America route, which is being served by rival low-cost operator, Norwegian. Wow offered low fares - but so did the rest of the pack. Even the traditional carriers were offering keen fares.
"Travelling with Wow also involved going via Iceland - attractive if you have the time and money to spare on that, but with others pricing fares keenly, something people were thinking wasn't worth their time."
Mr Mogensen wrote a letter to employees on Thursday which said: "I will never be able to forgive myself for not taking action sooner, since it is evident that Wow was an amazing airline and we were on the right track to do great things again."
Rory Boland, the travel editor of Which?, said Wow had been selling flights right up until 07:00 on Thursday morning. "Passengers will quite rightly be appalled that Wow Air was still selling tickets right up to the moment it collapsed.
"You will need to check if you booked your flights as part of a package.
"If not, you may still be able to claim through your travel insurance or card issuer but it will depend on your circumstances."
The CAA said Wow air flights were unlikely to have been booked as part of a package.
Independent financial information business Defaqto warned that less than half (48%) of travel insurance policies offered cover for airline failure as standard, meaning that travellers could be left unprotected if the airline they have booked with gets into financial difficulty and they cannot travel.
A number of airlines have run into financial trouble recently, with factors such as higher fuel bills and excess capacity in the sector contributing to their problems.