Interserve: UK contractor completes fast-track sale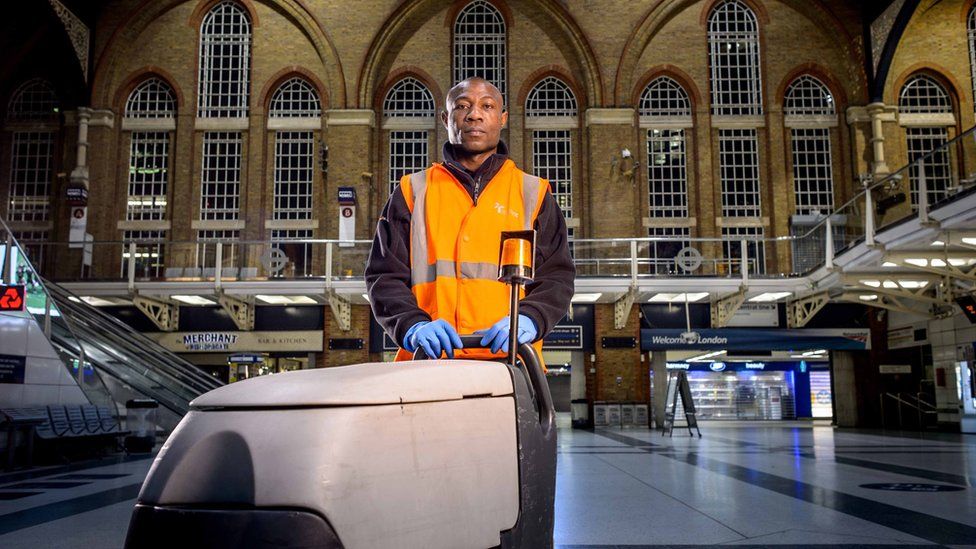 Control of one of Britain's biggest government contractors, Interserve, has moved to a new company after administrators were appointed.
It comes after shareholders rejected a rescue deal for the company, which has 45,000 UK staff, and 68,000 globally.
Under a pre-arranged agreement, administrators EY were installed and the assets moved immediately to a group controlled by Interserve's lenders.
Interserve insisted that the deal would protect services and jobs.
The company cleans schools and hospitals, runs catering and probation services, and manages construction projects.
The plan would have seen their stake reduced to just 5%, with lenders being handed the lion's share of the business.
But after the vote, Interserve said that "in the absence of any viable alternative" rescue plan it would formally apply to the High Court to go into administration.
EY was appointed under a so-called pre-pack administration, an insolvency procedure in which a company arranges to move its assets to a another owner before administrators are officially appointed.
It meant that Interserve could avoid a Carillion-style collapse. However, investors have seen the value of their shares wiped out under the financial restructuring.
The lenders who are now in control of Interserve Group include banks RBS and HSBC, and investors Emerald Asset Management and Davidson Kempner Capital.
In a statement, EY administrator Hunter Kelly said: "This transaction secured the jobs of 68,000 employees, the majority of whom work in the UK, as well as ensuring there was no disruption to the vital public services that Interserve provides to the UK Government."
Debbie White, chief executive of Interserve Group, said: "Interserve is fundamentally a strong business and with a competitive financial platform in place we see significant opportunities ahead as a best-in-class partner to the public and private sector."
A spokesman for the Cabinet Office said: "We welcome this announcement. It brings the company the stability required for it to compete for future business and continue to deliver good value public services for the taxpayer."
Interserve accumulated debt after construction project delays and a failed energy-from-waste project in Derby and Glasgow.
Interserve in administration after rescue plan voted down. 2 American hedge funds with 35% of shares voted against. 95% of all others who voted - voted FOR the rescue deal Over 16k small shareholders are totally wiped out. Company insists that pre arranged sale = biz as usual...>

— Simon Jack (@BBCSimonJack) March 15, 2019
..however. Question is what happens in medium to long term. By tonight lenders will now be owners. No appetite for or expertise in running an outsourcing company. They will want to sell as soon as reasonably possible. Creates uncertainty for customers, staff and suppliers

— Simon Jack (@BBCSimonJack) March 15, 2019
However, the GMB union said earlier on Friday that Interserve's problems, which come after the failure of Carillion last year, showed it was "time to turn the tide on the disastrous experiment" of outsourcing public services.
Kevin Brandstatter, the union's national officer, said: "Ministers have learnt absolutely nothing from the Carillion fiasco and are hell-bent on outsourcing public sector contracts.
"Shambolic mismanagement is putting jobs put on the line and services in jeopardy. Our public services can't go on like this."
Although Interserve's contracts are expected to continue, there is still concern for jobs in the supply chain.
The National Federation of Builders (NFB) said there would be thousands of workers wondering whether they still have a job, and called for changes in the way the government hands out contracts to big national companies.
Richard Beresford, chief executive of the NFB, said it was time to reform "the procurement process from its foundations to ensure that more regional contractors can compete and win work".
In addition to helping smaller companies, it would "spread risk across fiscally responsible businesses who reinvest profits and are not bound by shareholders," he said.
The outsourcing firm is one of the UK's largest public services providers. The firm started in dredging and construction, and from there has diversified into a wide range of services, such as healthcare and catering, for clients in government and industry.
It sells services, including probation, cleaning and healthcare, and is involved in construction projects.
Interserve is the largest provider of probation services in England and Wales, supervising about 40,000 "medium-low risk offenders" for the Ministry of Justice.
Its infrastructure projects include improving the M5's Junction 6 near Worcester, refurbishing the Rotherham Interchange bus station in Yorkshire, and upgrading sewers and water pipes for Northumbrian Water.
Hospital contracts include a a £35m contract at King George Hospital in east London for cleaning, security, meals, waste management and maintenance.