Nissan cuts two models from Sunderland plant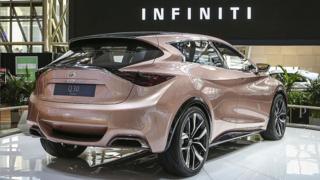 Nissan plans to end the production of two of its Infiniti cars at Sunderland.
It's part of a bigger plan that involves pulling the Infiniti brand out of Western Europe. As a result the Q30 car and QX30 sports-utility vehicle will no longer be made in the UK.
About 250 staff could be affected by the move and Nissan intends to discuss the impact with those employees.
The move follow's Nissan's recent decision to build its new X-Trail model in Japan, instead of Sunderland.
The Infiniti brand has struggled to make a mark in Western Europe- last year sales halved to 5,800.
About 70,000 of Infiniti cars have been made in Sunderland since production began in 2015.
"Western Europe remains the most challenging and competitive region for premium cars," Infiniti's chief spokesman, Trevor Hale, said.
Instead, Nissan plans to promote the Infiniti brand in the US and Chinese markets.
In the US it plans to focus Infiniti on sports-utility vehicles and in China it plans to launch five new vehicles.
The Infiniti line-up of cars will be electric from 2021 and diesel versions will be discontinued, the company said.
Labour's Shadow Business Secretary Rebecca Long Bailey said: "This is yet another blow to Sunderland, only a few weeks after Nissan decided to take planned production of the X-Trail out of the city.
"When we look at what is happening to the car industry, from Swindon right through to Sunderland, it is clear the UK car industry has been undermined by this government.
"The Tories' mishandling of Brexit has created prolonged uncertainty, and they have refused to support the industry while it faces enormous challenges, like electrification.