UK economy stalls despite strong January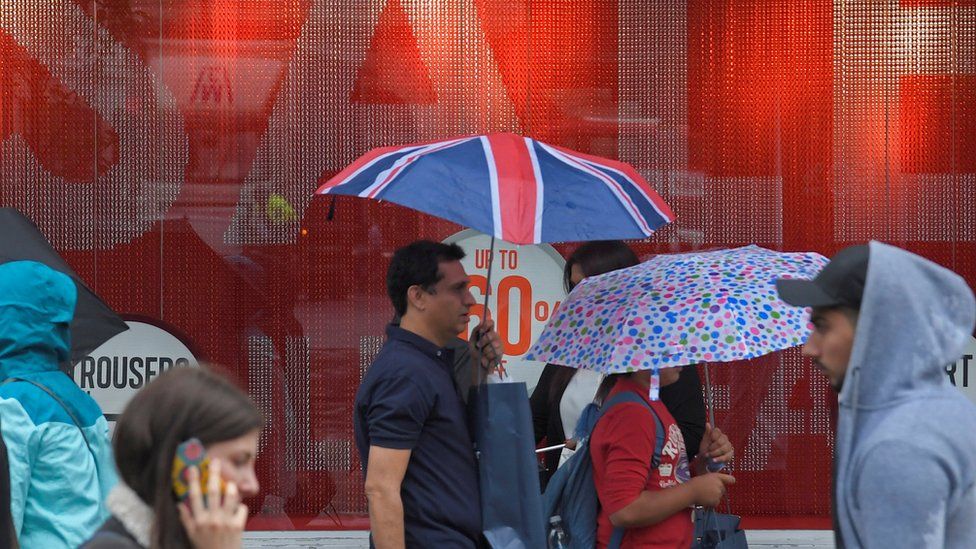 The UK economy grew by 0.2% in the three months to January, matching the growth of the previous three months.
The report from the Office for National Statistics (ONS) showed a pick-up in activity in January when the economy expanded by 0.5%.
The ONS said strength in IT, health services and wholesale trading offset falls in the manufacturing of metals and cars, and construction repair work.
The increase in wholesale could indicate stockpiling ahead of Brexit.
The total output of goods and services in the UK, or gross domestic product (GDP), grew by 0.2% in the three months to the end of January.
The services sector, which accounts for about 80% of the private sector economy, grew by 0.5% on a rolling three-month basis, mainly driven by wholesale and retail trade.
Rob Kent-Smith of the ONS said growth across the latest three months had "remained weak" with falls in the output of metal products, cars and construction repair work all dampening economic growth. However, he added that was offset by strong performances in wholesale, IT and health services.
In January the economy staged a bit of a comeback, growing by 0.5%
The services sector, which accounts for about 80% of the private sector economy, grew by 0.3% in January after a 0.2% fall in December.
Construction, which accounts for about 6% of the economy, reversed December's fall to grow by 2.8% in January.
Production and manufacturing output also both grew in January, having contracted in December.
What do the figures tell us?
Yael Selfin, chief economist at KPMG said the data confirmed growth momentum in the UK economy had "stalled".
"The first glimpse of GDP data for this year points to a UK economy hovering well below its growth potential, as we wait for the Brexit fog to dissipate.
Ms Selfin said she expected growth to "remain subdued in the short-term".
However, Andrew Wishart, UK economist with Capital Economics, said the numbers provided some reassurance that the UK economy is weathering a political crisis at home and a slowdown overseas "pretty well".
"Of course, the data may deteriorate in February and March if Brexit has caused consumers and firms to reach for the handbrake," he added.
Suren Thiru, head of economics at the British Chambers of Commerce said: "The service sector remains the main driver of UK growth on this rolling three-month measure, with industrial production and construction contracting. Despite a boost in January, the manufacturing sector remains an area of concern with significant cost pressures and moderating demand in key markets weighing on activity in the sector.
"The lack of clarity on crucial aspects of how companies will operate after 29 March, as well as the possibility of a no-deal Brexit, has led many firms having to take drastic action to safeguard their operations, which has resulted in unnecessary costs, diversion of resources and loss of business, subduing overall economic activity.
So are firms stockpiling?
It seems it depends on your point of view.
Some experts think the increase in wholesale activity does signal that some businesses are building up stocks ahead of Brexit.
KPMG's Ms Selfin said there was "evidence that stockpiling in anticipation of Brexit has bolstered growth in some industries".
However, at Capital Economics Andrew Wishart said there was "little evidence" of stockbuilding, with output in the transport and storage sector falling in January and the three-month growth in imports easing off.
The ONS was unable to comment on whether the growth was linked to UK manufacturers stockpiling.
Analysis by economics correspondent Dharshini David
The uncomfortable truth is that the economy has lost speed. Growth of 0.2% across three months is a fraction of what the UK typically achieves.
Brexit uncertainty appears to have hammered business investment, while growth in the Eurozone has fallen way short of expectations.
Although the economy expanded by 0.5% in January alone, even the number crunchers who calculate these monthly estimates admit that they're volatile and need cautious treatment.
And January's rebound was driven by manufacturing and construction.
But surveys suggest recent industrial activity has been driven by speeding up production of finished goods ahead of Brexit rather than new orders; though the ONS numbers don't distinguish between these.
And the rebound follows very weak months for manufacturing and construction - output across the last three months in both was flat.
Total growth across the last three months was driven by services - in particular the wholesale retailing, again hinting at stockbuilding.
The "fog of Brexit" may have actually inflated activity of late. Beyond that, growth is at best sluggish.