Tesla reports profit as issues stabilise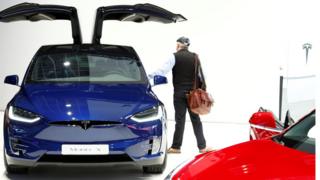 Tesla made a profit of $139.5m (£106.4m) in the three months to 31 December - avoiding a loss for a second quarter in a row.
While lower than expected, the gain still marked an improvement for the electric car-maker, which has routinely reported shortfalls in recent years.
Tesla credited strong demand for its Model 3, manufacturing improvements and recent cost cuts for the turnaround.
It forecast strong growth, as Model 3 sales start in Europe and China.
However it warned investors that deliveries may slow in coming months, due in part to the time it takes to ship vehicles overseas.
"That's our biggest challenge," Tesla chief executive Elon Musk said. "It's not demand. It's how do we get the cars there fast enough."
That challenge is especially acute in the case of China, a major market for electric vehicles, which is in the middle of high-stakes trade talks with the US.
Should the two sides fail to reach a deal, it could mean higher tariffs on US-made cars.
"We don't know what's going to happen... so it's very important to get those cars there as soon as possible," Mr Musk said.
'Open the market'
Tesla said it expected to deliver 360,000 to 400,000 vehicles in 2019 - growth of approximately 45% to 65% compared to 2018.
Getting its new factory in China up and running by the end of the year is the biggest wildcard for that outlook, Mr Musk said.
On a call with financial analysts, Mr Musk thanked the Chinese government for granting the permission for the plant, which he said was the first in the country that is wholly owned by a foreign company.
He said he believed the move was "symbolic of them wanting to open the market."
Mr Musk also announced the firm's chief financial officer Deepak Ahuja was retiring, but said he would continue to serve as a "senior adviser" for "probably years to come."
The numbers
Tesla was under intense pressure last year, as it spent rapidly to improve production and get its latest car into the hands of customers.
The firm said those manufacturing issues have now "stabilised".
In the most recent quarter, Tesla earned $7.2bn in revenues, primarily from car sales, more than double the same period in 2017.
It also reduced its operating expenses by 7% from the quarter before, to about $1bn, roughly the same as in 2017.
The decrease follows the announcement of thousands of job cuts in recent months, including about 3,000 in January.
Shares dropped by more than 2% in after-hours trading in New York.