Morrisons sales rise but discounters rule Christmas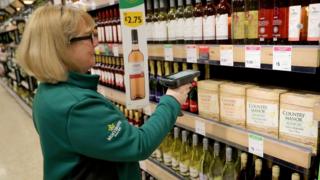 Morrisons reported a rise in sales in the Christmas shopping period, while the market share of discounters Aldi and Lidl reached its highest-ever level for the festive season.
David Potts, chief executive of the number four supermarket chain, said customers were "increasingly savvy".
While the business was getting ready for Brexit, he said two-thirds of the produce it sold was from the UK.
Morrisons' sales rose 3.6% in the nine weeks to 6 January.
This increase in like-for-like sales, which strips out new store openings, was driven by a 3% rise in the wholesale division, which supplies Amazon and McColls.
In the stores, sales rose 0.6% - more than the 0.5% expected by analysts - but there was a slowdown from the 1.3% in the third quarter and the 2.1% reported last Christmas.
Its shares were the biggest fallers in the FTSE 100, down nearly 4%.
Even as the company maintained its outlook for the 2018-19 financial year, Richard Hunter, head of markets at interactive investor, said Morrisons remained under pressure from rivals in the so-called 'big four' and the discounters.
"A resurgent Tesco, the proposed Asda/Sainsbury alliance and the continuing advance of Aldi and Lidl all add to a challenging environment," Mr Hunter said.
Morrisons said it had "performed well, sustaining a strong offer and trading the business hard" for customers.
Mr Potts said that consumer behaviour had changed as he hailed the retailer's fourth consecutive Christmas of like-for-like sales growth.
"People became increasingly savvy and conscious of both the macro political situation in the country and how that may unfold in 2019 and how it may affect them personally," he said.
While customer spending increased during the summer, while England were progressing through the World Cup, customers later became more cautious, he said.
Two-thirds shopped at Aldi or Lidl
That has continued in the first few trading days of this year, when customers have continued to be cost-conscious, he said.
On Monday, Morrisons said it would cut prices by an average of 20% on 935 products, including tinned tomatoes, cereals and multivitamins.
Fraser McKevitt, head of retail and consumer insight at Kantar Worldpanel, said 60% of supermarket customers this Christmas had been "looking to make their money go further over the holidays".
According to Kantar's data for the 12 weeks to 30 December, discounters Aldi and Lidl had a combined market share of 12.7% over the festive period, their highest-ever for Christmas.
Two-thirds of all households shopped at either Aldi or Lidl over the 12-week period, Kantar said.
By its reckoning, Asda was top of the "big four" grocers, with a 0.7% rise in sales, and Sainsbury's the weakest, with a 0.4% decline.
'Colleague friendliness'
Morrisons is traditionally a lower-cost supermarket and in its trading update said it had kept prices of key Christmas items the same as last year.
Customers' satisfaction - on measures such as "colleague friendliness and checkout experience" - had "increased significantly", which it said was an important measure of its progress in turning around the business.
Like-for-like sales across the group, including fuel, were up 3.4%. Total sales were up 4% excluding fuel.
Emma-Lou Montgomery, associate director of Fidelity Personal Investing, said that "tucked away in the Christmas trading update was what really attracted shoppers - not cheery staff and faster checkouts, but last year's prices".
Preparations for Brexit were continuing, Mr Potts said, but the retailer was not making assumptions about the eventual outcome.
He said two-thirds of what it sold was made in Britain, where it also had 18 manufacturing sites.
There would be slightly less reliance on EU labour, he said.