HMV calls in administrators for second time in six years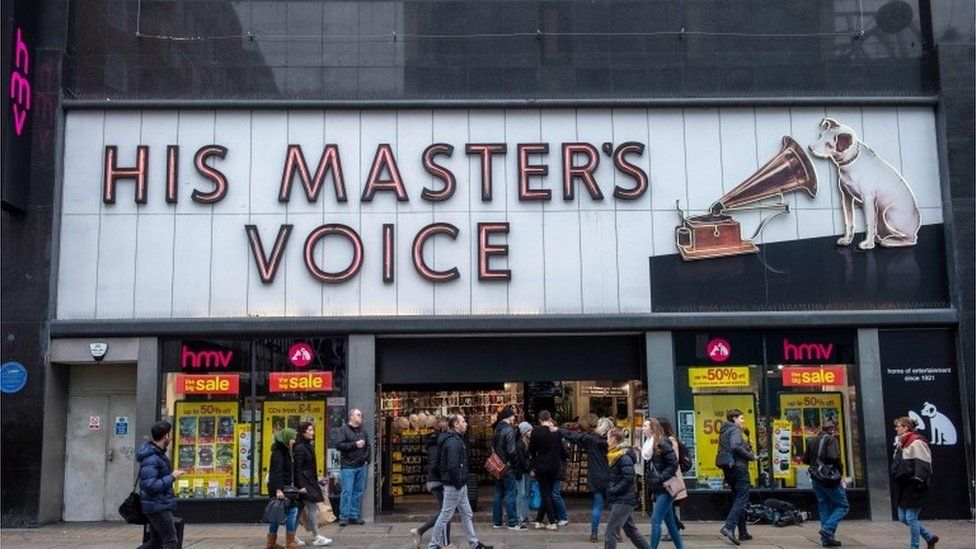 Music retailer HMV has confirmed it is calling in KPMG as administrators.
The move, the second in six years, involves 2,200 staff at 125 stores.
Owners Hilco, which took the company out of its first administration in 2013, blamed a "tsunami" of retail challenges, including business rate levels and the move to digital.
It said the stores would continue to trade while negotiations were held with major suppliers and it looked for buyers.
Paul McGowan, executive chairman of HMV and its owner Hilco Capital, said: "Even an exceptionally well-run and much-loved business such as HMV cannot withstand the tsunami of challenges facing UK retailers over the last 12 months on top of such a dramatic change in consumer behaviour in the entertainment market."
He pointed out HMV sold 31% of all physical music in the UK in 2018 and 23% of all DVDs and Blu-rays, with its market share growing month by month throughout the year.
But he added that the industry consensus was that the market would fall by another 17% during 2019 and therefore it would not be possible to continue to trade the business.
Holders of gift vouchers are being advised to consider spending them sooner rather than later.
BBC Money Box presenter and financial journalist Paul Lewis has advised people to use any HMV gift cards immediately.
Their role is to "try and save the company", and in doing so, they "may take the decision not to accept returns".
Hilco's ownership saw HMV host live events in store, with musicians including Kylie Minogue, Stormzy and The Darkness.
Digital music revenue overtook sales of physical formats like CDs and records for the first time in 2012.
Since then, online shopping, downloads and streaming provided by platforms such as Amazon, Spotify and Netflix, have continued to eat into sales of physical music.
Julie Palmer, partner at business consultancy Begbies Traynor, said the fall of HMV had been "coming for many years".
She added: "It has been revealed that the business turnaround has been built on a bed of sand rather than rocks."
Analysis by Rory Cellan-Jones, BBC technology correspondent
With video and music still its main sources of revenue, HMV was always likely to be one of the retailers struggling to make it through the Christmas holidays.
But this is about more than a struggle to adapt to changing consumer habits.
HMV faced the same pressures of low consumer confidence, high rents and a lacklustre Christmas that have put other high street names in danger.
And don't be surprised if this is not the end of the story.
The Entertainment Retailers Association points out that when you tot up music, video and games there is still a market of nearly £2bn worth of physical products.
Big releases such as The Greatest Showman, Ed Sheeran and Adele have still attracted millions who want to own a physical copy.
So maybe there is another turnaround specialist out there to keep the HMV name alive into its second century.
Richard Lim, Chief Executive, Retail Economics, said HMV's situation came amid a weak retailing climate. "Poor Christmas trading has claimed its first victim," he said.
But the chief executive of the Entertainment Retailers Association, Kim Bayley, said there was hope.
"What is clear is that following its first move into administration in 2013, HMV has enjoyed a remarkable turnaround and it is conceivable that this will happen again.
"The fact is the physical entertainment market is still worth up to £2bn a year so there is plenty of business there."
While Christmas is normally a time of higher revenues for retailers, the number of shoppers hitting the post-Christmas sales dipped this year.
Britain's shops have also faced uncertainty over Brexit, which sparked a fall in the pound and therefore raised the price of imported goods, as well as rising labour costs, higher business property taxes and unseasonably warm weather.
HMV, known for its iconic logo featuring the "dog and trumpet", is Britain's last surviving national music retailer.
It was launched by English composer Edward Elgar in 1921, selling gramophones, radios and popular music hall recordings.