Santander failed to pass on inheritances, says regulator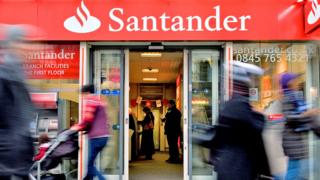 Santander UK has been fined £32.8m by the Financial Conduct Authority (FCA) for "serious failings" in dealing with the accounts of deceased customers.
Santander did not transfer funds totalling over £183m to beneficiaries when it should have done, affecting a total of 40,428 customers directly.
And, after it became aware of the issues, the bank failed to disclose the problems to the FCA.
Santander said accepted the findings and was "very sorry".
Mark Steward, executive director of enforcement and market oversight at the FCA said that the failings "took too long to be identified and then far too long to be fixed".
"To the firm's credit, once these problems were notified to the board and senior management, they were fixed properly and promptly, but recognition of the problem took too long," he said.
There were weaknesses in how Santander organised and controlled its probate and bereavement processes, the FCA added.
This meant that the bank:
failed to follow-up on communications with deceased customer representatives, which increased the likelihood of cases not being closed
did not effectively identify all the funds it held which formed part of a deceased customer's estate
could not determine whether cases had progressed to closure
As a result, despite Santander being informed that a customer had died, funds would not be transferred to those who were entitled to them.
But Cary Sumpter, a surveyor from Bexhill-on-Sea, East Sussex, says that Santander is still holding onto money from his late aunt's estate.
When his aunt died in 2010, his mother and the appointed solicitors spent months telephoning and writing to Santander to release funds from the deceased's bank accounts.
"There was certainly several hundred pounds in one account, and we thought there were other accounts, but we could never find out," said Mr Sumpter.
"Santander wouldn't return calls or emails... To this day, that money is still sitting somewhere in the coffers of Santander."
After the BBC highlighted the case, Santander said it would look into the matter.
'Santander held £120,000 for 13 years'
Karl Lenobel was a Holocaust survivor who died in 2004 aged 84, leaving no surviving relatives.
His older sister Katherine, a Kindertransport refugee who died in 2001, had worked for Abbey National and had had several bank accounts with the building society, which was later acquired by Santander.
Before Karl died, he appointed Geoffrey Greenhouse his solicitor. Karl and his sister wanted to leave their collective savings to children's charities.
Mr Greenhouse chased Santander for the accounts details, but says he hit a dead end.
Then, 13 years later in 2017, after Santander was already under investigation by the FCA, the bank contacted him to say it was holding £120,000.
The money was eventually paid, and under pressure from Mr Greenhouse Santander agreed £100,000 in compensation for the long delay. The money was finally given to three children's charities, as well as the children of a fellow Holocaust survivor.
"I don't think it was a mistake - the banks did it deliberately," Mr Greenhouse said.
He said that many people who grew up during and just after the Second World War had opened accounts with building societies that might now be lying dormant.
"I do hope all these relatives of people who have dormant accounts are contacted and they get their money back," Mr Greenhouse added.
And in instances where deceased customers had several different bank accounts and investments, the bank failed to identify these funds, which meant that those who were entitled to them remained unaware of the existence of those funds.
Apology
Melinda Giles, partner at Giles Wilson Solicitors, and a representative for private client solicitors on the Law Society Council, told the BBC that similar incidents have occurred at other British banks, because there was "too much of a relaxed approach" from many banks to the legal process.
"I have come across errors of judgement by a variety of banks in that they do not insist on a grant of probate to be sure that they are paying the money that belongs to a deceased person to the correct person entitled," she said.
Santander UK's chief executive Nathan Bostock said: "We accept the FCA's findings and have fully cooperated with their investigation.
"We have now transferred the majority of customer funds and made significant improvements to our whole probate and bereavement process, ensuring we provide both a sensitive and efficient service to our bereaved customer representatives and those who are managing the estates of people who have passed away."